In this week's blog we hear from experienced mindfulness practitioner, Jacqui Barnett, about the do's and don'ts of mindfulness programs.
---
A friendly journey through the good, the bad and the ugly of mindfulness in the workplace
Mindfulness is everywhere these days – you can't go into any bookshop without tripping over a huge pile of mindfulness colouring books. Maybe you are getting a teeny bit annoyed by your mindfulness app reminding you to "be here now" every five minutes and judgmentally asking why you haven't got past day two?
Athletes and celebrities are (obviously) doing mindfulness. So with mindfulness in our shops, in the media and on our phones, how can we implement workplace mindfulness in safe and effective ways that ensure good practice?

The Good
The good news is that as well as colouring books and mindful crochet apps, some Mindfulness-Based Programs (MBPs) are actually evidence-based and have been used to great effect in clinical settings since the 1970s – way before smartphones or courgetti even existed.
But seriously, back to the mindfulness science stuff…

Serious Science of Mindfulness
The genius that is Jon Kabat-Zinn, Professor of Medicine Emeritus at the University of Massachusetts Medical School, created the first secular Mindfulness-Based Stress Reduction (MBSR) course for patients with chronic stress, pain and illness in the late 1970s.
The equally genius trio of Mark Williams, John Teasdale (both of Cambridge University) and Zindel Segal (Toronto University) expertly combined MBSR with elements of Cognitive Behavioural Therapy to create Mindfulness-Based Cognitive Therapy (MBCT) in the 1990's.
Mindfulness-Based Cognitive Therapy (MBCT) was developed to help people at risk for recurring depression learn the skills to stay well and to recover. MBCT has been clinically proven to be so effective for people with recurrent depression, it is now recommended by the National Institute for Clinical Excellence (NICE) as an NHS treatment option. Impressive, huh?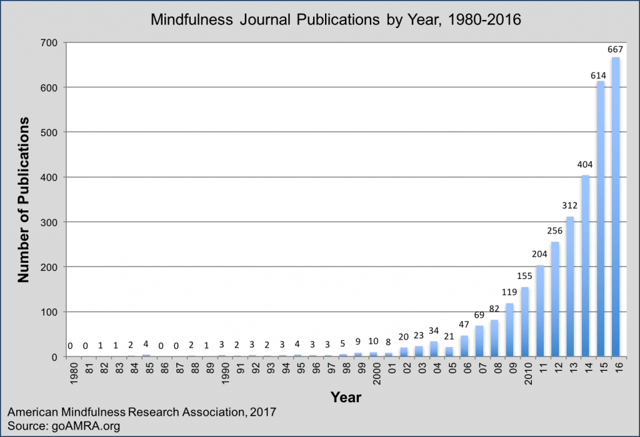 Mindfulness research increased exponentially since 2002. Two seminal UK reports, the Mental Health Foundation Mindfulness 2010 and the Mindfulness All-Party Parliamentary Group The Mindful Nation 2015 report how MBSR and MBCT are effective in reducing:
stress
depression
burnout
anxiety
overwhelm
absenteeism
and can dramatically improve:
health
resilience
well-being
focus
decision making
creativity
An updated bank of mindfulness research continues to grow as evidence-based interventions expand to include a variety of settings. MBSR and MBCT have already helped free thousands of people from chronic emotional, physical and mental suffering. As an MBP teacher, I am truly humbled and inspired by how much these programs change lives in profound and meaningful ways.
In fact, mindfulness is so effective that many organisations including Google, the Houses of Parliament, the NHS and even the military have been implementing MBPs for years with great effect. More workplace MBP studies are needed to equal the evidence of clinical MBPs, but many are indicating positive outcomes.

Back to the Good…
Mindfulness is equally useful for supporting staff with difficulties or simply improving wellbeing, so it is very accessible. Up to 25 people at a time can attend courses and staff can support each other in sustaining practice after the course ends. A recent 12 month study of MBPs for physicians carried out by Amutio, Martinez-Taboada, Hermosilla and Delgado, 2015, revealed how participants' self report and objective health measures continued to significantly improve over the year with monthly maintenance sessions after the MBP course finished.
So what's the bad news..?

The Bad
With its increasing popularity and profile, mindfulness teaching is suddenly an attractive, and potentially lucrative option, for experienced and not so experienced mindfulness teachers. Unfortunately, simply having an impressive collection of scented candles and mindfulness apps does not equip someone to teach MBPs.
Mindfulness is not a soft skill; it is a highly nuanced and complex approach for working with highly nuanced and complex issues. Professional MBP teachers are informed by the insight and experience gained from both teacher training and established personal practice; in the same way we would expect a qualified yoga teacher to understand how to facilitate a safe and effective yoga class from their own personal practice, training and knowledge of yoga rationale, anatomy and physiology.
Much of the learning in a MBP comes from an experiential and enquiry-based approach where teachers respond to the direct experience, questions and difficulties experienced by participants in the course. Mindfulness is not "clearing our minds", "a distraction" or "another fad", it is a potentially powerful approach for developing long term well being. MBPs focus on cultivating presence of mind, awareness and insight into our patterns, behaviours and actions - in skillful and supportive ways. Therefore we really need a highly experienced guide for that kind of journey into our own processes – it can be a rocky road at times!

The Ugly
Just like kale and running, MBPs are not going to appeal to everyone.
On a very serious note, MBPs are not suitable for all people; responsible and sensitive assessment is essential good practice. A fundamental aspect of MBPs centre on gently building the capacity and resource to work skillfully with difficulties; this is delicate work that requires a broad skill set. Due to the nature of mindfulness training, it is vital that staff members are invited to attend MBPs on a voluntary basis – in the same way we would invite staff to attend exercise or healthy eating programs.
Mindfulness is not magic snake oil
MBPs are no quick fix and although many MBPs are backed up by "proper science" they alone cannot magically fix a toxic work environment. MBPs work well as long-term interventions that integrate and inform a well-rounded, healthy work culture.
Workplace mindfulness is an evolving and exciting Wild West terrain, but there is huge potential to transform this uncertain landscape into an innovative, sophisticated community of robust research and good practice that could impact the wider population in truly meaningful ways.
The great news is that professional, sensitive and culturally appropriate mindfulness can be a powerful intervention for improving the lives of thousands of people within the workplace. If we take care of staff well-being at a human level, personal and organisational performance will take care of itself.
Click here to view all courses
---