Overcoming Teacher Shortages UK

By
Chloe Martin
·
2 minute read
According to government statistics, there was a 24% drop in initial teacher training applications this year (2022). That's not good news.
The quality of education in England depends entirely on the quality of teachers in our schools. The shortage of teachers is a pressing problem facing the Education sector in England, despite the Government's interventions to improve the situation.
Here we'll cover what could be going wrong when it comes to teacher shortages and how we can all take the next best step forward to improve.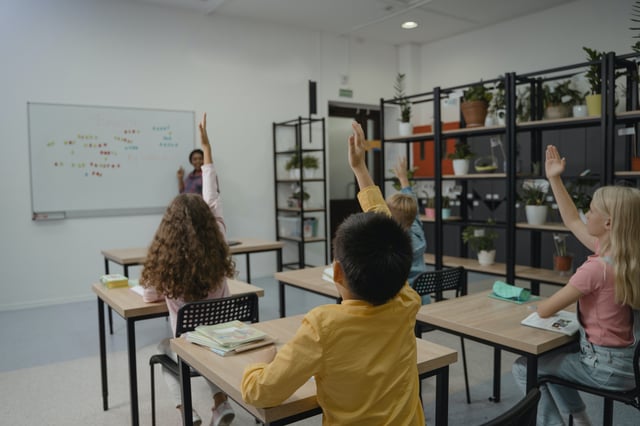 Where is Your School Now?
To begin making changes to fix this problem, it is vital that school leaders assess their current approaches to teacher recruitment and retention. Sharing their current teacher shortage problems with other school leaders and teacher recruitment experts can help decision-makers to understand the issues and how to overcome them.
It could be that your school is suffering a shortage of teachers in a particular subject, like Computer Science or English. According to Ofsted, a low number of specialists combined with a lack of new teachers in that specific area could pose significant consequences for the quality of education students receive.
Related: What is the student experience and why is it so important?
Improving Recruitment Strategies
According to an analysis from the National Foundation For Educational Research (NFER), teacher recruitment targets in England are likely to be missed in core subjects like English, Maths and Science. Along with seeing a spike in "recruitment troubles" in other subjects such as art, religious studies and biology.
It is essential that school leaders learn how to develop and apply effective teacher recruitment strategies. By developing more effective recruitment strategies schools will be able to improve the intake of teachers to their school.
Effective recruitment strategies are not just a matter of finding the right candidate, it is also essential to sell your school to prospective applicants. Schools need to appeal to graduates, especially as they are competing with other more conventional graduate employers, such as accountancy firms and banks.
Is Rate of Pay to Blame?
Not only is the capacity to teach and mentor new teachers under strain, the UK teaching rate of pay has also lost competitiveness due to the UK economy. Although average earnings have increased due to the rise in the cost of living and inflation, this loss of competitiveness in the education sector is likely to contribute to the recruitment and retention challenges.
In May 2022, the Department of Education committed to proposals of a £30k starting salary for teachers, with the aim to begin this by the 2023-24 academic year. This could aid teacher retention, but it may not be enough to cover the other challenges faced by teachers across the country.
One other issue is an unmanageable workload. Many reports show that teachers feel there is an "overbearing accountability system" that puts pressure on them constantly. And with the low pay and heavy workload, the teaching profession seems to appear more unattractive to many.
Read: You may even be experiencing burnout. Learn about what work burnout is, how it can impact you and how to avoid it.
Is Teacher Development the Key to Retention?
Like any employee, teachers need to feel valued. We always talk about the importance of continuous learning in other public sectors, but education seems to get missed. In 2021, Coventry's National Institute of Teaching and Education gained its 'institute' title from the government earlier this year in the hope to make positive steps towards the recruitment and retention crisis in the sector.
The goal is to provide a continuous professional development process for newly qualified and experienced teachers to train and upskill their knowledge or gain new skills. By enabling the pathway of progression for teachers, the government hopes this will keep them onboard for longer and improve the overall quality of teaching across the country.
Only time will tell.
Boost Your Skills With our Commercial and Organisational Training Courses
Whether you're a teacher, manager or leader, we've got a course for you. Take a look at our upcoming commercial and organisational training courses to see what you can learn and how to book.