Blockchain in Public Sector: Good or Bad Idea?
Understanding ModernGov
·
3 minute read
You may not be aware of the technological advances behind public sector organisations, but they have great potential to improve the efficiency, speed and security of a range of services.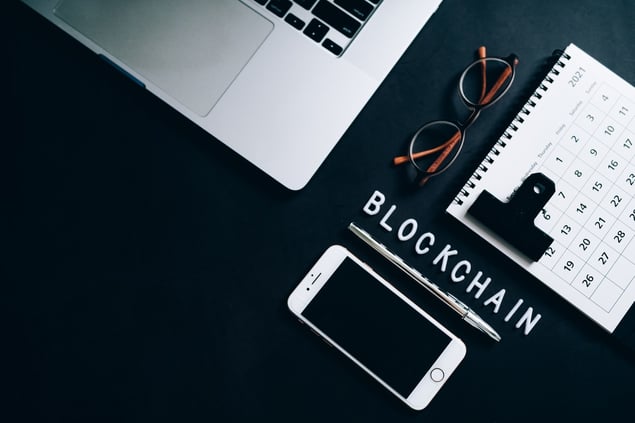 Technological advances such as blockchain can completely revolutionise the ways that people interact with government and other public sector institutions. But, there are still several questions remaining on the feasibility, benefits and security of the implementation in the public sector.
Here are some that will give you a greater understanding of blockchain and its potential in the public sector.
What is Blockchain?
A blockchain is a way of securely keeping track - in chronological order - of all the transactions happening on a decentralised network.
This network may be distributed in multiple places, yet all the people involved have access to an identical, shared history of events that cannot subsequently be changed or edited.
Deloitte uses a simple graphic to demonstrate the uses of blockchain in comparison to the older web systems we currently use.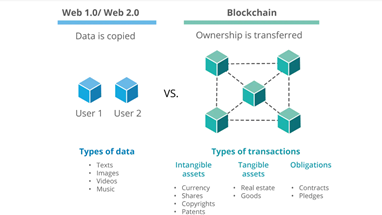 Is There a Difference Between Blockchain and Distributed Ledger?
Yes, blockchain is one type of distributed ledger technology (DLT) where the transactions are grouped into blocks (because this is faster and more efficient) and those blocks are then linked together in a chronological chain so you can't go back in time and change the audit trail of what has happened.
Hence the name 'blockchain'.
The real innovation of blockchain technology is that it is more than just a database. Using smart contracts, blockchains can also set rules about transactions that are tied to the transaction itself, not to the whole system. This means you can, for example, ask the system to only execute a payment to a participant when certain other conditions have been met.
Blockchains can be public (so-called permissionless, like Bitcoin or Ethereum) or private (i.e. where the actors are known and given permission to be in the network). Some argue that private blockchains are not technically blockchains, which has led to wider use of the term - distributed ledger technology.
There are also other types of distributed ledgers that can be implemented without blockchain. New types of distributed systems like IOTA or hashgraph have some similar properties to public blockchains but are based on a different type of technology called a DAG (directed acyclic graph). One of the main differences is that these systems work much more quickly than current blockchains and can be scaled faster.
Worried about using new technology in your role? Fear not. Here are 4 proven techniques to boost your digital skills and enhance your career.
Is There a Future for Blockchain in the Public Sector?
There are already hundreds of public sector blockchain projects being trialled by governments around the world - including e-voting, land registry, medical records and delivery of welfare services.
The future of blockchain may depend on successful pilots and the ability to convince decision-makers to invest in implementing both a technological and, perhaps more importantly, a fundamental cultural change in the way the public sector is organised.
What are the Benefits of Implementing Blockchain Technology?
Ability to transact and share information much more securely and efficiently than we do at present
Cut down on a lot of expensive and tiresome bureaucracy and paperwork
Allow for a much more 'joined up' approach to offering government services
Creates a 'trust layer' where governments and citizens can interact more directly and keep track of the status of key activities - e.g. through financial transactions or other important public documents
Are There Any Drawbacks of Blockchain in the Public Sector?
The public sector still relies on outdated systems and routines, so implementing new technology does come with several drawbacks. When it comes to blockchain, here are a couple...
The ability to get the public used to use a new system (which may not be that user-friendly at first)
Costly to implement across large organisations
Immutable data (meaning it cannot or shouldn't be deleted or modified after being created) - but this does have some positives, like reduced memory usage
Are your being ethical with the data you collect, store or analyse? Find out more about data ethics and how to ensure correct ethical data collection.
Can Blockchain be Implemented Across the Public Sector in 2022?
Blockchain may not be necessarily suitable for all public sector activities - there will be circumstances where another IT solution may be better or cheaper or just easier to implement. However, blockchain can make significant efficiency savings in the public sector and also improve the quality of many government services, be it filing tax returns, managing official documents or receiving medical test results.
If blockchain pilots prove their worth on a smaller scale, then I think the public sector will embrace it more widely and the longer-term benefits to taxpayers and users of government services could be enormous.
Advance Your Digital and Data Skills with our Training Courses
Whether you want to excel in your role as a Data Protection Officer, gain a basic understanding of Excel or understand FOI exemptions, we've got a training course just for you. View our upcoming Strategy and Planning courses and secure your spot.