How Can You use Storytelling Within Business?

Chloe Martin
·
2 minute read
The art of storytelling in business is a key leadership technique when you are looking to engage with senior managers, stakeholders or colleagues.
It's quick, powerful, energising, persuasive, entertaining, memorable and authentic. When presented effectively, stories resonate, generating creativity, interaction and transformation.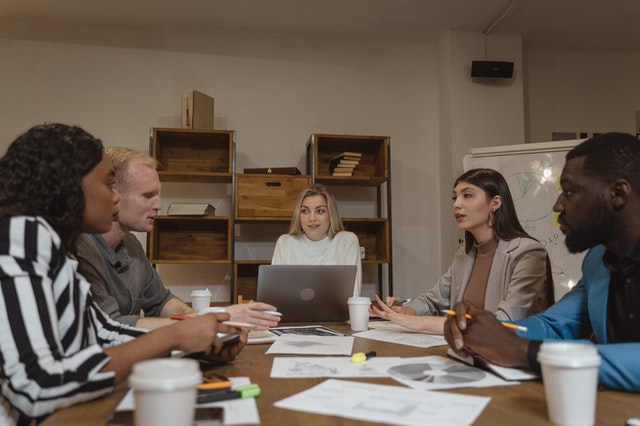 As storytelling is often overlooked in the public sector, we have put together a small list of five top tips that we think are especially important to give a clear idea of what can be achieved from this technique.
5 Ways to Use Storytelling Within Business
1. Start strong and set your goals early
A strong start is important for any presentation. It gives your audience confidence that you are not going to waste their time, by establishing a clear direction for what's going to be covered and the desired outcomes.
2. Keep it simple
The key is not to over-complicate the story and experience. Much of the time you will be presenting to more senior colleagues who may have extremely busy schedules, they may not want to learn the ins and outs of your topic, but just how it is going to be useful to them if it's commercially viable and what you need from them to move forward.
By keeping it simple and removing excess information that could take you away from the main point, you keep your presentation candid, simple and personal.
Got an important presentation coming up? Learn how to keep calm with these top techniques.
3. Be ready with supporting data
Do not make the mistake of being unable to answer a key question during your presentation. Particularly when presenting to senior managers or executives, they are experts at finding holes in proposals and content. Once you have established your point you may need to establish credibility.
Make sure you accompany your presentation with key information that will support and embellish your presentation and give it credibility, you may not want to include this in the visual presentation but make sure you have it ready for your speaking notes.
Learn more about data visualisation and how using it can benefit your organisation.
4. Make it a conversation
When preparing to give a presentation you need to remember that it should be a discussion between you and your audience, not just a long talk straight from a PowerPoint presentation. PowerPoint can become extremely tedious especially if you have been staring at a bright screen for a long period of time.
You are the presentation not what's behind you, if you do want to have a PowerPoint make sure that it is purely as a supplement to illustrate key points. Make sure you are interacting constantly with the audience and not just talking to them. This will make the presentation much more useful and interesting for your audience and they will have a chance to ask questions and engage with you throughout.
Whether you want to supercharge your presentations or secure any deal with a key stakeholder, Khushboo Nangalia, Founder & CEO of BEYOND99, a Marketing Technology company explains why storytelling in business is a superpower.
5. Practice makes perfect
Whether you are an expert presenter or an amateur you can never be too prepared. Even a regular speaker should spend some time rehearsing.
Making sure you are prepared, allows you to be more confident and flexible especially if your audience asks some tough questions or takes you off-topic. Being prepared and having a polished presentation will leave a positive impression and will help them believe in your product.
Improve your Verbal Communication Skills with our Courses
Whether you want to speak with more impact, confidently communicate in a hybrid working environment or successfully resolve complaints, we've got a course for you. View our range of verbal communication courses and discover how you can boost your skills today.