As a leader, you are expected to give advice, guidance, motivation and inspiration to your team.
You could even go further to say a leader acts as a role model to employees.
But, their view of you is dependent on your ability as a leader. Feeling the pressure? Don't worry, it doesn't have to be that way. Here's the essential skills you need to be a great leader for your team.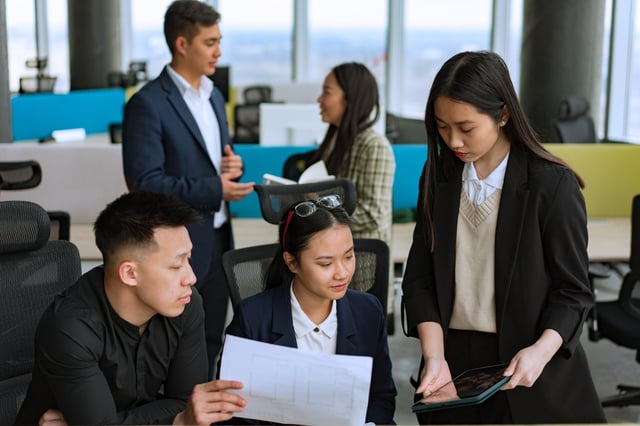 What Exactly is Great Leadership?
Many people will have different visions of what a great leaders should be or act like. But, there are some core qualities that come from some of the greatest leaders there has ever been. These can include:
Honesty and trustworthy
Self-aware and ethical
Strategic thinking
Highly motivated to reach goals
Ambitious and courageous
Committed
Good leadership skills are essential to your career development and the productivity, motivation and efficiency of your team. If you want to improve your leadership skills, think about what actions you can take to be more influential. If you are already a leader, think about how you can influence others.
Here's 8 essential skills you can start developing to get started...
8 Essential Skills You Need for Great Leadership
1. Ability to build relationships
The future of great leadership will be centered around true people skills, empathy and emotional intelligence. After all, the reason organisations succeed is because of the people. As multiple generations can fit into one workforce, it's important to acknowledge the differences and qualities of all your team and ensure you're doing the best you can to motivate and communicate with them.
Learn more about how emotional intelligence can help you become a more successful leader.
2. Effective communication skills
As we move into what looks like a more hybrid working environment until the foreseeable future, communication 'soft skills' are crucial in achieving all that we want and need in the day. Without effective communication, leaders are just those who are in a higher position than other employees. Using key interpersonal skills will help employees see that you are focused on individual interactions and connections in your team.
Want to learn how to develop an effective internal and external communications strategy after the pandemic? Click here to find out.
3. Conflict resolution skills
Even in the most perfect-looking teams or organisations, there's always a chance for conflict to occur. As a leader, it's your job to communicate, actively listen and find an acceptable solution to solve the issue at hand. Once the dispute is solved, it's important to learn from it. By identifying potential disputes early on, you can avoid any unnecessary conflict that may appear later and impact more than two employees.
4. Quick thinking
Although working from home may be the quieter and less stressful path to work, it doesn't stop you from being busy. Great leaders are flexible, able to make quick decisions and inspire those around them, no matter where they are. Employees expect a lot from leaders, so it's your responsibility to make the right decisions and fast, even if you're under tricky circumstances.
5. Strategic thinking
By now, change is something we're getting used to. But as we continue to recover from the pandemic, there's still a chance more change could come. Having the ability to think strategically and lead through change is one of the most important challenges for leaders in 2022. We know that even leaders don't have a crystal ball to see into the future, but strategically thinking about what future transitions you may have to face through leveraging people's natural inclinations is a powerful skill.
Ready to improve your strategic thinking? Read our 4 top tips to get started.
6. Commitment
Every public sector organisation needs a clear vision to thrive and serve it's service users and stakeholders. But, having the courage to stick to a vision or key goal is a well-thought after skill that will make you a stronger leader in 2022.
7. Authenticity
An authentic leader is one who is open, honest, trustworthy and just, actually real. No one likes a robot as a leader, so don't act like one for your team. The more open and real with them you can be, you'll find the more they seek connection a build trust with you. Each year more employees are becoming aware of toxic leadership traits that can impact their working lives, and rightly so. Those unwanted traits can vary from self-serving and fakeness to narcissistic or secretive. Aim to avoid those at all costs!
Want to work on your interpersonal skills? Here's 11 that will make you become a better manager.
8. Cultural understanding
You could have all the business acumen and knowledge in the world, but, if you're not culturally aware and understanding, you'll only get so far. Understanding, appreciating and acknowledging other cultural differences aside from yours is the new rule, not exception. By identifying and appreciating these differences in your team or across your organisation, you'll become a more effective leader in no time.
Develop Your Leadership Skills with our Expert-Led Training Courses
Whether you're an emerging manager, or you've got a decade of leadership experience under your belt, we've got a training course you will benefit from. Take a look at our upcoming Leadership, Management and Strategy courses to see how we can help you take your skills to the next level.