Before the COVID-19 pandemic struck, "furlough" was a term that was unknown to many. But now, this is the opposite.
A furloughed employee is someone who, rather than being dismissed for redundancy by their employer, is kept on the payroll during a period where the employer does not have any work for employees who are registered for PAYE purposes.
From tips, viewpoints and transparent opinions, hear from Management Consultant, Jonathan Bottomer, People Development Consultant, Marie Thake, and Leadership Expert, Duncan Enright on how to retain furloughed staff during this unexpected and ever-changing time.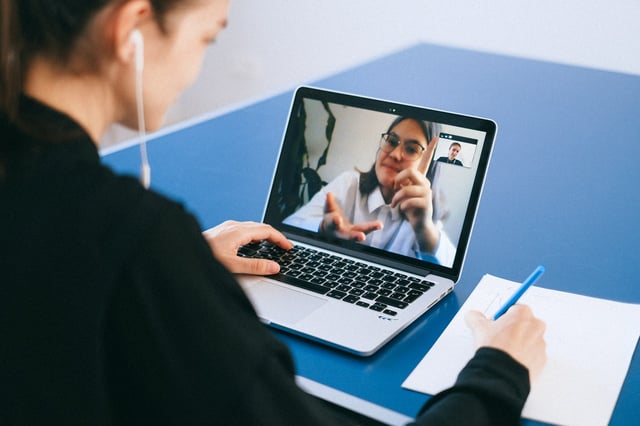 One of the challenges for employers at this difficult time is to retain staff and for them not look for other jobs. And for employees, the main challenge is figuring out what to do and how to stay on track in a new environment - especially confined to their home.
Management Consultant, Jonathan Bottomer, has three main tips that will help you stay connected with your employees and boost their confidence in this time of need.
1. Support your team in isolation or lockdown
"For some employees this will be the first time they cannot work and this will be a really difficult time for them. To help combat this as a leader, here are a number of things you could, for example:
Have more regular contact between a team leader and member of a dispersed team to help that individual feel more engaged, respected and motivated
Don't restrict check-ins to work activity. Ask how they are, about their weekend or what that have planned coming up
Regularly showcase the achievements of team members and the team. You could follow this up with an email to help increase that person's enthusiasm and motivation. Don't forget to think about their return to work – what are the challenges and opportunities ahead?"
2. Encourage a focus on mental and physical wellbeing
"If people are feeling emotional, overwhelmed, or stressed, there will always be somebody who can help. The most important thing is knowing when they can ask for help, whether that's from a colleague or someone else. Being self-aware, and able to recognise how employees are feeling is essential for you to know when to implement strategies to make them feel better.
Employees should be encouraged to keep their immune systems working well by eating healthily, sleeping well, keeping in good shape and exercising regularly. The internet offers a range of resources across all of these topics, including live exercise classes for people of all ability levels. Additionally some home exercises guidance is available via the NHS."
3. Communicate!
"The key is to communicate with your team and so they know exactly what's expected of them during the furlough period. It's often difficult for leaders to gauge the mood of team members when not seeing them face to face on a daily basis, including recognising any health and safety issues.
Here's three ways to keep communication a priority...
Hold short daily or weekly teleconferences to have a catch up
Share news, share progress, share difficulties, share experiences
Consider setting up a team WhatsApp group so you can all communicate with each other at the same time. You can also use this for sending photos or messages to lighten the mood"
Learn more about succeeding at employee retention with these 5 strategies.
Leadership Expert, Duncan Enright, told us about three things an organisation can focus on to make sure it protects its ability to bounce back: Retention, Resilience and Respect.
Retention
"The costs of recruitment far outweigh those of retention, and these are staff you have invested in and who know your company well (and hopefully care, too). Therefore, it makes sense to ensure your furloughed staff feel every bit as much part of the team as those still working."
Resilience
"Invest in some online training for your staff in emotional intelligence and personal resilience, particularly in the context of remote working. Encourage them to discuss their home worries, and help them build a new schedule for their daily lives. If they can, encourage and help them to volunteer during this period. This will help keep them positive, build optimism by taking control, and develop skills that may prove useful on return. Plus we all need to focus on what we can do to help each other if we are to help ourselves."
Respect
"Be transparent, open and honest with furloughed staff about what is happening. Regular updates are useful if truthful and written from a personal perspective. Respect the fact that they have devoted part of their lives to see the company thrive, so will be interested in developments. They are also interested in you, and your safety, and you have never been a more important role model."
Feedback can help you improve the way you interact with employees. Here's more on feedback cultures, why they are important and how you can implement one at your organisation.
Last but not least, we spoke to People Development Expert, Marie Thake who told us organisations should focus on:
1. Clear objectives and aims
"We all need to feel a sense of achievement and a sense of purpose on a daily basis. Remember to praise and thank your employees for their contribution over their careers, for showing resilience in difficult times and for being able to adjust to new demands and periods of uncertainty.
Communicate in positive language using "we", "us" and "When we are back together in the work place". Be clear on the aims and objectives of the business and how each individual fits into those aims and objectives going forward."
2. Vison and values
"Communicate about the organisation's vision and values to remind people what they are part of and what they work so hard to belong to. Make sure they see how their contribution has helped the organisation to be a success.
Remind people how important they are and show them they will be treated with respect and in-line with the values of the organisation throughout this period of change. Make sure they feel considered in the decisions the organisation has made."
Invest in Your Team Remotely with our Virtual Training Courses
From effective data visualisation, developing a high performing team or demonstrating value and return on investment, we've got the knowledge, expertise and experience to help your employees move forward virtually. View our upcoming courses and book today.