4 Employee Engagement Strategies Every Public Sector Manager Needs

Chloe Martin
·
4 minute read
Employee engagement is crucial to the success of any organisation and by identifying the right approach, you can strengthen performance among staff, reduce absence and deliver better services.
We know this takes time and research, so we've done it for you.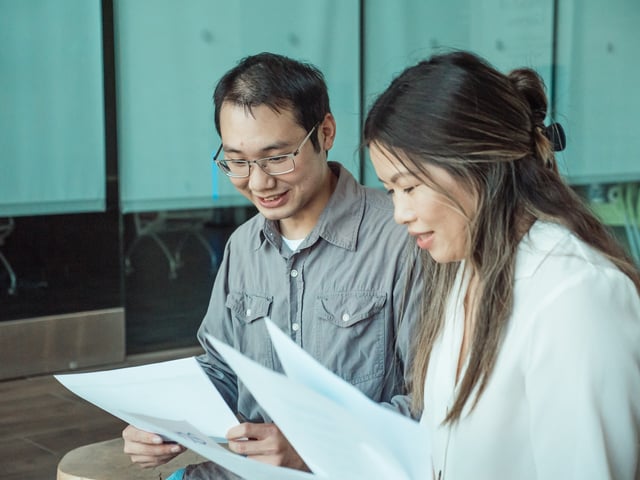 What Actually is Employee Engagement?
Employee engagement is the emotional connection your employees feel to your organisation or its goals. You may think it's similar to employee satisfaction, but this is something completely different. Engaged employees will feel a sense of importance and value when it comes to their role in the company, and this is a high factor in how motivated and productive they are.
The public sector delivers a vast range of services to the UK population and has to do so regardless of the political and economic climate. To meet these expectations we need a more productive workforce and the key to delivering this is higher levels of staff engagement.
Is Employee Engagement in the Public Sector Good?
Since 2018, there has been a range of studies showing that the public sector has some of the poorest engagement levels. But, as of 2020, the statistical results from the NHS Staff Survey give us a more updated valuable insight into the engagement of over 600,000 employees working in late Autumn 2020.
The survey results tell us that the national average of staff engagement at that time was 7/10 for the majority of age demographics. The demographic with the highest staff engagement rate in 2020 was 66+. Demonstrating that more needs to be done to engage staff that are of a different generation.
Keep your eyes peeled for our new upcoming course on how to manage generational diversity in the workplace for more information and expert tips.
To learn more about the survey or see a greater breakdown of other benchmarks, such as response time, take a look here.
What is an Employee Engagement Strategy and Why do You Need one?
The aim of an employee engagement strategy is to increase the chances of employees gaining a positive emotional connection with your organisation - this can be through developing a different or motivating environment or simply communicating more effectively.
Humans are unique creatures, and we're all motivated by different things. But, it's up to you to make sure you know your employees and what makes them get out of bed in the morning - it could even be the free office coffee - but I think you'd much rather be because of your organisation's goals or culture.
High employee engagement serves lots of benefits for any organisation. Gallup's 2020 study on employees and their performance found that teams with higher engagement had a low level of turnover and absenteeism, which can be costly and stressful not just for HR but your team. Focusing on improving your employee engagement rates is a great investment for any organisation.
When it comes to employee engagement strategies, it's important to note that there's no "one size fits all" strategy, as it depends on your organisation, budget and timeframe. But, we've made a list of 4 different employee engagement strategies that you can see if they're the right fit for your organisation or team.
4 Employee Engagement Strategies Every Public Sector Manager Needs
1. Create an 'open door' policy for employees
As a manager, you'll likely be the first point of call that employees go to if they have a question, an issue they want to discuss or new ideas. Communication must be open and honest if you want engaged employees, so showing them your door is open will encourage greater two-way communication.
Make sure you're visible around the office, ensure new employees know where they can find you and when and dedicate time for organisation-wide Q&As virtually or in person.
2. Make time to share ideas
Each team and department have their own jobs and targets to reach, but they all share one thing = the skill set to succeed. It's important to allow employees to share ideas between different teams and departments, as usually if something isn't working for one team, it might be the same case for the others. This helps save time and also helps employees to see what others are working on and how they achieve their goals.
Schedule time for your employees to conduct peer-to-peer learning or team sharing so everyone stays on the same page and becomes more efficient and productive. This can help employees see how their role has an impact on the overall progress of the organisation.
3. Encourage social interaction
A strong team isn't just dependent on the shared or individual skills and knowledge of the team, it's also dependent on the bonds and relationships created between individuals over time. We're not suggesting everyone in your team has to be best friends with each person, but make sure your employees know that everyone should be respected and treated with kindness.
According to HR News, 60% of UK workers say that having a friend increases their job satisfaction and engagement in the workplace. By encouraging social interaction through group activities, virtual quizzes, monthly lunches, community hubs or instant messaging, you'll be able to facilitate boosting engagement by helping your team get to know one another.
Read our blog post on top strategies for employee retention in the public sector for more tips and ways to keep your employees satisfied.
4. Offer learning and development opportunities
Neglecting the growth of your employees and their skills is a one-way trip to unhappy, disengaged and frustrated employees who will likely leave. Everyone wants to improve their skills in order to keep up with the changing work environment, so show them you're investing time and money into offering flexible, achievable and enjoyable learning and development plans to support their growth.
One way to do this is by encouraging continuous learning, which means giving your employees the time and resources to develop their skills over time as they work. Learn more about continuous learning and ways you can encourage it with our latest blog post.
Your employee engagement strategy will become your foundation for working out what you want to achieve and how you can go about it. When developing your strategy, think about these four things:
What does our current employee engagement look like?
What are the things we currently do well?
What do we need to achieve?
How are we going to achieve it through employee engagement?
Here's an example of one NHS Trust that noticed the low employee engagement rates and decided to take action.
Portsmouth NHS Hospital Trust: A Case Study
Portsmouth NHS Hospital Trust provides a range of acute services, employing over 7000 staff and operating the busiest maternity department in the South-East.
Despite being the recent winners of the 2015 Personnel Today Awards, their past National Staff Survey results were disappointing. In 2012, staff engagement was in the lowest 20%, with just 36% of staff feeling that the organisation valued their work. Worse still, only 44% recommended the trust as a place to work, while just 57% recommended it as a place to have treatment.
It was clear that a radical approach to engaging staff was needed and The Trust took a number of steps to address the situation:
They implemented an honest and open culture
Created a clear framework of changes needed
Empowered staff to identify solutions for better ways of working
Set up a core sponsor group made up of staff
Create a Highly Engaged Team with our Learning and Development Handbook
It is important for organisations to look after their most valuable asset: their staff. Employees want to work for a company that values and recognises their work. If you want to find more ways to engage your employees or show that you value them, download our free Learning and Development Handbook.
Click the button below to access your copy.