5 Ways to Encourage Effective Continuous Learning in Your Organisation

Chloe Martin
·
4 minute read
The rate at which you need to learn new skills to stay professionally competitive is increasing – and fast.
Employees don't just look for an engaging hiring and onboarding process, they look for an investment in time and resources to continue learning while working.
That's why you need to encourage effective continuous learning. Here's how.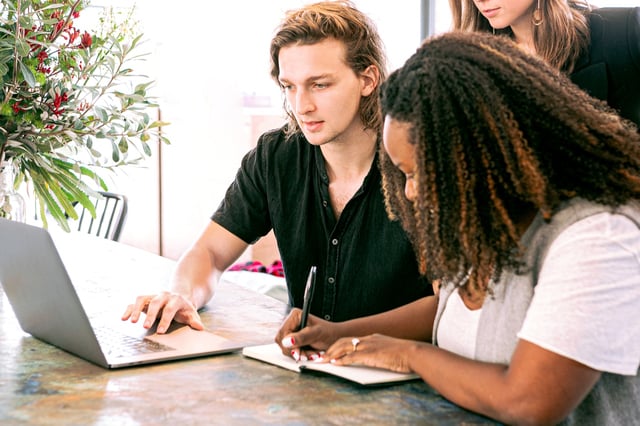 What Does Continuous Learning Mean?
Continuous learning, also sometimes known as "lifelong learning," is the process of development where employees have the opportunity to learn or develop new skills while they work. Continuous learning comes in many forms, such as formal individual training courses, external workshops or conferences, and self-directed learning consisting of reading and listening to podcasts or researching a topic.
As millennials begin to make up over 75% of the workforce, organisations need to be ready to meet their different set of expectations. According to a study by EduMe, 86% of employees believe it's important for employers to provide learning opportunities. This means that to have effective continuous learning, organisations need to tailor learning to specific individuals or teams and show everyone the benefits of continuous learning for them to actively want to learn.
What is the Goal of Continuous Learning? And are there any Benefits?
Without continuous learning, not much would change in your organisation. Processes would stay the same, nothing new would be achieved and knowledge would remain stagnant. The goal of continuous learning is to obtain new ideas, knowledge and skills across the organisation to take the next step into a new and improved future.
As for the benefits of continuous learning, here are just a few for your organisation:
Stay competitive in the market
Increases in innovation across teams
Update and review outdated or inefficient processes
More motivated and engaged employees
Creates healthy competition between employees (top performers etc.)
Continuous learning doesn't just benefit the organisation either, it holds lots of benefits for employees in their personal and professional lives. For example:
Chance to improve and expand skills
Gain certifications
Opportunities for promotions or other incentives
Career development
Not sure what skills gaps need closing in your organisation? Check your eligibility for a free skills gap analysis to ensure the training program you develop will encourage long-term continuous learning.
5 Ways to Effectively Encourage Continuous Learning in Your Organisation
Promoting and encouraging continuous learning across your organisation won't happen overnight, but with commitment and the right resources, you can create a supportive environment for employees to start developing their skills. Here are a few ways you can get started…
1. Create a flexible and on-demand learning plan
If you want employees to enjoy the learning experience, it's important to make continuous learning part of your organisational culture. When it becomes a way the organisation runs and thrives, employees are more likely to be engaged.
Start by defining the goals and what is hoped to be achieved through this continual learning program and how you are going to support employees through it. Engage with employees to understand what support they need, what learning they would prefer and what resources you can provide them.
It's important to note that employees shouldn't be expected to engage in continuous learning in their free time or during the average workday when they have other tasks and deadlines to meet. This won't engage employees, only cause frustration, so aim to make the learning as relevant and flexible as possible.
There are many things that keep employees happy and productive, you just have to know what they are. We've got some top ones for you here.
2. Show that leaders are advocates for continuous learning
If employees see that management or leaders are engaged and on board with the continuous learning initiatives, this can create a positive environment where learning is seen as a priority to all. Aim to show employees that continuous learning is important and valued by all senior staff by taking part in professional development yourself. You can do this by:
Communicating with your team – find out what learning they are focusing on or what support they need to succeed.
Being transparent – there should be no guilt or embarrassment attached to a personal or professional skill gap. Make sure employees know who to speak to if they need assistance – without judgement. In order for your employees to picture what they need to improve, they need to feel safe in their environment to step out of their comfort zone.
Showing what you are developing yourself – show that you value continuous learning by modelling behaviours you want to see in your employees. What can you develop or add to your skill set? Lead by example and you'll see others follow suit.
A feedback culture is a great way to develop a greater understanding of what your employees want and hopes to gain. Here's how you can build a successful feedback culture.
3. Ensure resources, tools and time are readily available
To make sure your organisation continues to continuously learn, you need to ensure resources and time are available to employees. These resources depend on the organisation or department's needs but get started by helping employees to devote time to engage in training, organising team workshops or coaching opportunities or holding learning outcome sessions to encourage employees to show or apply what they have learnt.
Time is a barrier to L&D teams and employees, so give them easy access and high-quality learning resources to help it become a habit in their work routine. Take a look at learning subscriptions or E-Learning memberships to suit your employees' needs. Or if you want to make an even longer-term investment, you can build your own library of learning resources.
Want to learn more about how to retain your employees? Here are our top 5 strategies for employee retention that you can't miss out on.
4. Connect employees to mentors
We know that coaching is an effective way to discover employee needs and desires, but mentoring can be an even more impactful way to motivate and support employees through their efforts. Formal mentoring isn't just a great way to build relationships with respected and experienced mentors in their field, it also gives them a platform to visualise their career growth, discuss their ambitions and gain some advice or wisdom to continue learning effectively.
These mentors can be senior leaders in the organisation or externally sourced professionals who wish to help motivate others in their field to learn and develop their skills. It can also help the mentors to reignite their passion for continuous learning!
5. Celebrate the milestones – big or small
There are skill gaps in many different sectors across the country, but public sector skill gaps are often the most talked about. Therefore, it's important to set organisational goals for continual learning and then repeat the process when the goals are met.
Many organisations focus on when the training is completed, rather than what impact it has. It shouldn't be a case of a tick-box exercise, it should be about the skills you gain, the impact they have on your goals and the celebration of achievements. This is what drives employees and gives them a sense of purpose in the organisation.
Is your learning and development strategy future-proof? Discover how to make yours exactly that.
Get More Learning and Development Insights with our Free Handbook
Whether you want to build a happier workforce, gain best practice techniques to protect staff turnover or develop a learning culture that everyone is proud of, we've got the only L&D guide you need.
Click 'Get Access Here' to download your free copy.
Chloe Martin
Content Editor
2+ years in SEO and content marketing. Striving to help public sector professionals develop their skills and learn something new through high-quality content.