5 Things That Promise to Keep Employees Happy and Productive

Chloe Martin
·
4 minute read
Having happy employees shouldn't be considered lucky or a bonus.
If you want the best results in productivity and profitability, keeping employees happy should be a top priority.
According to iOpener Institute, happy employees are 12% more productive and likely to stay in their job four times longer compared to unhappy employees.
Interesting, right?
Here are more reasons why and how you can keep your employees happy and productive.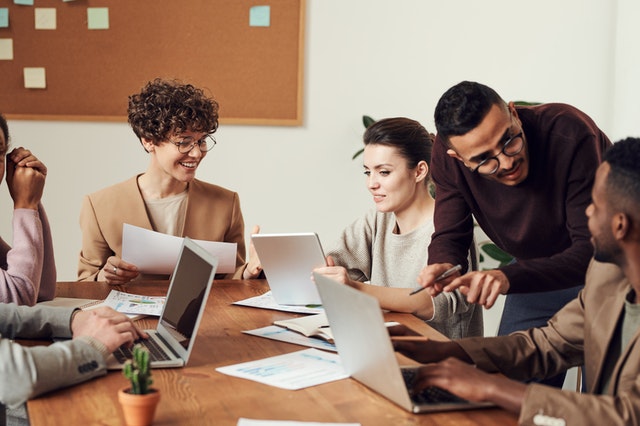 Why is it Important to Keep Employees Happy and How Can it Benefit the Organisation?
Did you know that companies with a highly engaged, happy workforce are 21% more profitable? If that doesn't motivate you to invest time and money into your staff, what will?
You may think giving your employees a raise and offering well-being or feelings-based reviews will make them more productive, but employee needs are changing, and every organisation should identify what benefits employees need to keep them happy, engaged and productive.
Investing in the happiness of your employees can lead to lower staff turnover, increased motivation to reach organisational goals with a shared vision, improved creativity, client satisfaction and productivity overall.
At the end of the day, happiness is the key to everything we do, so why should it stop in the workplace?
How Do You Know if Employees are Unhappy?
Some of the simplest and obvious ways to tell if employees are unhappy is if they do anything they can not be there. Turning up to the office or meetings late, taking long lunch breaks, having decreased motivation, low productivity or increased employee conflict are all signs your employees feel unfulfilled and unhappy.
Identifying the reasons why employees are unhappy is more difficult. It could be down to personal problems, changes in the working environment, distressing conflicts between employees or feeling unheard or unsupported. Investing time and money into employee happiness can have a huge positive impact on the whole organisation.
5 Things that Promise to Keep Employees Happy and Productive (hint: one isn't a raise)
1. Encouraging a work-life balance for all
It doesn't matter if you're a senior manager or a junior, everyone needs a work-life balance. Not only does a work-life balance reduce the risk of burnout, but it is also a great way to ensure your employees destress and have time to work on themselves or do what makes them happy outside of the working environment. To improve a work-life balance, aim to encourage time off, add short breaks or check-ins throughout the week, offer flexible working and focus on productivity more than hours worked.
You could even use a slogan such as, "leave work at work" to show employees you believe in the positive impacts of an effective work-life balance.
Learn how to manage stress in the workplace as an employer.
2. Communicating and listening
It sounds simple, but it's easy to forget why we need to communicate and listen to one another for a successful work environment. Simply asking employees to communicate any feedback, comments or suggestions in the workplace can make them feel valued and heard. You must make sure you implement the feedback or take the comments they offer to a higher level, as they expect and deserve a change to follow.
Read about 5 strategies that can improve communication in the workplace.
3. Recognising and celebrating rewards frequently
Whether it's a sale, a winning bid or completing an intense presentation after weeks of preparation, celebrating and rewarding success or achievements, whether they're big or small, will make all the difference when it comes to employee productivity. Having traditions or implementing a reward for top achievements can also create a positive organisation culture which will have a good impact on employee retention, satisfaction and loyalty to the organisation.
To make rewarding easier, set up a simple employee rewards scheme specific to your organisation and culture. This will ensure high performance does not go unnoticed and it offers a bigger incentive to work hard to achieve the rewards. You can include things like peer-to-peer recognition, instant rewards and long-service rewards which focus on milestones within the company or specific achieved metrics.
Discover what other benefits employees prefer more than a raise.
4. A varied and interesting workload
No one enjoys doing the same, monotonous task every day. A tad of repetition is acceptable, but we all need variety in order to stay motivated and excited about the work. Offering employees the chance to learn how to complete new tasks, or giving them more long-term tasks to complete will give them a break from tick boxing all day and will allow them to see the bigger picture of their impact on the organisation and its objectives.
Boredom in the workplace can lead to mental health issues, an extreme lack of motivation and a need to leave the organisation. In most public sector organisations, job rotation is not possible, but monitoring employees and their tasks closely and advising regular breaks will help you see where boredom and demotivation strike.
5. Creating a career pathway through training and development
One of the most common ways to ensure a happy and productive workforce is through a learning and development strategy that highlights an employee's ideal career path that you're helping them achieve. Training and an opportunity for work development or new skill learning are one of the best ways to achieve greater productivity, efficiency and confidence in your employees.
Work with your employee to create an ideal career pathway they would like to be on. Not only will they appreciate you taking the time to do this, but they will also recognise that you're committed to their growth, skills enhancement and the ability to reach their full potential. Now all you need is a sign saying, "We believe in you!"
As part of your learning and development strategy, organise regular training to suit your employee's needs and your budget. If you're stuck on where to start, see our range of courses that will boost your employee's skills and give them the confidence to thrive in their role.
From written and verbal communication, data, compliance and management and leadership courses, we're sure we have one for each of your employee or organisational needs. See our upcoming courses and secure a space today.
Uncover More Ways to Support and Keep Employees Happy With our Free Guide
Our new guide is jampacked with unmissable insights and resources that will help aid your progress towards a better working environment and a greater understanding and success for employee retention.
Click below to download your free copy.
Chloe Martin
Content Editor
2+ years in SEO and content marketing. Striving to help public sector professionals develop their skills and learn something new through high-quality content.