Strategies to Improve Communication in the Workplace

Chloe Martin
·
3 minute read
As each organisation is different with its own set of unique goals, there's sadly not a universal way of creating the perfect strategy. With so many moving parts in an organisation, you can't undervalue the importance of a strong communication strategy.
You'll have frequent communication between staff members, management, HR, customers, the general public and more, so it's clear that it's not an easy task. Although, you can follow our tips below to develop a communication strategy for your organisation.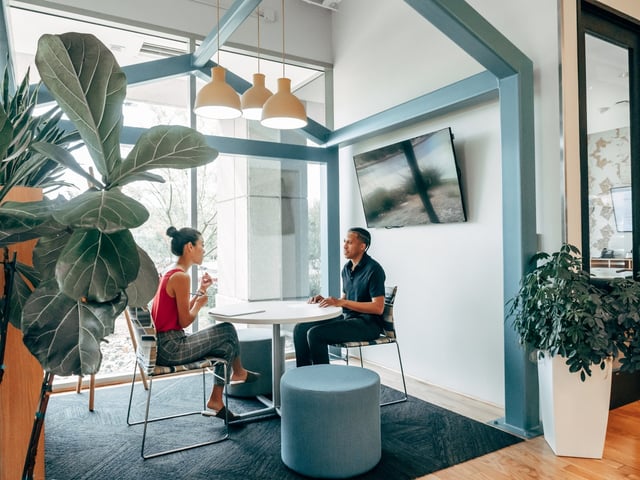 Define Your Goals
This will be the cornerstone of your communication strategy and the perfect starting point. Start by defining the aims of your organisation and indicate what it is you want to achieve from this new strategy.
When outlining your aims and objectives, don't forget to highlight which ones are long-term and which are short-term. This will help your team know which goals they can start chipping away at without wasting time and give them a sense of purpose when it comes to long-term objectives.
Here are some examples of communication SMART goals that you can implement.
Know Your Audience
You also need to outline your audience in the early stages of your communication strategy planning. This will help you know who you need to communicate with to achieve the objectives you set out in phase one. Once you identify your key audiences, you can start to develop appropriate messages that resonate with each unique audience type.
Sometimes the best audiences to target to achieve your goals might not always be the most obvious ones. Hone in on the audience types early on and build up their profiles. That way, you can clearly determine the direction of your communication strategy.
Highlight Key Communication Methods
Once you've identified each audience type, now you need to highlight the most appropriate channels for communicating with them. Remember, each audience type is likely to learn in a different way so it's possible your strategy will involve all forms of communication. Written, spoken, print, video - make sure to cover all the bases.
Once you've looked at all the channels you have, you can then construct your plan by linking audiences, messaging and channels. Keep in mind that communication is all about storytelling. Make sure to use an interesting narrative, focus on human interest stories and use images that resonate with your audience types.
Identify Your Plan of Action
You've outlined your audience types and finalised your communication methods. This is a great start to developing a strong strategy but now it's time to focus on the key communication activities, budget, methods and the resources you'll need to get the job done.
Within your plan of action, make sure to include the timescales and any key milestones related to your communication strategy. Getting senior leadership and stakeholders to buy-in can be a challenge in itself, but this makes the process easier as they'll be aware of what you need and when the jobs will be completed. It's the perfect move if you want to avoid any surprises further down the line.
When it comes to the tools and resources you'll need to communicate the key messages, it all depends on how your audience type learns and communicates. Use achievable timescales to set legitimate levels of expectations and if you need more resources then outline a case for it. This will help you deliver results without the risk of overpromising anything.
Evaluate and Get Feedback
There's probably no point in creating a new communication strategy if you have no way of knowing if it's worked once you've implemented it. As important as it is to develop this strategy, it's just as important to decide how you'll measure its success. At this stage, it's time to bring back the goals and objectives you set out at the beginning of the process to see if you've met your goals.
When measuring the effectiveness of your strategy, make sure to focus on feedback as well. It can be as simple as having direct conversations with your range of audiences as this will help you understand how well each group understood your messages and objectives.
Evaluate the strategy, gain valuable feedback, discuss the results carefully and use them to improve and amend your communication strategy for next time. The great thing about developing this type of strategy is that it improves team communication, efficiency and also confidence.
Learn more about feedback cultures, why they are important and how you can build a successful one.
Discover Effective Communication Tactics in the Communication Skills Handbook
Becoming a better speaker, communicating with confidence and overcoming fear when it comes to presenting. They're all challenges that many face but they can be easy to overcome when you know what to do. To help you with all of that and much more, check out the Communication Skills Handbook.
It's packed full of handy tactics you can refer to when needed for a range of topics. To get your hands on a copy, click the link below.
Chloe Martin
Content Editor
2+ years in SEO and content marketing. Striving to help public sector professionals develop their skills and learn something new through high-quality content.