Examples of Communication SMART Goals That You Need to Implement

Chloe Martin
·
4 minute read
"Be a better communicator" isn't a practical goal.
Consider all the different types of communication you engage in throughout your day.
Verbal conversations, emails to your team, questions you ask in meetings and everything in between.
We believe you should continually improve your verbal communication skills - this is where communication SMART goals come in.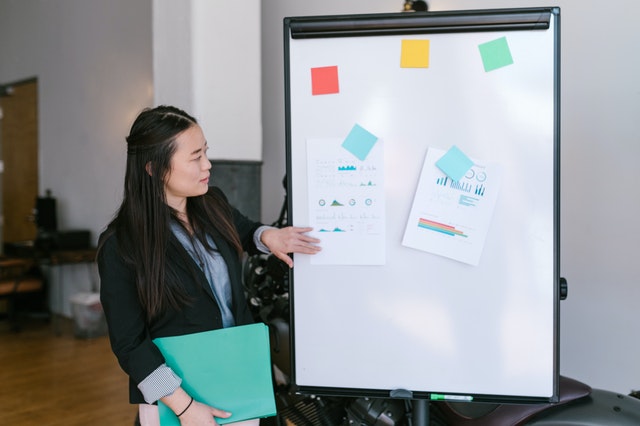 What are SMART Goals and What Does it Stand For?
SMART (Specific, Measurable, Attainable, Relevant and Timely) is an effective acronym that provides the clarity, direction and motivation you need to achieve your goals. Here is a breakdown of the acronym to help you gain an in-depth understanding...
Specific
To avoid setting vague goals, it's essential to answer the five W's - who, what, where, when, and why. If your goals don't provide clear answers to these questions, it's crucial to refine them for better clarity.
Measurable
Whether for personal satisfaction or to keep you motivated, goals should have some form of metric. Measurability is also key to gauging progress and keeping track as you work towards a goal - a great way to do this is through statistics to add measurability and direction.
Attainable
The idea isn't to set an easy goal, it's to set a realistic one. How much time can you realistically dedicate towards achieving this goal?
Relevant
A relevant goal is one that resonates with an organisation's broader business goals and most importantly, the bottom line.
Timely
Find a duration that allows enough time for the goal to be completed but isn't so far away that it gets lost in your to-do list. This holds everybody involved accountable.
Why are SMART Goals Important for Improving Communication?
SMART goals are important for improving communication because they provide a clear framework and roadmap for achieving specific communication objectives.
Without SMART goals, it can be challenging to measure progress and stay focused on areas that need improvement - especially if it's a team goal rather than an individual one.
By setting specific goals, you can identify the exact skills or aspects of communication you or your team need to enhance. For example, if someone struggles with public speaking, a SMART goal could be to improve eye contact with the audience and reduce the use of filler words during presentations.
Examples of Communication SMART Goals You Could Implement
"I want to develop the confidence to speak at an upcoming public event in June."

"I want to inspire and motivate my team by 15% by the end of the quarter."

"I want to improve our team's response time to complaints from 24 hours to 12 hours within the next three months."
You can build out these SMART goals to be more specific to your situation or the goal you need to meet. When setting communication goals, it's important to be as specific as possible.
Vague goals like "be a better communicator" won't lead to actionable steps or measurable progress. Instead, think about the specific skills or areas of communication that you want to improve. Do you struggle with public speaking? Are you having trouble getting your point across in team meetings?
By identifying the specific challenges you face, you can create SMART goals that are tailored to your needs. The more specific your goals, the easier it will be to track your progress and stay motivated along the way. So don't be afraid to get specific – it's the key to achieving your communication goals!
How to Create a Communication SMART Goal - Two Full Examples
Public speaking is considered the number one fear but just like any other skill, it can be developed. What is it specifically that you want to improve on that will make you a better public speaker?
Whether it's better eye contact with the audience or a reduction of the number of filler words in your presentation - once you identify what will make you a more effective speaker, you can create a goal that helps you achieve that.
Communication SMART Goal Example 1: How to Become Better Prepared for Public Speaking
SMART goal example: I would like to improve my eye contact with the audience by not relying on the slides. I want to practice my speech five times before the deadline of *the speech date* so I can memorise it and be more engaged.
S - Be a more engaging public speaker by making eye contact with a member of the audience.


M - In the run-up to the event, you can set yourself a goal of how many times you're going to practise your speech to be more confident and less reliant on slideshows when you deliver it.


A - Everybody can get better at public speaking, so this is definitely an attainable goal. Anybody can improve their public speaking skill with practice and preparation. How will you make time to ensure you accomplish your goal?


R - Is becoming a better public speaker going to help you in other areas of the organisation too? It can help you communicate more proficiently with the wider team and help articulate your points more.


T - If there's an event coming up you're going to talk at, that's a clear deadline for when you need to have completed this goal.
Not sure what is really meant by 'good verbal communication skills'? Read this blog post to find out.
Communication SMART Goal Example 2: I Want to Inspire and Motivate My Team
A motivated team is much more likely to achieve its true potential. On top of that, organisations with a highly engaged workforce are 21% more profitable.
Although you can't directly motivate somebody, you can encourage the process by implementing tailored goals with that in mind. Here's an example of a SMART goal you might implement to achieve a more motivated workforce.
SMART goal example: I want to introduce a recognition programme to motivate the team by 15% by the end of Q3, measured with quarterly NPS surveys.
S - Introduce an employee recognition scheme with incentives that motivate the team to achieve their goals.


M - How will you know you've motivated the team? E.g. 15% improvement in team sentiment between Q1 and Q3 using a Net Promoter Score (NPS) survey.


A - Encourage a culture of feedback and collaboration using a quick and easy recognition system. This could be through a tool or a simple whiteboard on the wall of the office.


R - Motivated team members will be more productive and more willing to share useful feedback going forward, making the team more efficient overall.


T - A timeframe of improvement within the six months between the start of Q1 and the end of Q3.
Good communication requires time and effort to accomplish. Making your goals SMART ensures that you know what you want to achieve and when you want to achieve it. This can make you more focused on your goal when it comes to better communication. It also gives you a guide to get there and a way to measure your progress along the way.
Refine Your Communication Skills With Our Handbook
In our guide, we've included the important aspects of communication in your organisation. Whether it's the improvement of internal communication or learning how to communicate better in a presentation, you'll find something in there for everybody to learn from.
To get your free copy, click on the link below.
Chloe Martin
Content Editor
2+ years in SEO and content marketing. Striving to help public sector professionals develop their skills and learn something new through high-quality content.