Team Leadership: The Most Important Skills You Need & How to Improve Them

Chloe Martin
·
5 minute read
Strong team leadership is the difference between a thriving team or one that's not yet reaching their full potential.
In this post, we cover everything you need to know about team leadership, including what makes a good Team Leader, what the difference actually is between leadership and management, and the most important skills you need and how to improve them.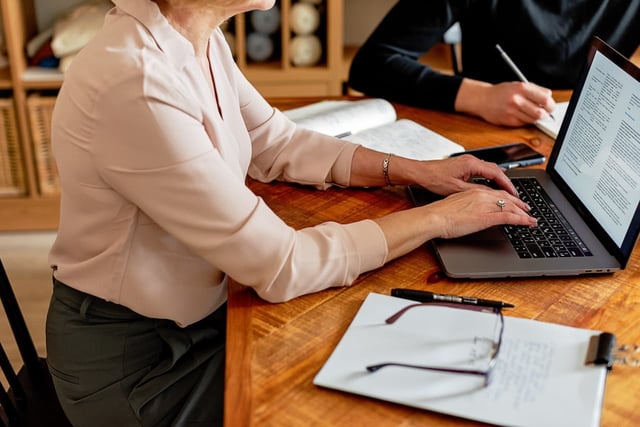 Contents:
Team Leader Vs. Team Manager – What's the Difference?
They sound the same, but there are key differences in their roles and goals in an organisation. Hint: Both of them are vital in any working environment!
What Does a Team Leader Do?
From coaching members and implementing timelines to achieve projects, Team Leaders are the main source of motivation and support to encourage staff to reach common goals.
Key responsibilities of a Team Leader include:
Managing projects/deadlines of a team

Motivating team members and creating positive team morale through promotion of good work

Facilitating and supporting the creation of a positive work environment

Creating an open space for all opinions and thoughts
What Does a Team Manager Do?
In comparison to a Team Leader whose main responsibility is to ensure their team stays motivated and on track to achieve tasks, a Team Manager is the one who sets those tasks and delegates responsibility where necessary.
Key responsibilities of a Team Manager include:
Setting clear goals for team members to achieve

Monitoring team performance & looking for ways to improve if declining

Understanding training needs or skills gaps and how to solve them

Overseeing day-to-day tasks and how the team work together

Ensuring work processes are maintained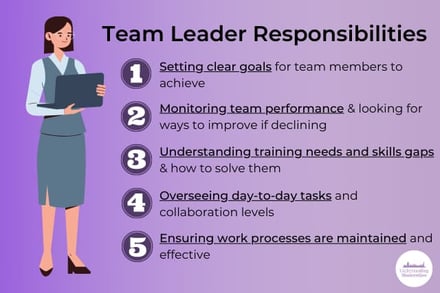 What is Good Team Leadership and Why is it Important?
The purpose of team leadership is to build constructive and productive teams to achieve the desired outcomes of the department and wider organisation. Good team leadership promotes high productivity levels, retention rates and overall happiness of employees which ultimately brings the team and organisation greater success.
A bad Team Leader is often one that micromanages staff, doesn't allow other opinions to be heard and delegates tasks to employees who already have full plates. Strong team leaders have the most impact on their teams and have the ability to turn the most disengaged employees into the most motivated and hard-working ones using the right skills and styles.
Don't know what leadership style you have and what's best for your team? Find out more about different styles and when is best to use them here.
How to Establish Leadership in a Team
Whether you're in charge of guiding a new team towards reaching an important goal, or you're trying to motivate your team after organisational change or an uncertain time, establishing strong team leadership can be tricky.
Effective leadership is mainly based on trust and loyalty. If your team trusts you to make the right decisions that will benefit rather than harm them, they'll understand that you have their best interest at the forefront of your decision-making processes.
Building this trust starts by giving voice to your team's opinions, being clear with your communication to everyone, treating everyone fairly and encourage connections between team members and more senior management.
When Your Team Needs a Leader Vs. a Manager
Teams often need a Leader when:
Trying new processes or brainstorming a new approach to a task
Aiming to understand the most effective way to achieve a goal
Employees are looking for advice, coaching or support
Whereas, teams need a Manager when:
Aiming to complete projects with tight deadlines
Delegating unpopular tasks that follow specific processes
Training inexperienced or new team members
Experiencing organisational change or a crisis
4 Most Important Team Leadership Skills and How to Improve Them
Being able to lead starts with having the motivation to influence others and the passion for continuous development in both your own and your team's skills. Here are 4 of the most important team leadership skills and how to improve them…
1. Emotional Intelligence and Self Awareness
Emotional intelligence and self-awareness go hand in hand in the workplace. Emotional intelligence focuses on the ability to manage your own emotions, use empathy and overcome challenges. While self-awareness is the ability to see how your emotions and thoughts impact your day-to-day actions.
Both are crucial skills for leaders as it helps deal with stressful situations, understand team members' feelings, improve team morale and productivity, and can ultimately enhance a leader's personal resilience.
How to Improve this:
According to Harvard Business Review, "95% of people think they are self-aware, but only 10-15% actually are."
Not to worry, you can start to improve your emotional intelligence and self-awareness by:
Observing your own feelings and reactions to situations
Understanding how to manage them effectively
Asking for feedback from team members
Staying calm and managing stress
It's important to remember that improving emotional awareness won't happen overnight – be in it for the long run.
Discover 5 ways emotional intelligence can help you become a more successful leader.
2. Problem-Solving Abilities
If you're an experienced leader or you're moving into a leadership position, no matter how many teams you've worked with, expect the unexpected. Whether it's a last-minute deadline, a change in organisational structure or changing national challenges, all leaders need to be able to think on their feet and efficiently solve the problem at hand.
How to Improve this:
You can start to improve your problem-solving skills by:
Embracing the problems that come your way rather than seeing them in a negative light
Focus on the main root of the problem and how you can solve it
Speak to other leaders to gain new perspectives and view possible solutions
Choosing a solution and sticking to it. No one likes a U-turn!
3. Verbal and Non-Verbal Communication Skills
As a leader, you need to be able to use your voice and non-verbal communication such as body language and eye contact effectively to work with your team and understand one another. If the communication with your team is on the back seat, you may see a drop in productivity and employee morale. This can then have an impact on organisation-wide results and reaching goals.
How to Improve this:
Verbal and non-verbal communication can be improved by making communication a priority. Instead of only communicating with your team when there's an issue or you're delegating tasks, make the extra effort to engage with all members of the team – this will improve trust and build connections that are key to effective leadership.
Learn more about why non-verbal communication is important in the workplace here.
4. Strong Decision-Making Skills
Although Team Leaders might not be making the most important decisions in the organisation, the decisions they do make can be the difference between reaching and failing to reach goals. Making decisions as a leader will often mean thinking quickly on your feet while including thoughts and opinions of team members, rather than having the time to think over all options of a decision.
How to Improve this:
Set a time limit to make decisions
Think about different options and opinions
Consider the outcome of the decision on others
Trust your gut
Learn more about how to make difficult decisions at work with our quick-fire guide full of examples and a checklist.
Ready to start improving? Download our free Leadership Skills Handbook for an extra helping hand.
Access Your Copy of our Leadership Skills Handbook
Full of insights, tips and techniques, our Leadership Skills Handbook is backed by data and expert advice that will help you build a strong team and lead them to success.
Click the button below to download your copy.
Chloe Martin
Content Editor
2+ years in SEO and content marketing. Striving to help public sector professionals develop their skills and learn something new through high-quality content.