The Ultimate Guide to Leadership and Management Training Courses for the Public Sector

Chloe Martin
·
8 minute read
Whether you're an experienced leader, or you're moving into a leadership or management role for the first time, knowing how and when to develop your skills is vital.
In this guide we'll cover the importance of leadership and management training, top ten leadership and management training courses for the public sector, how to choose the right course for you and Q&As to help you decide.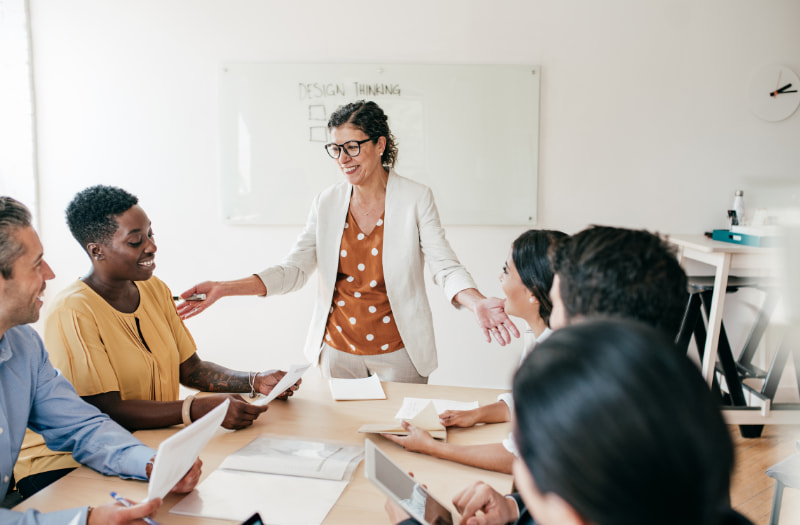 Contents:
Why is Continuous Leadership and Management Training Important?
Leadership and management training is the primary focus area for nearly half (49%) of L&D teams globally, according to LinkedIn's 2022 Workplace Learning Report.
As a leader or manager, you'll always be coming across new situations that require new skills or a need to improve your current ones. Whether it's emotional intelligence, supporting neurodiverse employees in the workplace or learning how to lead with impact to further engage your team, there's always something to learn.
By taking a Leadership and Management Training Course You Can:
Expand your knowledge on a specific area to make change in the workplace

Learn real-life techniques to use on the day-to-day

Understand your leadership and management style and what impact this has on your employees

Learn how to give feedback or review your own leadership skills more regularly

Gain expert advice and knowledge through hands-on exercises
To help you get started, we've outlined a range of leadership and management training courses below for various levels and needs:
10 Leadership and Management Training Courses for Public Sector Professionals
Developing Agile Teams
If you want to build a team that can adapt to new changes quickly and effectively, our Developing Agile Teams will help you do that. Led by Project Management expert, Steve Browne, this course will teach you how agile processes work and agile tools and techniques to make your team more adaptive to change. You'll be sure to leave the full day with a clear action plan to implement agile structures within your organisation.
Learn more about Developing Agile Teams.
Women in Leadership
Although the number of women in the civil service is increasing, that number still decreases with seniority. Our Women in Leadership training course will help you create a personal vision of what it means to be a great leader, define your values and gain practical tips to gain power and influence.
Through discussion with other exceptional women from across the public sector, this course will give you the opportunity to learn from others, overcome barriers to success and identify strategies with the trainer to lead with a purpose.
Learn more about Women in Leadership.
Supporting and Understanding Neurodiversity in the Workplace
"It is estimated that around 1 in 7 people (more than 15% of people in the UK) are neurodivergent."
It's important for all managers to embrace neurodiversity in the workplace as this enables inclusivity, greater team working and even productivity. On our course, you'll learn how to make sure your recruitment and onboarding processes are neurodivergent friendly, skills to effectively manage and support those around you and how to implement neurodiverse-friendly policies.
Learn more about our Supporting and Understanding Neurodiversity in the Workplace training course.
Leadership Skills for Emerging Managers
Have you been promoted? Or are you moving into a new leadership position? It's always exciting but can be daunting as the list of responsibilities and expectations grow. Not to worry, our training course is designed for those who are new to managing others. We'll teach you the skills you need through practical workshops to be able to effectively lead and motivate any team.
Learn more about Leadership Skills for Emerging Managers.
Masterclass: Applying Emotional Intelligence
Emotional Intelligence (EI) is the ability to understand and manage your own emotions, as well as recognise and influence the emotions of others around you. This allows you to build stronger relationships, communicate more effectively with your team and better manage conflict.
Our half-day Masterclass led by people expert, Marie Thake, will teach you the skills and give you the tools to gain the key characteristics of EI – self-management, relationship management and self-awareness.
Learn more about our Masterclass: Applying Emotional Intelligence training course.
Effective Strategic Leadership
Want to ensure your decisions and strategies will truly take your team forward? Our Effective Strategic Leadership training course will teach you how to become a strategic leader, make decisive decisions and develop techniques to discover your own leadership style and how it will benefit your team.
Learn more about Effective Strategic Leadership led by Change Management expert, David Elverson.
Leading with Impact
It's always the impactful leaders that make the difference. Ensure you leave a lasting impact on individuals, deliver better outcomes and know your strengths. Our course will give you the skills to apply specific and personalised leadership tools like systems thinking and emotional agility.
Learn more about how you can start leading with impact.
Developing a Positive Team Culture
Having a positive team culture can increase collaboration, workplace satisfaction and even productivity. But this doesn't start from the bottom, only from the top.
Our Developing a Positive Team Culture course will teach you the knowledge and techniques to use assertiveness, effective feedback approaches and coaching and mentoring to enhance your team's performance – whether you're leading a large or small organisation.
Start learning how to develop a can-do team with our Developing a Positive Team Culture training course.
Building Resilient Teams
If you want your team to have the confidence to take on challenges, the best way is to build a resilient team.
Our training course will help you develop your leadership skills through valuable strategies to build resilience while managing and navigating the negative effects of stress.
Learn more about our Building Resilient Teams training course.
Effectively Managing Staff Performance
As a leader, you are responsible for knowing if your team members are performing well and offering them motivation, support and encouragement.
Our training course will teach you the techniques you need to deal with difficult conversations, re-engage underperforming staff, encourage high standards and how to monitor employee performance.
Learn more about Effectively Managing Staff Performance.
How to Choose the Right Leadership and Management Training Course for You
Here are four quick tips to help you choose the right leadership and management training course:
Identify your specific needs: Think about the level of experience you're at, what personal goals you have and where you need improvement. To help you identify these, try drawing out a mind map of your current skills which should highlight ones you are missing or that you want to develop further to move forward with your career.

Think about learning structure and availability:

How much time do you have to spend on training? Would you prefer one whole day of learning (virtual or face-to-face), online E-Learning over time or even a half-day Masterclass to boost your thinking? There are plenty of options, but make sure the course covers what you need and where.

Are there bespoke options available:

Are there multiple leaders in your organisation who are looking for training? We offer bespoke training courses that are tailored to your specific organisation's training needs – we can even run the course in your office at a time to suit you. Find out more about our In-House services here.

What post-training support is available:

Becoming a strong leader through training can take time. Whether you want to move towards coaching and mentoring after attending a specific training course or you want to learn even more about a specific area. Ensure you know what post-training support is available. All our delegates gain access to our growing network platform where they can continue learning, getting to know other public sector professionals and accessing materials post-course.
Top 5 Qualities You'll Gain From a Leadership & Management Training Course:
1. Self-awareness
Taking a leadership training course is one of the best ways to become more self-aware as a leader. Not only is self-awareness key to being a great leader, it's also a vital personal quality that allows you to understand how you behave, how you interact with others and what your strengths and weaknesses are.
Whether you work directly with service users, key stakeholders or just your colleagues, developing your self-awareness will directly impact your team, their performance and overall organisational culture, so make sure you take the time to reflect on yourself and your skills.
Learn more about the skills you need to become an effective leader in the public sector.
2. Accountability
Everyone makes mistakes – even leaders. But accountable leaders are ones that own up to the promises, words and commitments they have made. Any actions or decisions made that didn't pay off, good leaders will own up and be able to take constructive feedback from others when needed.
Your team will look up to you and the goals that you set. Be honest, accept responsibility if something goes wrong and understand how your decisions can impact the future of your team or organisation. When leaders take responsibility for their decisions, other team members will be confident that everyone, even leaders, needs to produce quality work just like everyone else.
3. Self-confidence
A self-confident leader believes that their skills, abilities and attitude can make a difference and help achieve goals. By attending a leadership training course, you'll learn to recognise your own skills and remove any doubt from your mind – no imposter syndrome here!
By improving your self-confidence, you'll be able to make more immediate decisions, problem-solve with ease and take full responsibility without ignoring or procrastinating on any issues.
To get started, learn how to become a more confident public speaker to give your self-confidence a boost.
4. Supportive
If you want your workforce to be productive, happy and innovative, you need to reinforce their ideas with support and guidance. Employees look to leaders for guidance, and if you're not there to support them, it's likely you won't see the result you were expecting. To be a supportive leader you need to recognise the core fundamentals, including building strong relationships, promoting collaboration and commitment to the organisation.
Our experienced team and expert trainers have developed a course just for this. If you want to understand how your employees are performing, and how to motivate them and encourage high standards with empathy and support, we've got the proven techniques you need to encourage staff to meet performance standards. See the full agenda here.
5. Honesty and fairness
Honesty and fairness are the two most important qualities of any successful leader. If you can be honest with yourself and others, remain loyal to your words and are accountable, you'll gain trust and respect from others very quickly.
In terms of fairness, everyone has their own personal biases. But it's up to the leader to see that an unfair or biased attitude doesn't achieve greatness and it's not something you should promote in the workplace. Being fair when it comes to your employees and the organisation's processes will help make room for everyone's voice to be heard, allowing everyone to thrive as one.
By taking leadership training, you'll get to see how other leaders handle day-to-day activities and how their experiences have led to positive or negative reactions and how they can change that.
Emotional intelligence is another key leadership quality – have a read of our blog post to find out 5 ways emotional intelligence can help you become a more successful leader.
Frequently asked questions
The majority of our open courses last for one day (9am - 4pm), but we also run half-day Masterclasses that are jam-packed with expert knowledge.

No! We're proud to offer a range of highly interactive face-to-face options for a selection of our open courses. These take place in central London and regional cities. Take a look at our upcoming face-to-face open courses.

Yes! Our In-House team are experts at crafting a bespoke training plan for your organisation's needs. Learn how we can help.

CPD points can be gained for all our events. 1 point is given for every hour of participation.

No problem - click the 'Register your interest' button to fill out a quick form to let us know you're interested in this course. Or, get in touch with our In-House team to run the course on a date that suits you.
Ready to Book a Leadership and Management Training Course?
View our full list of Leadership and Management training courses to choose the one that's right for you. Or, if you're looking for training for your whole team, contact our In-House team who can develop any training course to suit your organisation's needs.
Chloe Martin
Content Editor
2+ years in SEO and content marketing. Striving to help public sector professionals develop their skills and learn something new through high-quality content.