As technology adapts, roles change and public sector needs expand, public sector professionals are at the forefront of this ever-changing workplace and environment.
To keep up, enhance your role and continue to grow, we've got the expert insight you need to get ahead of the game in 2022.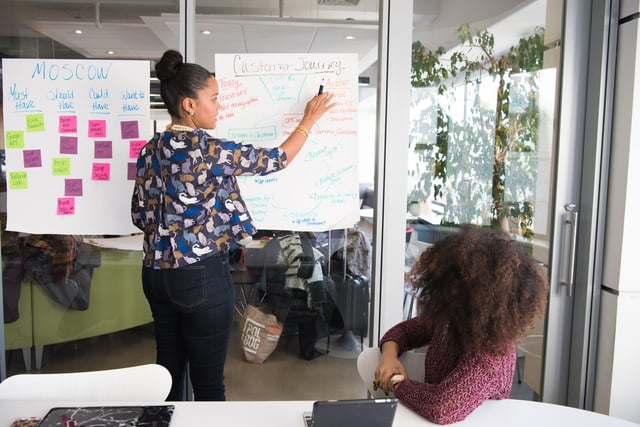 As the UK's leading training provider of training courses for the public sector, we've got the insights, experience and knowledge into professional development trends and growth needs.
With that being said, here's the most in-demand training courses for public sector professionals in 2022. Now's the time to book your place while you still can.
1. Confident Communication for Women in the Workplace
While everyone wants to communicate with power, confidence and impact, this course is not to tell you to correct your communication "weaknesses," but it's to help you make changes to subconscious communication behaviours that can undermine your confidence and knowledge at work.
It focuses on developing the essential skills needed to create impact and communicate with confidence and credibility through various interactive exercises and proven techniques. Find out more about communications coach and trainer Anne Walsh, her transformative toolkit and available dates here.
Want to learn how to support your fellow women in the workplace? Read our blog post.

2. Leadership Skills for Emerging Managers
Whether you've just been promoted to a managerial position or you're preparing for the next step, undertaking new and unique challenges of being a manager can seem daunting - especially if you're remote.
But, our Leadership Skills for Emerging Managers course will give you the key skills and techniques you need to tackle any situation and environment the ever-changing workplace may throw your way.

View available dates here.

3. Neuro-Linguistic Programming (NLP) Techniques for Leaders
What is NLP you ask? NLP is a skill set that is designed to help you improve the way you communicate, lead and influence. It refers to the way we process our thoughts, how we use actions and language to communicate with others, and how those thoughts and actions influence our behaviour in everyday life.
Led by Certified NLP Expert and Trainer, Jeremy Lazarus, you'll understand the benefits of NLP, how to adapt its techniques for your needs and put them into practice through interactive workshops.

View available dates here.

4. Effective Report Writing
Facilitated by communications specialist Sue Calthorpe, this course is designed to help you produce excellent reports for today's ever-changing workplace. The aim is for you to write quickly, accurately and clearly - for all audiences. The course will also teach you simple techniques you can use the next day to improve your written communications skills.

Book your place and find a date that works for you here.
To get an insight into the tips and proven techniques you could learn on this course, take a look at our Q&A with Sue on how to produce effective reports.

5. Women in Leadership
The representation of women in leadership positions is growing steadily, but there's still unequal representation in top leadership roles. To help meet this challenge and wide issue, join our Women in Leadership course, along with other exceptional women, to enhance your position and capabilities as a leader and identify strategies to set boundaries and remain true to your vision.
View our available dates here.
6. Confident Communication and Assertiveness
Assertiveness is a powerful communication skill to master. The ability to speak up for your opinions and advocate for yourself without coming across as defensive or aggressive is key to assertiveness. If you want to make a positive impact at work, become more influential and communicate more effectively, take part in this series of role-play scenarios and workshops to develop your communication style.
View the full agenda and secure your spot.
Want to learn more about assertiveness or find out how assertive you are? Take our quick-fire quiz today to gain a detailed report about your level of assertiveness in the workplace.

These are just some of the popular courses you can attend, but we have lots more available that will help you improve or develop your skills and achieve your goals in 2022.
View our Full Range of Upcoming Courses
Your personal development should never be stagnant, that's why we're constantly adding new, beneficial courses for public sector professionals to take advantage of. Check out the full list of our courses here.