Most In-Demand Training Courses for Public Sector Professionals in 2023

Chloe Martin
·
4 minute read
The ever-evolving demands of the public sector call for adaptable professionals who can keep up with the changing roles and expanding needs of service users.
To stay ahead of the game and continually improve your skills, you need to know what training courses are right for your learning needs.
As the UK's leading training provider of training courses for the public sector, we've got the insights and latest developments in in-demand training courses to help.
In this post, we cover the most in-demand training courses for public sector professionals in 2023, what you can expect and how to secure your place.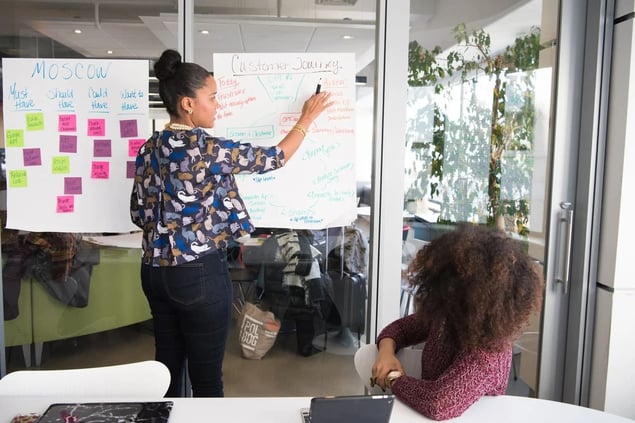 With that being said, let's get straight into the most in-demand training courses and what you can learn. Use the contents list below to jump straight to the category you would like to look at.
The Most In-Demand Training Courses for Public Sector Professionals in 2023
Contents:
Leadership & Management Courses
Women in Leadership
The representation of women in leadership positions is growing steadily, but there's still unequal representation in top leadership roles. To help meet this challenge and wide issue, join our Women in Leadership course, along with other exceptional women, to enhance your position and capabilities as a leader and identify strategies to set boundaries and remain true to your vision.
View our available dates here.
Not sure what to expect from a Leadership and Management training course? Not to worry, find out all you need with our in-depth blog post with even more leadership courses and how to choose the best one for you.
Developing High-Performing Teams
This energising and practical course will teach you how to enhance your team's performance to be more productive and collaborative. Join our expert trainer to uncover your leadership style and develop a personalised action plan to develop a high-performing team with clear goals.
Take a look at upcoming dates here.
Confidence & Resilience Courses
Confident Communication and Assertiveness
Assertiveness is a powerful communication skill to master. The ability to speak up for your opinions and advocate for yourself without coming across as defensive or aggressive is key to assertiveness. If you want to make a positive impact at work, become more influential and communicate more effectively, take part in this series of role-play scenarios and workshops to develop your communication style.
View all available dates here.
View the Frequently Asked Questions section at the end for more information about our training courses or get in touch with us here.
Speaking With Impact
Make an impression when you speak. Whether you need to build your confidence speaking up in meetings or want to gain some expert advice ahead of a big speech, on this course you'll supercharge your verbal communication in no time.
View all upcoming and available dates here.
Advanced Minute Taking
Do you go to type your meeting notes up only to think "What did I mean by that?" Don't worry, we've all been there. This course will teach you how to turn your minutes into clear action points that generate tangible results for your team. Our expert trainer will give advice on your current minute-taking style and will show how you can improve.
Procurement, Finance & Fraud Courses
Effective Bid Writing
Join our Communications Expert, Sue Calthorpe, to gain the tools and techniques to submit effective and persuasive proposals to secure valuable new business for your organisation. You'll also learn how to evaluate the effectiveness of your bids and leave the day with a step-by-step guide to take back to your organisation.

View available dates here.
Policy & Project Management Courses
Effective Briefings and Submissions
Struggling to cut down your writing but keep in key bits of information that readers actually need? In this Briefings and Submissions training course, you'll learn how to write impactful briefings and submissions that influence key stakeholders and decision-makers through valuable techniques gained from our expert trainer.

View available dates here.
A Guide to Successful Contract Management
With recent challenges faced by supply chains, having a well-thought-out contract management approach can help to overcome instability in uncertain times. Join our Procurement expert, Gillian King, to gain advice and learn how to ensure contracts are being effectively delivered.
Click to view all upcoming dates.
Data Compliance Courses
Understanding and Applying SARs Exemptions
Requests for personal information can be time-consuming, but this course can help you gain a brief and comprehensive overview of the SAR landscape and exemptions. Learn how to manage vexatious requests for personal data, practice writing a refusal notice and best apply for the exemptions.
View our upcoming dates here to book your spot.
Not seeing something that you need?
This is just the start of the courses we offer. Take a look at the full list using the button below.
Enhance Your Skills, Advance Your Career: Explore Our Training Courses
Your personal development should never be stagnant, that's why we're constantly adding new, beneficial courses for public sector professionals to take advantage of. Use the button below to take the first step in advancing your skills.
Frequently Asked Questions
The majority of our open courses last for one day (9am - 4pm), but we also run

half-day Masterclasses

that are jam-packed with expert knowledge.

No! We're proud to offer a range of highly interactive face-to-face options for a selection of our open courses. These take place in central London and regional cities. Take a look at our

upcoming face-to-face open courses.

Yes! Our In-House team are experts at crafting a bespoke training plan for your organisation's needs.

Learn how we can help.

Yes! We run a range of Analytics courses designed for the public sector. From Advanced Excel Training and Statistical Analysis to Designing Powerful Data Visualisations and Predictive Modelling.

CPD points can be gained for all our events. 1 point is given for every hour of participation.

Please fill in the form using the 'Register Your Interest' button on the specific page of the course you are looking to attend. Any questions, don't hesitate to

get in touch.
Chloe Martin
Content Editor
2+ years in SEO and content marketing. Striving to help public sector professionals develop their skills and learn something new through high-quality content.