Top 5 Commercial and Organisational Training Courses for the Public Sector in 2023

Chloe Martin
·
2 minute read
From managing change and developing obtainable objectives to gaining buy-in from key stakeholders, there is a lot to cover when it comes to commercial and organisational skills in the public sector.
But fear not. We've narrowed down the top 5 commercial and organisational training courses for public sector professionals, just like you, in 2023.
Let's get started.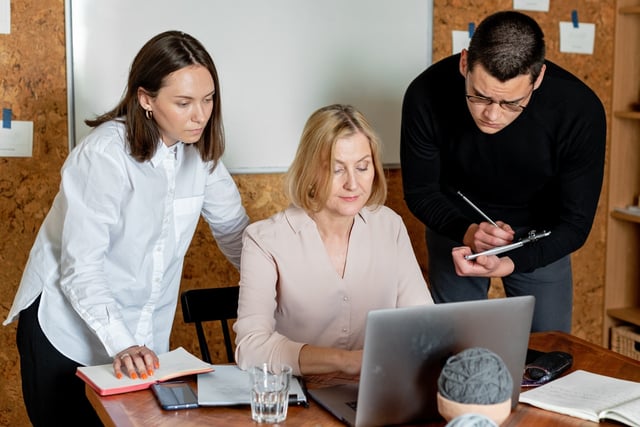 What Can You Learn from a Commercial and Organisational Training Course?
Whether you are an emerging manager or an experienced leader, we cover a range of topics on in-demand skills and certified training that will take your skill set and knowledge to the next level as a public sector professional.
Commercial and organisational training courses are all about effectively planning ahead, maintaining key relationships and the ability to continue improving to achieve aims and organisational goals.
But How Will We Help You Get There?
Think expert trainers, endless knowledge, proven techniques, personalised feedback and advice. We've got everything you need to improve your skills, gain confidence in your ability and show your colleagues or organisation the best next step forward.
Take it from the thousands of other public sector professionals who have gained new skills, tips and techniques from our training experts on our courses.
Read what our past delegates have said about our courses here.
Top 5 Commercial and Organisational Training Courses for the Public Sector in 2023
1. Demonstrating Value and Return on Investment
Gaining buy-in from stakeholders is the golden key to carrying out a range of public sector projects. It's also important that you can demonstrate Value for Money (VFM), to show how your project will benefit your stakeholders and the wider organisational goals. This course will teach you Return on Investment (ROI) analysis techniques, the fundamentals of benefits management and how to communicate VFM to senior stakeholders.
View the live agenda and book your place.
2. Counter-Fraud Training for the Public Sector
With the National Crime Agency estimating public sector fraud accounts for a loss of £40 billion per year, fraud is a long-standing threat to the public sector. To help your organisation steer clear of fraudsters, attend our course to gain the tools, techniques and expert advice you need to keep your staff and organisation safe.
3. A Guide to Successful Contract Management
With recent challenges faced by supply chains, having a thought-out contract management approach can help to overcome instability in uncertain times. Led by Procurement expert, Gillian King, this course will teach you the principles and governance side of contract management, how to develop more effective relationships with suppliers and how to ensure your contracts are effectively delivered.
Don't miss out – secure your spot.
4. Change Management Foundation and Practitioner – APMG Accredited Training
We know the public sector is still facing a level of disruption when it comes to managing change, and that's why this interactive five-day course certified by APMG will give you the qualification and confidence you need to better manage change. You'll cover the key principles of change management, gain techniques on how to help adapt employees to transformative periods, develop your communication skills and learn why people are reluctant to make the change.
5. Handling Aggressive Verbal Complaints
Do you find it hard to contain your emotions when dealing with an aggressive complainant at work? We understand it can be tough, especially in the public sector. That's why we've designed this course specifically for public sector professionals to help you gain the confidence and techniques you need to handle any verbal complaint that comes your way. You'll even take part in real-life roleplays and simulations led by our expert trainer!
Check out the full agenda and secure your spot to avoid missing out.
Expert Trainers, Proven Techniques and Endless Knowledge – Book Your Place Today
From demonstrating return on investment, and effectively leading meetings to successful contract management, whatever skills you need or want to improve, we've got a training course that can help. See our upcoming training courses and secure your spot.
Chloe Martin
Content Editor
2+ years in SEO and content marketing. Striving to help public sector professionals develop their skills and learn something new through high-quality content.