Some believe people are born as true leaders. And although it has been found that some leadership characteristics can be innate to some, like humility or presence, many key leadership qualities can be learned and improved over time.
Being a great leader is all about positively influencing those around you, driving your team towards success and responding effectively to challenges. But, in order to meet on-going challenges and organisational goals, it's important to gain guidance on how to strengthen your capabilities to meet these goals or vision.
That's where leadership training courses come in.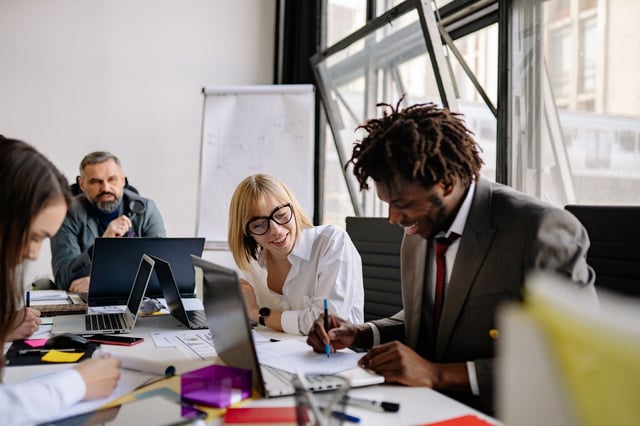 What is a Leadership Training Course?
A leadership training course is designed to help you develop or build upon your skills to exceed in your role as a leader in your organisation.
Although there are various types of leadership training topics, from strategic thinking, developing team culture, communication strategies and more, they all stem from the same set of desirable leadership qualities.
Picking up these leadership qualities while developing your skills in a particular leadership topic will help you build a high performing team, optimise your staffs' key skills and push for innovation. Here's the five key ones you should focus on…
5 Most Desirable Leadership Qualities You'll Gain from a Leadership Training Course
1. Self-awareness
Taking a leadership training course is one of the best ways to become more self-aware as a leader. Not only is self-awareness key to being a great leader, it's also a vital personal quality that allows you to understand how you behave, how you interact with others and what your strengths and weaknesses are.
Whether you work directly with service users, key stakeholders or just your colleagues, developing your self-awareness will directly impact your team, their performance and overall organisational culture, so make sure you take the time to reflect on yourself and your skills.
Learn more about the skills you need to become an effective leader in the public sector.
2. Accountability
Everyone makes mistakes – even leaders. But accountable leaders are ones that own up to the promises, words and commitments they have made. Any actions or decisions made that didn't pay off, good leaders will own up to and be able to take constructive feedback from others when needed.
Your team will look up to you and the goals that you set. Be honest, accept responsibility if something goes wrong and understand how your decisions can impact the future of your team or organisation. When leaders take responsibility for their decisions, other team members will be confident that everyone, even leaders, need to produce quality work just like everyone else.
3. Self-confidence
A self-confident leader believes that their skills, abilities and attitude can make a different and help achieve goals. By attending a leadership training course, you'll learn to recognise your own skills and remove any doubt from you mind – no imposter syndrome here!
By improving your self-confidence, you'll be able to make more immediate decisions, problem solve with ease and take full responsibility without ignoring or procrastinating on any issues.
To get started, learn how to become a more confident public speaker to give your self-confidence a boost.
4. Supportive
If you want your workforce to be productive, happy and innovative, you need to reinforce their ideas with support and guidance. Employees look to leaders for guidance, and if you're not there to support them, it's likely you won't see the result you were expecting. To be a supportive leader you need to recognise the core fundamentals, including building strong relationships, promoting collaboration and commitment to the organisation.
Our experienced team and expert trainers have developed a course just for this. If you want to understand how your employees are performing, how to motivate them and encourage high standards with empathy and support, we've got the proven techniques you need to encourage staff to meet performance standards. See the full agenda here.
5. Honesty and fairness
Honesty and fairness is one of the most important qualities of any successful leader. If you can be honest with yourself and others, remain loyal to your words and are accountable, you'll gain trust and respect from others very quickly.
In terms of fairness, everyone has their own personal biases. But it's up to the leader to see that an unfair or biased attitude doesn't achieve greatness and it's not something you should promote in the workplace. Being fair when it comes to your employees and the organisation's processes will help make room for everyone's voice to be heard, allowing everyone to thrive as one.
By taking leadership training, you'll get to see how other leaders handle day-to-day activities and how their experiences have led to positive or negative reactions and how they can change that.
Emotional intelligence is another key leadership quality – have a read of our blog post to find out 5 ways emotional intelligence can help you become a more successful leader.
Ready to Get Started? Browse our Upcoming Leadership Courses
Whether you want to develop a more positive team culture, effectively manage staff performance or gain a deeper understanding of strategic implementation, we've got a range of upcoming leadership, management and strategic courses that can drive your team to success. Book your place here.