What Skills do You Need for Effective Leadership in the Public Sector?

Chloe Martin
·
4 minute read
As a leader, you are expected to give advice, guidance, motivation and inspiration to your team.
You could even go further to say a leader acts as a role model to employees.
But, their view of you is dependent on your ability as a leader. If you're feeling the pressure, don't worry, it doesn't have to be that way. We'll tell you all the essential skills you need to be an effective leader in the public sector and what it really means to be a great leader.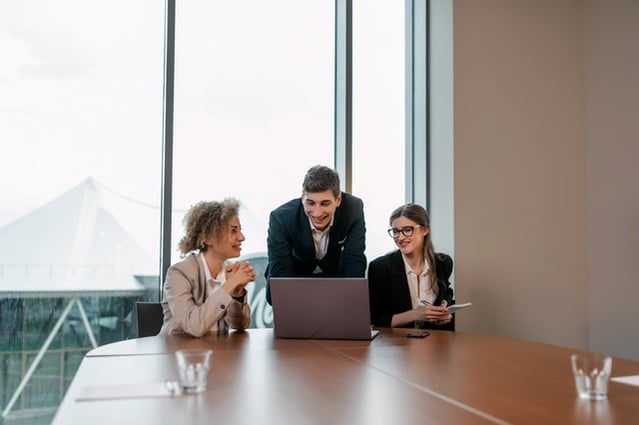 What Exactly is Great Leadership?
Many people will have different visions of what a great leader should be or act like. But, there are some core qualities that come from some of the greatest leaders there have ever been. These can include:
Honesty and trustworthy

Self-aware and ethical

Strategic thinking

Highly motivated to reach goals

Ambitious and courageous

Committed
Good leadership skills are essential to your career development and the productivity, motivation and efficiency of your team. If you want to improve your leadership skills, think about what actions you can take to be more influential. If you are already a leader, think about how you can influence others.
We spoke to People Development Consultant and trainer, Marie Thake, about what she thinks make an effective leader in the public sector.
"Leadership in today's world need to revisit and challenge past ingrained leadership methodologies.
We need to think of our teams and employees as assets, not a cost, that will determine organisational success. We need to lead with compassion and empathy to encourage our workforce to feel engaged with us and our organisation to create a culture of collaboration and trust."
8 Top Skills You Need for Effective Leadership in the Public Sector
1. Communication Skills
A leader in the public sector is someone who inspires positive change by empowering those around them to work toward common objectives. One of the most powerful tools for doing so is communication.
Effective communication is vital to gain trust and align efforts in the pursuit of goals. When communication is lacking, important information can be misinterpreted, causing relationships to suffer and, ultimately, creating barriers that hinder progress.
If you're interested in enhancing your leadership capabilities, here are some communication skills that we believe are vital to being an effective leader:
2. Giving Motivation and Being Inspirational
Leaders need to inspire their team to go the extra mile; just paying a fair salary is typically not enough inspiration (although it is important!).
There are several ways to motivate your team. For example, you may build employee self-esteem through recognition and rewards, or by giving employees new responsibilities to increase their sense of investment in the organisation.
Leaders must learn what motivators work best for their team members to encourage productivity and passion. We believe the following skills and techniques will help inspire your team:
Allow autonomy

Ask

your team

for

their

input

Assess the

individual

interests

and differences

of

your team

Mentor

them

Listen and be o

pen to

their

concerns

Provid

e them with

productive and challenging work

R

eward

your team

Set effective goals

Learn effective t

eam-building

skills

Say t

hank

you to them!
Learn 5 ways emotional intelligence can help you become a more successful leader.
3. Culture and Strategies
When you create a culture of gratitude and recognition in your team, they will pick it up and start to recognise each other on their own. This creates a great sense of community and cohesion that motivates everyone to perform at their highest level.
So, what strategies can you implement to ensure you build a positive culture that creates an effective team?
By committing to developing your team's leadership skills as much as your own, and you will not only find gratitude and fulfillment, but will also lay the foundation for developing strong and effective teams.
4. Ability to build relationships
The future of great leadership will be centred around true people skills, empathy and emotional intelligence. After all, the reason organisations succeed is because of the people. As multiple generations can fit into one workforce, it's important to acknowledge the differences and qualities of all your team and ensure you're doing the best you can to motivate and communicate with them.
Learn more about how emotional intelligence can help you become a more successful leader.
5. Conflict resolution skills
Even in the most perfect-looking teams or organisations, there's always a chance for conflict to occur. As a leader, it's your job to communicate, actively listen and find an acceptable solution to solve the issue at hand. Once the dispute is solved, it's important to learn from it. By identifying potential disputes early on, you can avoid any unnecessary conflict that may appear later and impact more than two employees.
6. Authenticity
An authentic leader is one who is open, honest, trustworthy and just, actually real. No one likes a robot as a leader, so don't act like one for your team. The more open and real with them you can be, you'll find the more they seek connection a build trust with you.
Each year more employees are becoming aware of toxic leadership traits that can impact their working lives, and rightly so. Those unwanted traits can vary from self-serving and fakeness to narcissistic or secretive. Aim to avoid those at all costs!
Marie also spoke about the importance of ethical, trustworthy leadership:
"If we are a leader in an organisation whose values match our own, we are able to lead and make decisions using our moral compass. We are able to be ethical leaders. Ethical leaders instil trust in their teams as the teams will always know the leader will do the right thing in any leadership situation."
Want to work on your interpersonal skills? Here are 11 that will make you become a better manager.
7. Cultural understanding
You could have all the business acumen and knowledge in the world, but, if you're not culturally aware and understanding, you'll only get so far. Understanding, appreciating and acknowledging other cultural differences aside from yours is the new rule, not the exception.
By identifying and appreciating these differences in your team or across your organisation, you'll become a more effective leader in no time.
Develop your Effective Leadership Skills and Maximise your Impact
We've got a range of courses that will help you improve your confidence and ability to think strategically, develop effective team collaboration and create a can-do team. View our upcoming Leadership and Management training courses and secure your place.
Chloe Martin
Content Editor
2+ years in SEO and content marketing. Striving to help public sector professionals develop their skills and learn something new through high-quality content.