11 Interpersonal Skills to Help Make You a Better Manager

Chloe Martin
·
4 minute read
Interpersonal skills are essential in any employee and any workplace - face-to-face or hybrid.
However, they're even more important if you're a manager, as you not only need to be an effective leader for your team, but your decisions will also impact organisational growth.
In this post, we'll show you how to take it to the next level with 11 interpersonal skills that will help you become a better manager.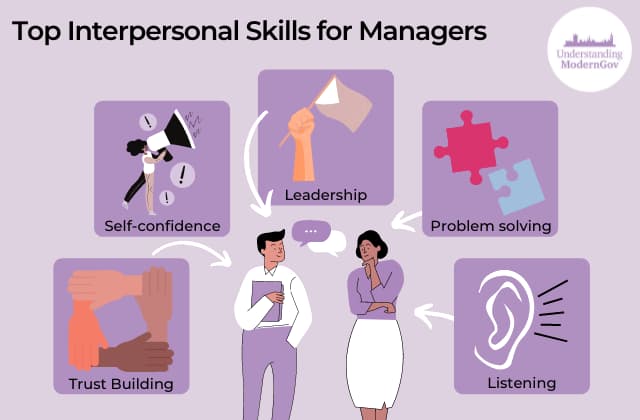 11 Interpersonal Skills to Help Make You a Better Manager
1. Verbal Communication
Quite an obvious one to begin with, but arguably one of the most important as it's key when you're leading a team. You need to speak concisely, eloquently, to the point and be mindful of the environment you're in.
When you talk, be mindful of the words you use, know your audience as everyone has a different style of communication and ensure your message has been understood.
Want to improve your verbal communication skills? View our upcoming training courses to avoid missing out on expert techniques and advice you won't find anywhere else.
2. Non-Verbal Communication
Although speech is essential, studies actually suggest the majority of communication is actually non-verbal. To step up your game and become a better manager, focus on your body language, eye contact and the tone you use. It's about being engaged, having a confident stance, making positive gestures, nodding in agreement and smiling.
The person you're communicating to will notice. If you subconsciously look disinterested or grind your teeth, they'll know how you're feeling. But if you display positive body language and show you're interested, your team are likely to rely on you more.
3. Listening Skills
Speaking is only half the battle. Effective managers also need to have strong listening skills to show they're reliable. If you have this then you're at an advantage as you'll be more efficient, absorb information better and utilise it. Whether it's in a one-on-one setting or a team meeting, strong listening skills can ward off potential mistakes.
It can also lead to more empathy and building stronger relationships. The better you are at listening, the more your team will want to approach you with ideas and issues. Looking at it from a bigger picture, it benefits the entire organisation as it creates a much stronger culture.
4. Problem-Solving
As a manager, you're always going to have new problems fall on your plate that you're responsible for fixing. It's an essential skill for any leader to possess, especially if it can have a bigger impact on the wider organisation.
Being a good problem-solver also brings in a combination of other skills, such as being calm so you can deal with it and keep the ball rolling.
5. Assertiveness
This doesn't mean you need to behave like a dictator, but more along the lines of expressing yourself and respecting your team at the same time. It's so they understand they have a reliable, trustworthy manager that can steer the ship.
The key to being assertive and maintaining respect as a manager is to be firm when needed but always be polite.
Want to discover how assertive you are in the workplace? Take our quick-fire one-minute quiz and find out.
P.S. You'll also get a free, detailed report on your level of assertiveness, what you can do to improve and an action plan to take forward.
6. Negotiation Skills
Think less of a hostage situation and more persuading or influencing others. It could be part of a new initiative and your team has differing ideas, yet it's up to you to find a win-win outcome that's a solution for everyone involved.
To be a good negotiator, you need to have superior listening skills and apply creative thinking to reach a beneficial outcome.
7. Self-Confidence
Having the right level of self-confidence will help you be an even better manager than you already are. Not only to open doors in the future but also gain recognition as it improves the way your team and seniors see your views, ideas and opinions and take you seriously.
Self-confidence helps in other areas too: your communication, assertiveness and more.
Discover 4 proven ways to become assertive in the workplace.
8. Relationship Management
Building relationships is something you'll already be doing as a manager, but managing them is completely different. You need to engage with your team, seniors and any external partners effectively so there's mutual respect and trust.
There's a lot involved from treating everybody equally, maintaining healthy relationships and more.
9. Receptiveness to Feedback
As a manager, you already provide feedback, but it should be a two-way street. The best way to communicate with your team and build trust is if they know they can offer you feedback. It's another chance to learn by taking what's said on board to further enhance your role as a manager.
The more open you are about receiving feedback, the more your team will trust you as a manager while it also shows those above you that you're always willing to learn.
10. Building Trust
Trust between yourself and your team, as well as yourself and your seniors, is crucial. It's how your organisation will be successful. Although your team might already trust you, it's equally as important to earn and keep that trust.
As a trustworthy manager that shows empathy, your words will have a much bigger impact and you'll have a tight-knit group of people that rely on you. However, you also need to show you trust them as well.
Are you a new or emerging manager? If so, here are 5 crucial leadership skills that you need to succeed.
11. Leadership
To be an effective manager, you need to be a reliable leader. It's a trait which requires a handful of other skills: positivity, confidence, empathy, problem-solving, listening, communication and more. It shows the wider organisation that you're a motivated individual who can inspire others and take charge to finish projects.
As a manager, you probably have enough on your plate which stops you from developing these interpersonal skills even further. To help you out with that, we've created a useful guide to help you improve your skills and communicate to make you the best manager you can possibly be.
Find out if you have the top skills you need to be an effective leader in the public sector.
Boost Your Communication Skills with our Free Handbook
From storytelling and overcoming speaking anxiety, to developing your interpersonal skills and speaking up in meetings, our communication skills handbook will help you become an effective communicator in no time.
To enhance your skills today, click the button below to download your free copy.
Chloe Martin
Content Editor
2+ years in SEO and content marketing. Striving to help public sector professionals develop their skills and learn something new through high-quality content.