How to Manage and Resolve Remote Work Conflict

Chloe Martin
·
5 minute read
It's never easy to know how to correctly manage conflict within the workplace, especially when the work environment is remote
Hybrid working and work-from-home schemes have become the norm for many companies since the pandemic rendered us all homebound in 2020. So, it's no surprise that organisations have faced their fair share of challenges with remote work as we continue to adjust to this new way of operating.
In this post, we cover what causes remote work conflict, and the simple but effective steps you can take to ensure conflict resolution at work to create a harmonious and frictionless remote working environment.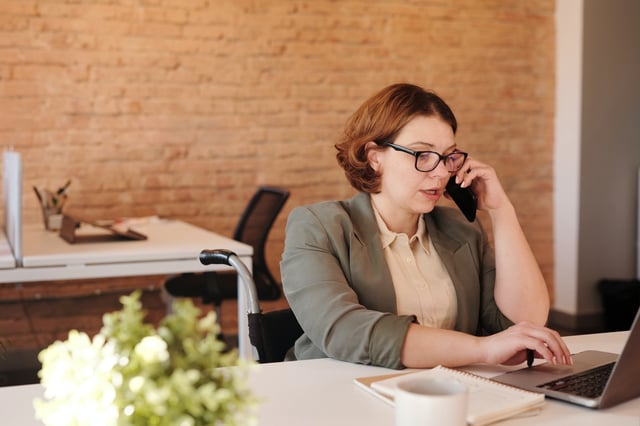 Contents:
What is Remote Work Conflict?
Remote work conflict is when team members within a remote working environment clash or have ongoing disputes which cause friction within the team. There are many root causes of this conflict; this could occur because of stress, deadlines, tasks, overworking, clashes in personality and more.
Why Do Conflicts Arise Within a Remote Working Environment?
Remote work conflicts, most of the time, are due to elements of misunderstanding and miscommunication among colleagues. While virtual communication strives to emulate an engaging working environment, it lacks the personal touch and non-verbal communicative aspects that are present with face-to-face interactions, leading to employees feeling isolated, detached and more likely to misinterpret other colleagues' actions or intentions, which can lead to conflict.
7 Examples of Remote Working Conflicts in the Workplace
1. Work Style Conflicts
Every individual has their own style, pace, and approach to working, especially within a remote work setting where everyone's priorities will differ, this can cause frustration and disparity within teams.
2. Personality-Based Conflicts
Your team will consist of people from all different walks of life, so personality clashes are almost inevitable. This can lead to personal disputes and rifts between individuals that could create hostility and unproductiveness amongst the team.
3. Task-Based Conflicts
There are numerous reasons for task-based conflict. Lack of coordination as a team due to bad communication is the most common factor, this can lead to poor performance and be detrimental towards progress.
Remote working guilt can even cause conflict between employees. Learn more about what remote working guilt is and how it can impact your team.
4. Lack of Information
Confusion around the task at hand or no clarity around team members' responsibilities can create a dysfunctional work environment and prolong the work progress amongst the team.
5. Leadership Conflict
Everybody has a different approach to leadership; your approach is not always going to please everyone. Like personality clashes, leadership conflict can happen when the employee feels unhappy or uncomfortable with their manager's leadership style.
6. Creative Idea Conflict
Everyone brings something different to the table, which is what makes teamwork great, but sometimes differing ideas can cause arguments and unhealthy competition.
7. Ghost teammates
It can become frustrating and prolong tasks when team members are too lax and careless with replying to emails, messages, and meeting requests. Constant communication is essential for remote working and avoiding conflict.
5 Tips for Managing Conflict in a Remote Work Environment
1. Good Communication & Regular Team Meetings
Working remotely can sometimes make it difficult to communicate effectively and can feel isolating and impersonal. It is this poor communication that can create conflict and hostility between colleagues.
Healthy communication is the key to a positive team environment, so making yourself available and accessible to your colleagues is highly important, especially within a managerial role.
This may consist of weekly 'check-ins' or 'catch-ups' with individuals/groups of employees to talk through the working week, and what they are doing well and give them the opportunity to voice any questions or concerns they may have, not just on a work level but personal one too.
Similarly, the lack of immediate access to your team, unlike in the office, can make you feel out of the loop or unsure about certain tasks, so ensuring that you facilitate connection is essential. For example, this may require arranging a group video call to work through any details and eliminate any conflict or confusion.
Learn more Strategies to Improve Communication in the Workplace.
2. Tackle Conflict Early
If there appears to be conflict emerging within your team, it is important to address and tackle this as early as possible to prevent it from escalating any further and risking it permanently impacting team morale.
Firstly, acknowledge the conflict with the individuals concerned. You should schedule a video meeting with those involved to start a conversation acknowledging and detailing the incident. As a manager, it is important to listen attentively and work towards finding a solution that everyone is happy with.
It is vital to also discuss and gain feedback on what can be done to prevent any future conflict of this nature, and ensure you are open to implementing these changes to create a stronger and more successful team.
3. Be Approachable
As a manager, it is important for employees to feel comfortable to be able to approach you with any thoughts or concerns they may have.
It is beneficial to be open and flexible about your preferred methods of communication, whether that be a one-to-one video call, a voice call, a text chat or meet in person, it is important to be open-ended when it comes to offering support to your employees.
Whether you are new to your managerial role or you have been doing it for years, there are always opportunities to improve upon your Leadership, Management and Strategy skills.
4. Utilise Shared Workspaces
Since remote working means you are spending most of your time working virtually, it is important that your organisation has a shared workspace software online to keep everyone updated.
These platforms are designed to help improve team collaboration and work management. Teams can create projects, assign work to colleagues, specify deadlines, and communicate about tasks/projects directly all in one place.
Ultimately this keeps teams up to date and on track with current tasks and eliminates lack of communication which ultimately disrupts good teamwork.
5. Celebrate
Conflict can occur when teams become demotivated or feel like they are being overworked, leading to stress, and causing tensions within the team.
It is essential to maintain good team morale for team bonding and to ultimately avoid conflict. This could be a virtual coffee morning, a virtual pub quiz or celebrating any achievements within the team. Whatever it is that helps bring your team together on a more personal level, this can help relieve any stress-related tensions that may lead to conflict.
Learn how to Monitor Your Staff Performance and Increase Motivation to optimise your employee satisfaction.
How to Resolve Remote Work Conflict
Conflict resolution at work is a critical skill that every manager must possess to ensure the best results for their organisation. It is essential that every company has a managing conflict process in place. See these six simple steps to resolving remote work conflict:
Identify the source of conflict – who is involved? What is the conflict about?
Acknowledge the conflict with the individuals involved
Listen actively to each individual to explain their side
Investigate and dig deeper to understand the situation fully and fairly
Find a common goal and come to a mutual solution that works for both parties
Evaluate and create preventative strategies for the future
What Happens if Remote Work Conflict is Ignored?
Not taking action to resolve workplace conflict can have some serious repercussions for your organisation. The longer conflict goes unresolved and escalates, the more difficult it is to resolve as it becomes more widespread. This can also impact your manager-employee relationship due to lost trust, low morale, high stress and decreased productivity, all factors that may result in employees eventually resigning.
Conclusion
Conflict is inevitably one of the many challenges with remote work, but as a manager, recognising that it can be managed with these simple tips is the first step to creating a conflict-free work environment.
As remote work becomes more of a norm within the working world, it is necessary for employers, managers, and employees to actively adopt methods and strategies of how to stay connected and communicate more frequently with each other to avoid miscommunication and demotivation.
Boost Your Management Skills to Keep Conflict at Bay
Whether you'd like to improve communication within your team, learn how to minimise conflict or brush up on your presenting skills, we've got a training course for you. Take a look at our upcoming Leadership and Management courses here.
Chloe Martin
Content Editor
2+ years in SEO and content marketing. Striving to help public sector professionals develop their skills and learn something new through high-quality content.