Say there are team members that are underperforming in your organisation, do you watch them like a hawk throughout the day or put measures in place to monitor their performance?
The second option is definitely a more effective way to turn your employees into high-performing superstars.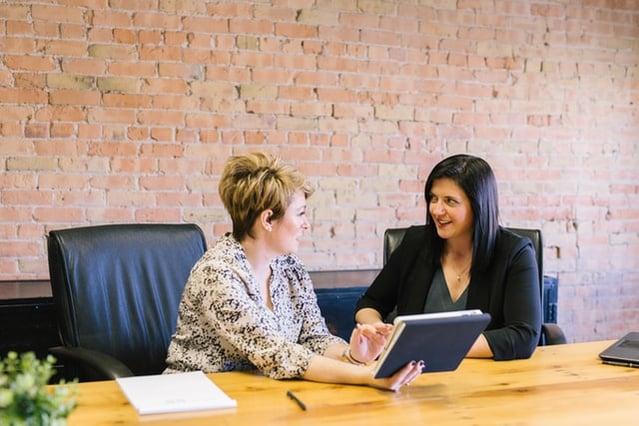 Rather than waiting for an annual review or jotting endless notes down, here are 7 ways to monitor staff performance to get the best out of everyone...
1. Use a Monitoring Software
One of the most effective ways to monitor staff performance is to utilise software designed to do just that. It allows you to track activities and analyse data regarding the tasks staff complete during the day. Having this platform can not only reveal who's struggling and needs support but also detect backlogs and improve team-wide productivity.
To motivate your team, emphasise the use of a leaderboard featured in many monitoring software tools. There's no harm in adding a little healthy competition between your staff.
2. Check-in Regularly
If you're monitoring staff performance, it's likely you've already taken steps to manage poor performances constructively with the relevant employee. From time to time, check-in at an unscheduled time so you can assess their productivity. If you give them a set time beforehand, you won't get the full picture on how they're performing.
It's also a good way for them to realise you care and are there for support.
Discover strategies to improve communication in the workplace.
3. Set Targets
To monitor performance and productivity, sit with each team member and either set individual, departmental or team-wide goals. These targets not only show you how productive everyone is depending on if they reach the goals, but it's also an easy way to motivate everyone.
The more targets you set based on performances, the more motivated your staff members will be to do better than last time.
4. Implement Self-Monitoring Tools
Sometimes, the way to increase motivation and see if staff members really want to excel is to let them monitor themselves and their performances.
By implementing checklists, activity logs and creating schedules, it helps them build the initiative to do well. Not only that, but it also increases engagement and a personal drive to succeed.
In the long run, this helps them pick up new skills as well, such as time management, problem-solving, accountability and more.
5. Ask Around a Little
You don't need to gather intelligence regarding every step your staff members take throughout their day. Ask your colleagues and other managers about their interactions with specific employees and keep it related to their work performances. It's not a case of asking for a performance evaluation, but a description of how well they did in a task or project.
You obviously can't monitor employees yourself all the time, so asking a handful of people can help you get a better understanding.
Learn how to build your own high performing team.
6. Analyse and Reward
If you notice your employees are performing much better, reward them and give them recognition. This sends a clear message on how they're valued and their performances haven't gone unnoticed.
If you make this a habit where it's deserved, it can motivate employees to work to a higher standard because they're appreciated.
7. Involve Them
Shutting out employees and not getting them involved in monitoring their performance won't motivate them. If they're underperforming, sit with them to help find the root cause and then come up with solutions on how to turn performances around. This could be coming up with goals together or organising regular meetings to catch-up about recent performances.
Not only does this make you more approachable, it means employees are more likely to be motivated with it's clear you want their performances to improve and aren't making big rash decisions.
Monitoring staff might be the easy part, but what can be difficult is communicating with staff members on why they're under the microscope in the first place. Your approach is key and these conversations can equip you with the skills you need for potentially difficult conversations in the future.
To help, our range of leadership, management and strategy courses will help you develop a positive team culture, create effective strategy planning and lots more. Secure your place to avoid missing out.
Improve Your Communication Skills With Our Handbook
In the handbook, you'll find information on how to communicate with your team effectively, tips on improving public speaking, presentation tactics and more. Whatever situation you're in, you'll receive guidance on how using the right communication methods will help.
To get your free copy, click on the link below.