Psychological Safety at Work | All-in-One Guide with Expert Insights

Chloe Martin
·
6 minute read
Whether you're new to a team or you've experienced ridicule after sharing your ideas to a group, it's natural for many to hold back their thoughts, questions or shy away from challenging others.
But this is what stops the free flow of ideas, new ways of processing or concerns being raised – ultimately halting growth and improvement. This is where psychological safety at work comes in.
Psychological safety was a popular phenomenon before the pandemic, but because of its agility, fitting to remote working and diversity and inclusion, it's found a place in even more sectors across the UK – from education to healthcare.
We were lucky enough to speak to Dr Hayley Lewis (HR Most Influential, Coach, Chartered Psychologist and University Lecturer) on this topic – so make sure you look out for her expert insights throughout this article.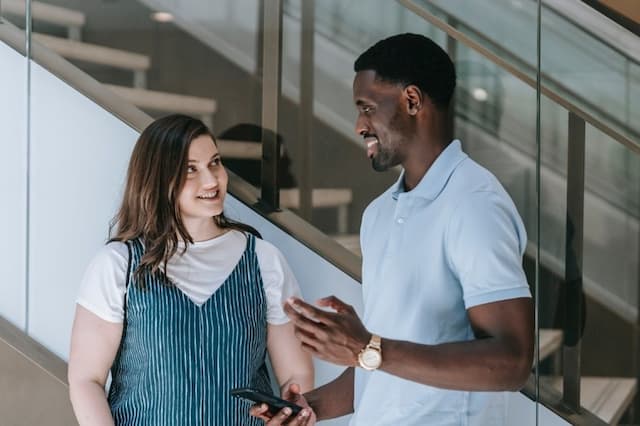 Contents:
What is Psychological Safety at Work? And How Does it Work?
"A psychologically safe workplace is one where people can take risks, be that trying out a new idea or speaking up in a meeting, without fear of punishment or being penalised." – Hayley Lewis
It's all about feeling safe from interpersonal risk-taking. Psychological safety allows employees to feel supported and more willing to take risks with the support and confidence from others in their team - creating an environment where change is embraced, not frowned upon.
Psychological safety, a concept developed by Amy Edmondson in the late 1990s, branches from the popular motivational theory, Maslow's Hierarchy of Needs which comprises of all the 5 basic human needs that must be met to reach their full potential. Just like this hierarchy, psychological safety also has its own 4 key stages that employees must pass through before they feel free to make valuable contributions that will improve the organisation. To learn about the four essential stages, read on.
Psychological vs. Emotional Safety
Compared to psychological safety, where you feel you can show or be yourself without fear of negative consequences, emotional safety is the willingness to show those emotions in the first place. Emotional safety starts with setting boundaries and honouring what your values are.
Why it Matters: Importance of Psychological Safety in the Workplace
Psychological and emotional safety play a big role in workplace environments, especially in the public sector where a lack of psychological safety can directly impact the quality and safety of service delivery from employees to citizens.
Take NHS staff for example, there is a direct correlation between patient well-being and the well-being of those who care for them. This should put psychological safety and employee well-being at the top of the priority list.
The public sector faces an increasingly tough environment where organisations are competing for limited fundings and resources while coping with policy and legislative changes. For employees to keep up, they need to be committed and motivated, which they won't be if they are placed in an environment that makes them feel unsafe.
It's not only about current employees either, but also about attracting new talent. Hayley Lewis commented on this: "People are now able to do their own research on organisations they're thinking of applying to, such as looking on websites like Glass Door which can tell viewers which organisations are perceived as toxic and psychologically unsafe – ultimately making that organisation unlikely to attract and retain talent."
4 Benefits of Psychological Safety in the Workplace
Improves performance standards – including openness to learning, better communication and levels of engagement
Greater teamworking, innovation and creativity around developing new and improved services for a variety of users
Improves employee well-being all round – including commitment to the organisation
Increases levels of initiative – such as identifying ways to work around processes that impact performance
For a deeper look at the benefits of psychological safety in all organisations, read an interesting study led by Alexander Newman (2017).
The Key Four Stages of Psychological Safety at Work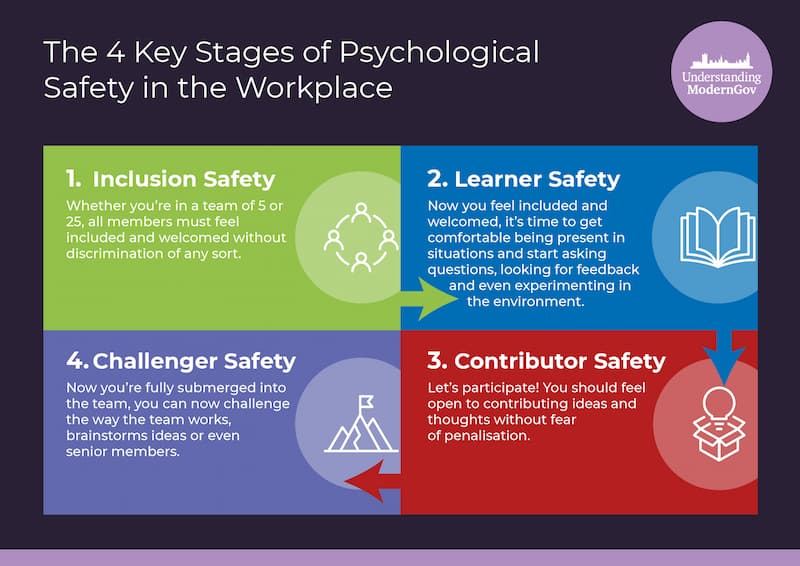 1. Inclusion Safety
Everyone wants to be seen, heard and included, especially in the workplace. It's one of the key things we long for as human beings. Whether you're in a team of 5 or 25, all members must feel included and welcomed without discrimination of any sort.
2. Learner Safety
Now you feel included and welcomed, it's time to get comfortable being present in situations and start asking questions, looking for feedback and even experimenting in the environment. At this stage, it's important that new and current team members ask and receive feedback to feel and know they belong.
3. Contributor Safety
Now everyone knows where they stand in the team, this next stage is all about actually participating as a member – this means, contributing ideas, thoughts, suggestions and raising threats without fear of being penalised.
4. Challenger Safety
Now you're fully submerged into the team, you can now challenge the way the team works, brainstorms ideas or even suggest new processes to senior members. This is the most important part of the four stages of psychological safety as it stops any potential "bad" ideas from getting out into the world – it's all about strong internal communication between different teams too.
4 Ways Leaders Can Build Psychological Safety at Work
Creating or developing psychological safety in a workplace can take a large degree of commitment, skill and focus, but once you start to see positive movement and a change in behaviour, the results might come quicker than you expected. Here's how to get started:
1. Role-Model How to Handle Failure
Psychological safety is a great way to find the true performance of a team as it requires everyone to admit to and learn from their mistakes, contribute or challenge ideas comfortably. This starts at the managerial level.
Hayley shared her insights on this: "One of the ways psychological safe workplaces can develop is by leaders role-modelling how to handle failure, not knowing the answers to all questions and sharing how they're feeling about certain situations."
If leaders demonstrate behaviours that are supportive and consultative, this sets the tone for the team and influences their actions. Once this vulnerability is normalised, it allows team members to visually see that being open and vulnerable does not result in ridicule or harm, which can motivate them to take more interpersonal risks and make more progress.
2. Evaluate Your Current Leadership Style
Self-reflection is one of the best ways to start understanding how to implement psychological safety. According to Hayley, one of the first things she suggests to managers is to evaluate and develop their leadership style through 360-degree feedback. She says "by working with a coach, mentor or a member of the HR team, feedback can be gathered which explores the extent to which you display the characteristics that support psychological safety. This can then be turned into a development plan to focus on helping you become a leader who creates and maintains a psychologically safe environment."
"The one thing any of us have any kind of definite control over is ourselves. This is where all great psychological safety begins."
A McKinsey Global Survey (2021) found that if leaders demonstrate certain behaviours, they can help drive psychological safety. Certain leadership behaviours like supportive and consultative, can enhance psychological safety and further develop that positive team culture. See below to find out more about which behaviours are more effective…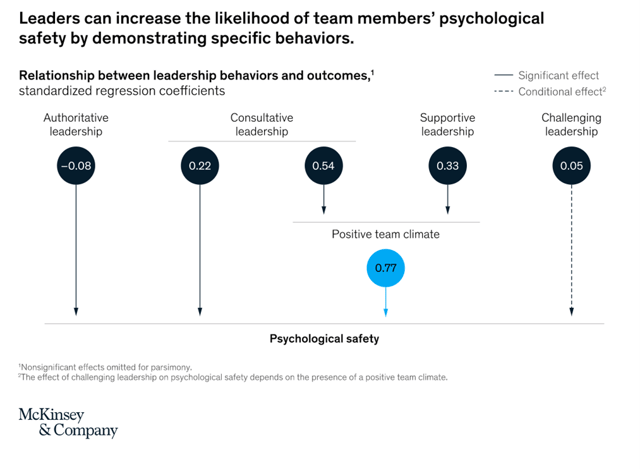 Source: McKinsey & Company
3. Avoid Blaming and Negative Language
To create a strong team, everyone needs to be supportive. If you find team members speaking negatively about another employee or suggested idea, nip it in the bud straight away. One of the most common reasons why employees hold back is fear – in this case, negative talk is a psychological safety killer.
The same goes with blaming. It's easy to look for someone to blame if something goes wrong, but it's important to take a step back and think "what went wrong?" and "how can we review our process so we can learn from this." Both blaming and negativity in teams can spread like wildfire, so keep your eyes and ears peeled to avoid letting it slip out of sight and control.
Read: How to turn a passive-aggressive communication style into an assertive one.
4. Include Your Team in Small and Big Decisions
We're not saying you should involve the whole team to help you decide whether to have a tea or a coffee in the office, we're saying to consult your team when you're making decisions that you think they would have great input, thoughts or feedback on. This helps them feel more included and part of the team, and it'll help your organisation gain better outcomes and reach your goals.
If you do ask for their input on a decision, make sure they know how that input impacted the final outcome of the decision. If you're transparent, honest and open with them about how the decision was made, they're more likely to be engaged and motivated to contribute more.
Read: Quick-fire guide to making difficult decisions at work (including a full checklist and examples).
Share the graphic below with your colleagues or network. Don't forget to tag us if you share on Twitter at @UModernGov.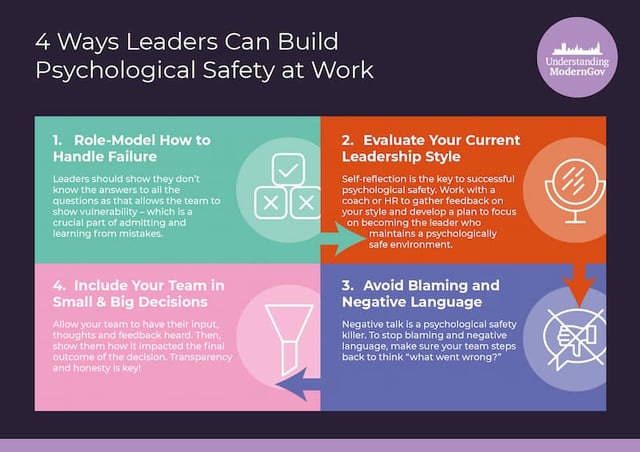 What Does Psychological Safety Look Like in a Hybrid or Fully Virtual Environment?
You may think that a psychologically safe workplace only translates to an in-person office where everyone interacts face-to-face, but developing psychological safety can make a hybrid and fully remote environment a nicer place too.
There's no doubt that virtual teams have less time for casual conversation, which can make psychological safety harder to develop and maintain, but not impossible. Remote psychological safety places an emphasis on giving teams certainty, creating a strong culture that has a focus on outcomes, not inputs and a safe communication climate.
Check-in on your team's climate. If your team members care about one another in terms of well-being contributions and input at work, this is one of the main drivers of successful psychological safety. Also make sure that everyone knows what to do and what's expected of them. This not only helps you see that workloads and deliverables are realistic, but it also gives your team the opportunity to ask questions or suggest new ideas or ways of doing things.
Remote psychological safety also ensures that boundaries are put or kept in place. To maintain psychological safety, your team needs to know when they can remove themselves from work and spend time on their own personal space and time.
Learn How to Create Psychological Safety in Your Workplace
If you want to utilise your team's talents, learn how to enhance performance and achieve your organisation's goals, book on our Creating Psychological Safety at Work training course.
Chloe Martin
Content Editor
2+ years in SEO and content marketing. Striving to help public sector professionals develop their skills and learn something new through high-quality content.