The Importance of Risk Assessment Training: Protect Your Organisation and Staff

Chloe Martin
·
3 minute read
Organisations with five or more employees are required by law to record the findings of risk assessments.
But conducting and recording accurate risk assessments that ensure you've covered all bases can be tricky.
In this blog post, we will cover the fundamentals of a risk assessment, why they are important for public sector organisations and what you'll learn from a risk assessment training course.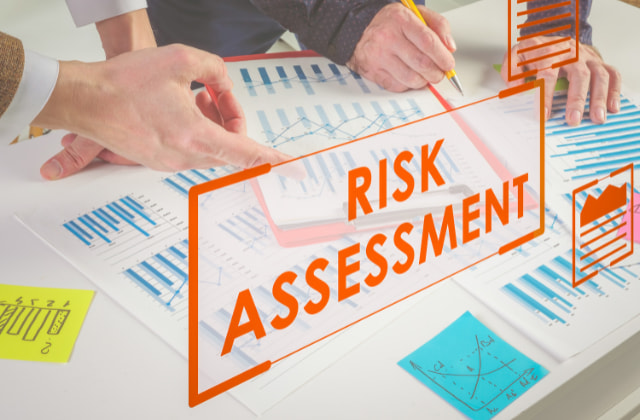 What is a Risk Assessment?
Risk assessments focus on specific hazards in the workplace, who might be harmed by them and how we can implement precautions to prevent them from happening.
There can be many potential hazards in the workplace, especially depending on the organisation itself, but that's why it's important to understand how to carry out risk assessments effectively to avoid injuries or property damage.
If your organisation fails to carry out efficient risk assessments, the organisation could be faced with large fines and legal regulatory action that would have a big impact on your organisation's ability to run effectively and safely.
Risk Assessment Example:
Date: 07/03/2023
Hazard: Loose cables in the walkway
Who is at Risk of Harm: Staff and visitors
How They Can be Harmed: Cuts, sprains or bruises from falling over loose cables
Precautions to Implement: Use a fixed cable cover for carpeted and rubber floors and use zip ties for cables that run from desk objects such as laptops.
Timeframe: Immediately
Next Review: 12 months unless a significant change occurs
When Should Risk Assessments be Carried out?
Whether new machinery has been implemented into daily processes or new specific procedures have been put in place, both could lead to new hazards. As the employer, it's up to you to assess whether these changes could cause harm to your employees.
When Should Risk Assessments be Reviewed?
The Health and Safety Executive (HSE) recommends risk assessments are carried out every 12 months, but managers have the responsibility to gauge the progress and monitor the effectiveness of the solution.
Talk to your staff to help monitor the change as employees also have some responsibility to uphold the assessment and implement effective solutions as a collective organisation.
These results should be recorded in a proper manner to ensure compliance and maximum safety for all staff. Also, if things change in your organisation that could impact the safety of staff, it's recommended that you record this and update your records effectively.
Examples of Internal Risks:
Examples of External Risks:
Learn more about the management of risks in Government with this guide.
Why is a Risk Assessment Important for Public Sector Organisations?
Every employer has a legal duty to ensure health and safety risks are avoided at all costs. Organisations shouldn't look to keep staff safe just to be compliant, but they should be invested in the health of all staff – as this impacts the way every organisation runs greatly.
Four Reasons Why Risk Assessments are Important for Public Sector Organisations
1. Quality of services
With all risks covered properly through efficient risk assessments, the quality of services should be higher quality as staff will feel safe and able to conduct their roles with maximum impact.
2. Prevents accidents and poor staff health
There is no doubt that public sector organisations cannot run without their staff. Therefore, risk assessments need to be conducted to avoid accidents from happening and thus avoid the need to pay for staff sick pay or worse, low retention costs of replacing staff.
A lack of risk assessments can also land your organisation in legal and expensive waters. Fines for insignificant risk assessments can come in the tens of thousands of pounds. It's also important for organisations to show employees they have conducted the proper assessments to keep them safe.
3. Influences organisational decisions
If a new process is not worth implementing due to too higher a risk, this can influence an organisation's decision and may encourage them to produce a less risky choice that everyone across the board agrees on.
4. Strengthens contingency planning
A contingency plan acts as a plan B. It is designed to prepare an organisation with a planned response if a risk does take place. When it comes to risk assessments, having contingency planning won't stop risks from happening, but it does help you visualise "what ifs" and what you would do if those "what ifs" became a reality.
Learn more about the importance of risk management.
What You'll Learn on Our Effective Risk Assessment Training Course
From understanding the legal framework to learning how to identify the obvious and unobvious risks in your assessment. Our Effective Risk Assessment training course will teach you how to develop a risk assessment process and how to carry out a mock risk assessment through an interactive workshop.
Leading the day is our expert Health and Safety Professional, Michael Ellerby, who has a wealth of experience working across various sectors including premises management and fire safety for commercial and residential premises.
In this course, you'll also learn about numerous special cases of risk assessments and why it's important to comply with such legislation. From water hygiene risk assessments to fire and height assessments, these special cases can be difficult to understand when and how to use them effectively.
If you have a team or organisation who needs risk assessment training, we can make this course bespoke to your needs through our tailored In-House service. Please get in touch with our In-House team at InHouse@moderngov.com for more information.
Read the Full Agenda and Secure Your Place on our Effective Risk Assessment Training Course
Now you know what to expect, take the next step by exploring the full agenda and booking your place to ensure your organisation's risk assessments are compliant in 2023 and beyond.