4 Real-Life Examples Of Effective Communication in The Workplace

Chloe Martin
·
3 minute read
What's one surefire way of creating organisational success you ask?
Using effective internal communication strategies is a big one.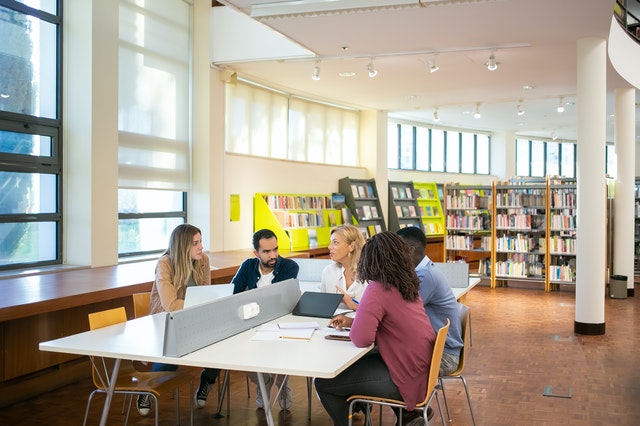 Great communication can help create seamless interactions, ensuring that the business systems you have in place stay productive.
A study by Quantum Workplace found that a lack of communication causes things such as mergers and acquisitions to fail. When managers and employees fail to communicate or improve the communication systems put in place, things are more likely to fall apart.
So what can inspire you to make the necessary changes and how do these translate to the public sector? Examples!
4 Real-Life Examples of Effective Communication in the Workplace
1. Buffer's Company-Wide Email
The social media management company Buffer takes company-wide transparency to the next level. Their CEO Joel Gascoigne says that "transparency breeds trust - and trust is the foundation of great teamwork."
This trust is edified by their work policies, which include publishing and sharing most of their documents such as revenues, financials and even salaries. Furthermore, there are no private email servers or private emails, with the email system is fully transparent.
In their eyes, it increases efficiency, allowing one team member to pick up on the work of another without any issues.
Read: What is really meant by good verbal communication skills?
2. Credit Karma's Open-Door Policy
The American multinational personal finance company, Credit Karma, operates with an open-door policy in an effort to increase communication. As a company grows, its departments also increase in size, meaning it could be more and more difficult to develop good interdepartmental communications.
Being a manager with an open door policy allows them to not only increase morale but allows them to decrease the distance between managers and the workforce, which can be an issue in some companies.
The CEO of Credit Karma, Kenneth Lin, stated that "I want new employees to feel like this is a mission we're all in together. An open-door policy sets the tone for this. Whenever I'm in my office and available, I encourage anyone to come by and share their thoughts about how they feel Credit Karma is doing."
3. Bridgewater Associates' Meeting Records
Bridgewater Associates is one of the largest investment management firms in the world. So how does a company of such size maintain good internal communication? They record it.
Every meeting is recorded and made available to all employees. This policy covers several functions, as a vehicle for communication, as a learning tool and as a means for encouraging precision and the reduction of politicking.
"My most important principle is that getting at the truth, whatever it may be, is essential for getting better," said founder Ray Dalio. "We get at truth through radical transparency and putting aside our ego barriers in order to explore our mistakes and personal weaknesses so that we can improve."
Using communication as a tool for the 'exploration of mistakes' is the perfect way to quickly and efficiently identify the root cause of any issue. Creating an environment such as this allows us to accurately create solutions.
Ready to boost your communication skills in the workplace? Get a taste of what you could learn on our free taster session - access using the button below:
4. HubSpot's Question-Friendly Environment
HubSpot has received multiple awards for its company culture, a culture that's been cemented by the educational atmosphere the organisation promotes.
For example, HubSpot co-founder and Chief Technology Officer Dharmesh Shah once published an article on his wiki page entitled "Ask Dharmesh Anything". It was intended to enhance the communication between the CTO, management and the rest of the workforce. By promoting a culture which valued questions and discussions, HubSpot increased the effectiveness of its work.
Workplaces can learn from this. Through asking and answering questions, we can build upon the collective knowledge of the office, meaning more people can weigh in on issues and solve them collaboratively.
Read more about the types of internal communication you need to be doing in your organisation.
Why Are Communication Strategies Important For The Public Sector?
Because the public sector operates within a high-stakes environment, usually dealing with the quality of life and public services of individuals and communities, effective communication is paramount. Because the demands of the private sector are much different, these types of strategies are more widespread and easier to action.
However, that doesn't mean implementing innovative communication strategies within the public sector is impossible. As part of a strong cultural transformation, these strategies can be implemented as part of a holistic, collaborative approach.
Strong communication is all the more pertinent to render effective services, especially within a world that is increasingly digital. As the needs and demands of citizens, as well as their means of communication, are influenced and changed over time by digital advancements, it's wise to stay in the loop.
Read: How to improve communication in the workplace.
Communication strategies can be implemented through small changes in a company policy or by educating yourself and your colleagues about different individual changes you can develop upon. If you're looking to enhance your communication skills, download our guide.
Ready to Improve Your Communication? Explore Our Communication Skills Guide
Learn how to increase the value of your business communications with our guide. Inside, you'll find helpful content from developing the skills to speak to your team more efficiently to information on public speaking best practices, plus much more.
Click the link below to develop your communication skills and advance your capabilities.
Chloe Martin
Content Editor
2+ years in SEO and content marketing. Striving to help public sector professionals develop their skills and learn something new through high-quality content.