As COVID-19 restrictions lift and the UK opens its doors to the outside world, we know that the public sector needs our face-to-face training courses now more than ever. But which of our courses are face-to-face and which ones are still virtual?
Read on to find out…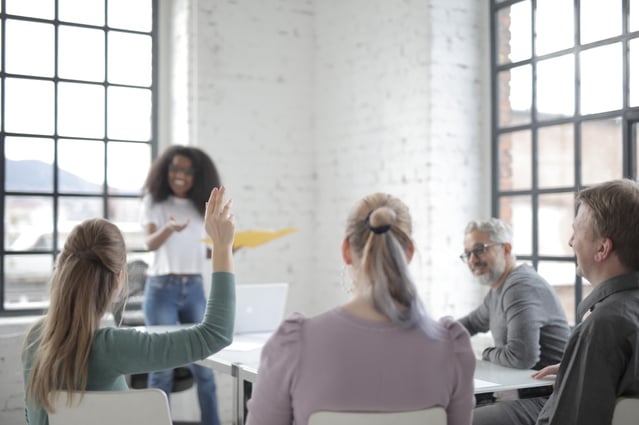 Why Are We Offering Face-to-Face Courses Again?
Although we, and our delegates have thrived from the drastic change to virtual events in the past year, we believe now is a good time to slowly bring back face-to-face training. We've certainly missed it.
From September, we will be running a select few face-to-face courses once again. All our courses work extremely well virtually, but we know our delegates miss the greater effectiveness, interactivity and opportunities of our face-to-face courses.
As we integrate back into the non-virtual world, our delegate and staff safety is our top priority. We will be following all Government restrictions in place, so there's no need to worry. All you have to do is enjoy the experience!
We believe the future of our public sector training courses will be in a hybrid format of virtual and face-to-face. So if you're not quite ready to get back to normal just yet, we've still got a range of virtual courses raring to go.
What Are the Benefits of Face-to-Face Training Courses?
Virtual courses will always be an important part of our future, but as face-to-face courses reopen, you should know about all the benefits they offer…
Hands-on experience
One of the main benefits of our face-to-face courses is the rich hands-on learning experience. Whether you're taking part in a group exercise, workshop or tutor-led discussion, having hands-on experience means you'll gain a deeper understanding of the course topic and you're more likely to remember what you've learnt if it's through physical activity.
Greater communication and collaboration opportunities
Information isn't just understood through speaking and listening, it's also understood through body language cues and visual expressions. Through face-to-face learning, you'll understand your trainer and their aims for the course in more detail. In most of our courses, you'll also receive individual feedback from the trainer to help you improve in the future. Here, you can work alongside other delegates to uncover what you can do to improve and start making changes right away.
Connect with other delegates
Other delegates on your course will likely have different job titles and responsibilities in the public sector. This means you can gain a deeper understanding of your industry, the businesses within it and potentially meet delegates you can make a lasting connection with. You never know, they might be an expert in their field, so go in with open ears and get to know everyone.
Less distractions = more engagement
It's easy to become distracted at home with notifications buzzing, dogs barking or children running around. You can forget all of that during our face-to-face courses and simply focus on the day and your learning. Our face-to-face courses are jam-packed with interactive workshops and delegate discussions, so you won't have time to think about your home to-do list or distractions.
Here's our face-to-face training courses that will take place in the last few months of 2021…
September
Presenting With Impact (14-15/09/21)
Whether presenting in front of a sea of people makes your palms sweat, or you enjoy the pressure and adrenaline rush of presenting. This highly interactive two-day course will teach you how to deliver a clear message, captivate your audience and leave a lasting impact. You'll receive constant expert feedback and coaching to build upon your existing skills that emphasise the importance of presentation structure and handing remote or face-to-face presenting.
See our upcoming events in London.
October
Projecting Powerful Leadership Presence (05/10/21)
Every leader needs a powerful, confident and clear presence for effective communication with colleagues and senior management. Through practical exercises, workshops and discussions, you'll explore various leadership styles to discover which one is best for you and your communication style. Book now to save your spot.
Speaking With Impact (07/10/21)
Not only is this course one of our most popular verbal communication courses, but it was designed for face-to-face interactions. Run by RADA Trained Communications Consultant, Sandra Miller, you'll learn how to speak effectively for the public sector through interactive exercises in a supportive environment. You'll leave the day with the confidence and skills to engage an audience and powerfully use your voice for presentations, senior meetings or addressing your team.
Confident Communication for Women in the Workplace (21/10/21)
There's no doubting that the pandemic turned everything upside down. But, according to the latest finding of LinkedIn's Workforce Confidence Index, professional women were more impacted by the pandemic than professional men. This course will give you an effective toolkit full of performance-based techniques that will transform your personal power and communication skills - all in an empowering room full of professional women aiming to have the greater impact in the workplace that they deserve.
Find out more and book your place.
November
Effective Responses to Complaints in the Public Sector (03/11/21)
We know you're working hard to keep everyone happy, but this course is specifically designed to help you respond effectively when those complaints do come through. During this course you'll analyse good and bad complaint responses, learn how to improve them and how to summarise complex and sensitive information with care.
Learn more about responding to complaints in the public sector with our tips.
Storytelling for Public Sector Professionals (04/11/21)
Storytelling is one of the most powerful ways to engage an audience. Led by RADA trained, Sandra Miller, you'll develop the ability to tell compelling stories that leave powerful impressions through a range of theoretical learning and practical exercises.
Influencing and Negotiating Upwards (09/11/21)
We know that to make big changes, you need to know how to present convincing cases to senior staff. During this interactive course you'll learn theory and techniques behind influencing and negotiating upwards through collaborative breakout rooms and exercises. Run by former Ambassador and UK Diplomat, Charles Crawford, you'll leave with the techniques and confidence that will get you and your organisation the best results.
Quick Responses to Complex Situations (10/11/21)
When you're put on the spot, it's not just your body language that changes, but it's what that body language does to the effectiveness of your response. In those tricky situations, you need to have a clear head, confidence in your ability to respond and a concise answer that leaves no question unanswered. This course is full of spontaneous exercises, example analysis in a small and comfortable environment and workshops where you'll receive individual feedback to improve.
Effective Strategic Planning (17/11/21)
We all know planning for the future has been tricky this past 18 months, but this course is bound to help you get back on track. Led by former Civil Servant and Strategist, Sheree Dodd, you'll leave the day with the ability to develop the skills to forecast and analyse trends which might have an impact on your organisation and implement horizontal techniques.
Discover the importance of strategic planning in your business.
Effective Premises Compliance Audits (18/11/21)
The main COVID-19 restrictions might be lifted now, but there are still some in place that you need to make sure you've got right. This practical course gives you the opportunity to carry out a mock premises compliance audit and identify health and safety risks you should look out for. You'll also gain the necessary skills to avoid fines, legal and regulatory action and keep your workforce safe.
Effective Business Process Mapping (23/11/21)
Business Process Mapping provides public sector organisations with powerful techniques to visually depict progression steps and improve efficiencies. Through interactive workshops and tutor-led discussions, you'll gain the capability to measure performance, identify problem areas, model current and future processes and validate change.
Effective Briefing and Submissions (23/11/21)
Led by our Communications Trainer, Sue Calthorpe, this course will help you develop more effective planning structures, teach you how to write accurate, clear, and understandable text and gain techniques to distil large volumes of information into clear and succinct summaries. Discover the power of succinct briefings and submissions which can improve the ability to influence key decision-makers and stakeholders. Who doesn't want that?
Women in Leadership in Education (30/11/21)
In these challenging times, strong and effective leadership becomes even more important. Join exceptional women from across the education sector for high impact peer to peer learning.​ Through discussion and practical exercises, you'll identify strategies to lead with purpose and conviction, establish techniques to set boundaries and remain true to your vision. Leave the day with an action plan to become the leader you envisioned and overcome barriers to success.
Want to attend? Book your place today.
December
Leadership Skills for Emerging Managers (09/12/21)
Whether you're new to managing others or you want to gain new leadership skills to improve the management of your team, this course is perfect for you. This course gives you the core practical skills to manage and lead your teams to success remotely or in the office through interactive group exercises. By the end of the day, you'll take away the skills to deal with some of the more difficult aspects of people management including handling challenging conversations, giving negative feedback and managing poor performance. You'll be ready for anything!
Women in Leadership (09/12/21)
The number of women in leadership positions has been growing steadily. Yet, there is still not equal representation in top executive roles. Through tutor-led discussion and workshops, you'll create a personal vision of what it means to be a great leader, develop your leadership style, learn to react to opportunities and use practical tips to gain power and influence for stepping-up and progressing further.
Developing Effective Written Responses to Complaints in Healthcare (09/12/21)
Although the health sector is experiencing a surge in written complaints, this course has been designed to support you in dealing with these complaints quickly and efficiently. Through a combination of expert tutor input, group discussions and practical supported exercises, you'll discover valuable skills and techniques to resolve complaints in an efficient and compassionate manner.
Book Your Place on a Face-to-Face Training Course
Ready to experience a face-to-face training course? Whether you want to improve the impact of your voice, develop more personal responses to complaints or create more effective briefing and submissions. We're sure we've got something just for you. See our upcoming courses and secure your place.