During the second half of 2021, we resumed our face-to-face training again.
As consumer confidence takes steps to regrow into 2022, we know that the public sector is looking to move forward.
So, we're here to tell you which of our courses are face-to-face in 2022.
Read on to find out…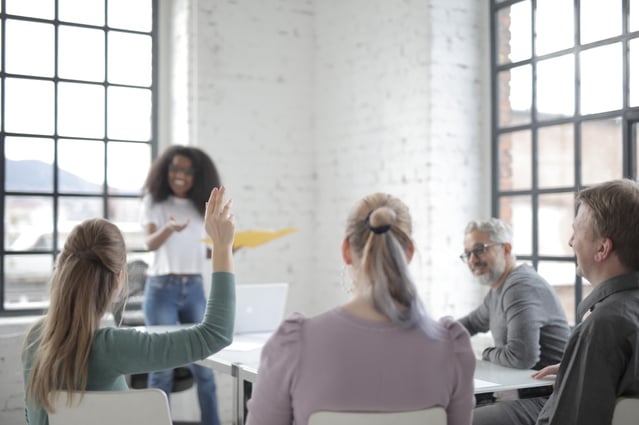 What Are the Benefits of Face-to-Face Training Courses?
Virtual courses will always be an important part of our future, but as face-to-face courses reopen, you should know about all the benefits they offer…
Hands-on experience
One of the main benefits of our face-to-face courses is the rich hands-on learning experience. Whether you're taking part in a group exercise, workshop or tutor-led discussion, having hands-on experience means you'll gain a deeper understanding of the course topic and you're more likely to remember what you've learnt if it's through physical activity.
Greater communication and collaboration opportunities
Information isn't just understood through speaking and listening, it's also understood through body language cues and visual expressions. Through face-to-face learning, you'll understand your trainer and their aims for the course in more detail. In most of our courses, you'll also receive individual feedback from the trainer to help you improve in the future. Here, you can work alongside other delegates to uncover what you can do to improve and start making changes right away.
Connect with other delegates
Other delegates on your course will likely have different job titles and responsibilities in the public sector. This means you can gain a deeper understanding of your industry, the businesses within it and potentially meet delegates you can make a lasting connection with. You never know, they might be an expert in their field, so go in with open ears and get to know everyone.
Less distractions = more engagement
It's easy to become distracted at home with notifications buzzing, dogs barking or children running around. You can forget all of that during our face-to-face courses and simply focus on the day and your learning. Our face-to-face courses are jam-packed with interactive workshops and delegate discussions, so you won't have time to think about your home to-do list or distractions.
Here's our face-to-face training courses that will take place in the last few months of 2022…
Effective Written Responses to Complaints in the Public Sector (28th June 2022)
Whether you receive complaints everyday or just once a week, it's important to know how to respond effectively. We've already trained hundreds of other public sector professionals to improve their written responses to complaints, now it's your turn. You'll learn how to write more empathetic responses, gain best practices from real-life examples and how to summaries complex or sensitive information.
Ready to improve your written responses to complaints? Book here.
September
Advanced Minute Taking (8th in Edinburgh or 15th September in London 2022)
Minute taking isn't just writing notes that you can't read or understand after the meeting has finished. It's a useful skill to master so you can take concise notes, develop accurate action points and maximise your listening and writing skills. You'll receive personalised feedback from Communications Expert, Sue Calthorpe, so you can overcome the common pitfalls around writing minutes and takeaway key action points to help you succeed.
A Guide to Successful Contract Management (13th September 2022)
Having effective contract management has many benefits - from boosting savings, cost-effectiveness or operational performance. Our Guide to Successful Contract Management course is a great way to recognise what makes up successful contract management, how to monitor performance, manage strategic relationships and how to build an action plan to get started.
Read more about our Guide to Successful Contract Management course here.
Women in Leadership (15th September and 17th November 2022)
Although more than half of civil servants are now women, there is still visibility of inequality as seniority increases. Join other exceptional women from the public sector to identify strategies to lead with purpose and conviction, establish techniques to set boundaries and remain true to your vision through discussion and practical exercises.
Developing High-Performing Teams (20th September 2022)
Led by People Development Consultant, Hayley Lewis, our Developing High-Performing Teams training course will teach you how to enhance the performance of your staff and improve processes to ensure your organisation is in the best position to achieve desired outcomes.
Learn more about our Developing High-Performing Teams course.
Effective Data Visualisation (22nd September and 10th November 2022)
Want to learn the best tools and techniques to make an impact with your data? This course will help you turn any data into captivating infographics, easy-to-read messages and visually pleasing charts that will help you explain your data and the bigger picture behind it.
Want to learn more? Read the Effective Data Visualisation course agenda here.
Confident Communication for Women in the Workplace (22nd September 2022)
We know there's no "best" communication style for every workplace interaction, however our long-standing Confident Communication for Women in the Workplace course has helped hundreds of professionals develop and embody the skills needed to communicate with confidence and credibility.
Leadership Skills for Emerging Managers (28th September 2022)
Have you recently been promoted to a managerial position? Or are you taking the next step forward into your career as you aim for a promotion? This Leadership Skills for Emerging Managers course is designed for those with little experience of managing others and will teach you the key skills you need to take on this new challenge successfully.
Sound good? Read the Leadership Skills for Emerging Managers course agenda here.
Effective Strategic Thinking (29th September 2022)
A great organisational strategy relies on high quality decisions - which rely on strategic thinking. To make sure your organisational strategy is as strong as it could be, take part in this collaborative course to to understand how to conduct a strategic analysis, evaluate your performance, address your weaknesses in an open environment and learn how to implement your strategy effectively.
Ready to improve your strategic thinking? Secure your spot on this course here.
October
Confident Communication for Women in the Workplace (4th October 2022)
Chaired by Communications Coach, Anne Walsh, dive into numerous communication styles and language choices that explore communicating from a position of knowledge and confidence to learn how to communicate with power, impact and confidence.
Confident Communication and Assertiveness (6th October 2022)
Assertiveness can help you make a positive impact at work, ensuring that you are perceived the way you intend to be and get the results you are looking for no matter the context. Join our course to enhance and practice best ways of assertiveness, helping you become a more decisive, influential person who can communicate effectively to yield results.
Read the full agenda here to learn more.
Effective Premises Compliance (11th October 2022)
Having robust procedures in place to comply with statutory building responsibilities is crucial to effective health and safety. Attend our Effective Premises Compliance Audits to carry out a mock premises compliance audit that will help you identify risks to health and safety and demonstrate compliance with the statutory regulations.
Effective Business Process Mapping (11th October 2022)
Deliver beneficial change through powerful techniques that can help you depict progression steps and improve efficiencies. Led by Management Consultant, Jonathan Bottomer, you'll leave with the capability to measure performance, identify problem areas, model current and future processes and validate change.
Better Business Cases Foundation Level (11th-13th October 2022)
This two and a half day course covers the innovative APMG certification and is based on the 'Five Case Model' – the UK' government's best practice approach to developing spending proposals and enabling effective business decisions. Note:
This course is aimed at professionals with responsibility for the successful delivery of programmes and projects or tasked with developing a business case for investment.
Influencing and Negotiating Upwards (13th October 2022)
Attend our highly interactive Influencing and Negotiating Upwards course led by former Ambassador and UK Diplomat, Charles Crawford, to practise the theory and share your experiences of difficult or upcoming negotiations, receive expert feedback, discuss different scenarios and learn new techniques that can help you and your organisation get better results.
Speaking with Impact (13th October 2022)
Want to leave a lasting impression when you speak? Do you want to make sure people remember you and your ideas - even in a remote or hybrid environment? This one-day course will teach you everything you need to know about maximising your verbal communication - including how to avoid common public speaking pitfalls and how to retain an audience's attention.
Sound like something you'd be interested in? Learn more here.
November
Effective Briefings and Submissions (3rd in London and 8th in Central Belfast November 2022)
Learn how to write succinct briefings and submissions that have the ability to influence key decision-makers and stakeholders. We know distilling complex information into a short and concise document can be tricky, so this course is the best way to gain the confidence, tools and effective planning structures to produce a compelling summaries.
Learn more here and book your place.
Storytelling to Influence: Speaking and Presenting (8th November 2022)
Everyone wants to make powerful impressions in meetings and presentations, but now you can actually do it (for real). The best way to make an powerful impression is through a story. You'll learn exactly how to convey essential pieces of information in a humanistic and memorable way to influence key decision makers or build stronger relationships.
Tackling Domestic Violence and Abuse (10th November 2022)
OurTackling Domestic Violence and Abuse course provides you with a comprehensive understanding of the Domestic Abuse Act 2018 and the Domestic Abuse Protection Act 2021, what implications it has for changing practice across all sectors and gives you practical guidance on how to meet your statutory duties and improve practice in your local area.
Read the full agenda here to learn more.
Book Your Place on a Face-to-Face Training Course
Ready to experience a face-to-face training course? Whether you want to improve the impact of your voice, develop more personal responses to complaints or create more effective briefing and submissions. We're sure we've got something just for you. See our upcoming courses and secure your place.