Being a leader and a manager is one of the most rewarding, yet tough, jobs you can do.
Whether you're leading few or large groups of staff, they have high expectations of you. They look to you to be...
Inspirational to your staff, while managing their performance
Be "agents" of change, while keeping up morale and gaining buy-in
At the forefront of implementing your organisation's strategy, while keeping staff on board
That's a lot.
To help you keep up with these expectations as a leader, we've narrowed down three development areas for successful leadership.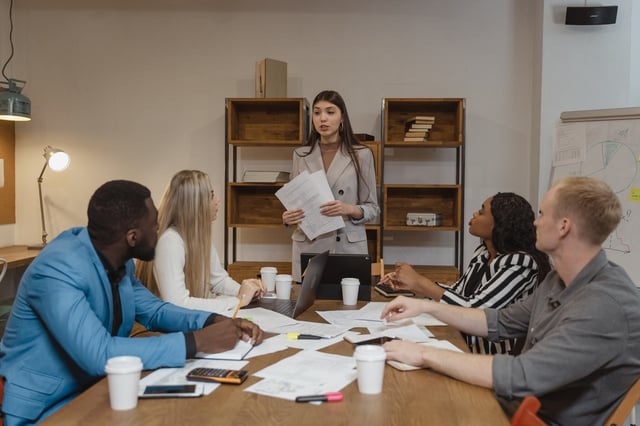 Three Development Areas for Successful Leadership
1. Effective Coaching and Mentoring
Coaching and mentoring your staff is a powerful and cost-effective tool. Help your staff to make better decisions, solve problems that are holding them back, learn new skills, and progress their careers.
Our highly interactive Effective Coaching and Mentoring training course will help you to develop the key skills and techniques that are required to become an effective coach or mentor.
Learn how to use coaching as a tool for employee growth or learn more about the differences between coaching and mentoring.
2. Communicating and Managing Change
The success of your organisation's strategy depends on effective communication. As a leader, you are at the forefront of delivering change within your organisation, however you need the full support of your staff to achieve this.
By gaining senior buy-in, engendering an appreciation for change amongst your staff, and communicating your strategy to key stakeholders, you will be able to create a change-ready organisation.
Is your organisation going through or about to go through change? Here's 5 essential steps for successful change management.
3. Effective People Performance Management
As the saying goes, "you're only as strong as your weakest link", so it's important you have the tools and techniques at your disposal to help you manage performance across your team.
You might have someone who is under-performing, which is impacting productivity and morale. Conversely, you might have someone who is a star performer who gets frustrated at not being stretched enough. And then there is everyone in between.
We run a number of training courses that have been built with performance management in mind. See our full list of upcoming training courses that can help you to identify and manage under-performance, develop confidence and techniques to manage difficult conversations, re-engage under-performing staff and keep high-performing staff motivated.
Join the Conversation…
We'd love to hear from you. Tweet us using #UMGTraining @UModernGov and tell us two development areas you think are key for successful leadership in your organisation.
Or if you would like to discuss any of the details you have read in this blog or find our more about our Leadership and Management courses please get in touch at enquiries@moderngov.com