5 Tips for Improving your Public Speaking Skills
Understanding ModernGov
·
2 minute read
Public speaking.
Some find it daunting and nerve-wracking with multiple faces and eyes staring in anticipation of your voice. Others find it exciting and rewarding, seeing it as an opportunity to voice opinions and represent an organisation.
Whether it's conducting training sessions, delivering briefings and reports during internal meetings or presenting to a big group of clients, public speaking is everywhere and it shouldn't be avoided.
That's why you should know how to combat those unwanted nerves or fear.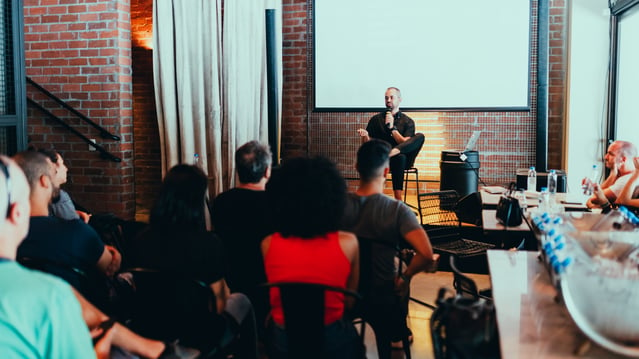 Here's five tips for improving your public speaking skills so you deliver a clear message that will leave your audience applauding, not yawning.
1. Think
positive
It is important to not associate nerves and anxiety with the sense that you are going to perform badly. Feeling nervous is completely normal and can actually be seen as a positive thing. So, try and change your mindset when you next speak in front of an audience and view feeling nervous with a positive outlook.
Book on our popular speaking with impact course to learn key methods and preparation techniques to confidently communicate your message, whether it's at your big presentation coming up or a weekly meeting with your collogues. Secure your place.
2. Practice makes perfect
This might seem like an obvious one, but the only way to feel as confident as you can be before presenting is due to strong preparation.
Always:
- Practice in front of people: Start by practising your presentation on your own. Then, when you feel confident, give yourself enough time to practice in front of people.
-Receive feedback before the presentation: The only way to improve your public speaking is through listening to your audience. Ask for honest and critical feedback so you can improve next time.
-Record yourself: Record yourself on video so you can watch what the audience will be seeing. Find ways to improve for next time.
3. Know your audience
It is important to research, learn about and understand who exactly you are talking to. This should be done before your speech is written, so the message can be tailored to the group of people. This will then enable you to organise your material in the most effective way suited to your audience with the right choice of words. Meeting your audience before (if this is suitable) will also calm nerves through talking to your audience, as well as allowing you to network.
4. Use humour and tell stories
Telling a story or adding a sense of humour to your speech will help you grab the attention of your audience. Add a personal touch to your speech to allow your audience to relate to your points, and using your own examples will make you feel more comfortable whilst presenting.
Discover ways to stay calm during a presentation.
5. Focus on the two most important phases in your speech: the beginning and the end
Open your speech with something that will entice your audience to listen. Start with an interesting quote or a surprising statistic. Make sure to end your speech with a strong statement and closing line.
Read 7 of the most powerful ways to end a presentation.
Take your Public Speaking Skill to the Next Level
Whether you want to influence others, present with impact or craft quick responses to complex situations with ease, our range of verbal communication courses will have you producing confident and clear messages in no time. Secure your place today to avoid missing out.
Or, if you would like to discuss running one of our courses for your whole team, contact our In-House Training team on InHouse@moderngov.com or call 0800 542 9414.