Mastering the Art of Presentations: A Personal Case Study on Speaking with Impact

Chloe Martin
·
2 minute read
When Helen, Director of Resources from adult social care provider, KeyRing needed to learn how to speak with more impact and boost her presence in the workplace, she reached out to us.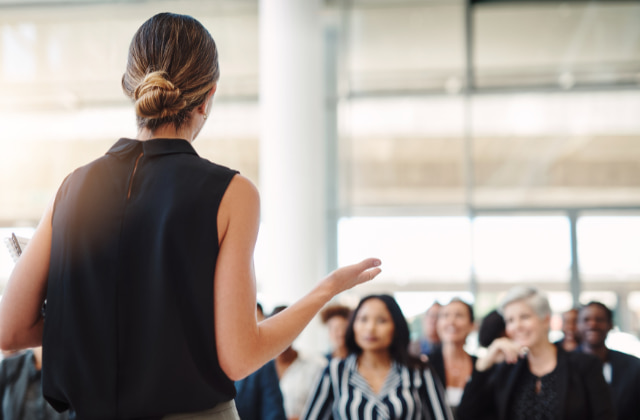 Background
KeyRing offers support to those with learning disabilities to build the life they want in their local communities. Through peer support, volunteer support and strong local communities, KeyRing creates an environment where everyone can live the life they want without facing Social Care limitations.
"The world we want to see is one where people are at the heart of their communities, sharing skills and talents for the whole community's benefit." – Chief Executive, KeyRing.
The Challenge
Helen, who leads the organisation's Central Functions (IT, HR and Admin), wanted to learn how to use her presence in order to achieve the outcomes she wants from meetings and presentations she leads.
The Solution
Helen booked onto one of our most popular training courses, Speaking with Impact, to gain control of her presence, and boost her focus and structure during everyday working tasks. She attended the course at our central London venue in Marble Arch.
We specifically designed this course to help you present yourself as powerful, yet authentic. The day is all about practical exercises and getting involved to learn how to overcome common pitfalls of public speaking and communicate with confidence.
Led by RADA trainer Actor, Sandra Miller, this course was a great match for Helen, whose main goal was to develop gravitas, feel confident that she was being taken seriously and learn more about how to present herself in various situations.
The Result
As a result of attending Speaking with Impact, Helen said:
"The course was excellent and gave me lots of food for thought, both for online and in-person presentations.
I have the main headlines from the course written up in front of me at my desk for online meetings. I use the prompts in front of me to remind me of what I need to do."
Key Statistics:
Helen rated her confidence level as 90% after the course, in comparison to 60% before

She 'Strongly agreed' that the course met her learning objectives

She gave the course top rating of 'Excellent'
"One of the main aspects of the course which made it so good was the trainer, Sandra. She was excellent at explaining, challenging our perceptions and making us rethink what we believed about ourselves. The face-to-face aspect also gave us space to take risks and learn on the spot."
Learn more about Sandra and her top tips for speaking with impact with this quick video.
Next Steps
By attending this course, Helen was able to own her space and learn how to project her voice, which will help her to gain commitment from her colleagues and 'sell' her ideas in the best light.
Helen now intends to continue practising all she has learnt, including taking key parts from the course and implementing them into her day-to-day working life and face-to-face events. Those key parts are:
"Present to the camera, listen to the faces
Slow down, pause, breathe
Own my own space and be proud of my voice – project!"
8 Tips on Overcoming Speaking Anxiety in Meetings and Presentations.
Looking to Improve Your Speaking Skills?
Read the full agenda for our Speaking with Impact training course to learn more. Or, if you think your whole team could benefit from one of our Confidence & Resilience training courses, reach out to our expert In-House team who can tailor any course around your needs and goals.
Chloe Martin
Content Editor
2+ years in SEO and content marketing. Striving to help public sector professionals develop their skills and learn something new through high-quality content.