7 of the Most Powerful Ways to End Your Presentation

Chloe Martin
·
3 minute read
Opening your presentation is only half the battle.
What's equally as important is making an impact with the ending of your presentation and making those last words count.
The last thing you want is to deliver an amazing opening, engage your audience throughout and then suddenly switch off and lose interest with the dreaded 'Questions?' slide at the end.
We're about to let you in on how to avoid this.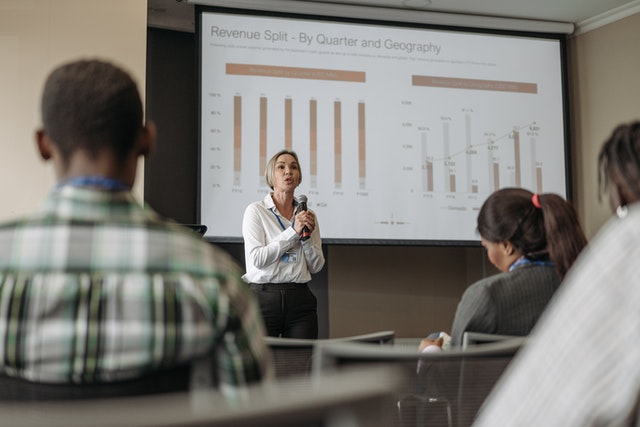 We know you want to leave a lasting impression on your audience. Well, here are some powerful ways you can end your next presentation...
7 of the Most Powerful Ways to End Your Presentation
1. Tell a Compelling Story
This works nicely if you've already planted the seeds of a story early on. It's a powerful tool and a great way to bookend your presentation neatly.
Just try not to tell a brand new story at the conclusion of your presentation.
The best way to deliver this is to tell the beginning of your story at the start of your presentation and tell your audience you'll get back to it later. Deliver the rest of your presentation before revisiting and concluding your story so you come full circle.
If it's compelling, you can be sure your presentation and the main message have really hit the mark.
2. Add a Call to Action
Although the point of your presentation is to share important information, you also want people to do something with that information. To do that, think about ending your presentation with a clear and concise call to action (CTA). Anything which motivates, inspires or empowers your audience is a good CTA to include.
Try this out by starting your next presentation with some negative emotions which suggests how bad things could be if the audience doesn't take action. Then at the conclusion, end it with some positive emotion and show how amazing things could be if the audience does take action.
You've given plenty of value, but don't let it end there. A CTA ensures the audience will get even more value long after your presentation ends.
3. End It With a Challenge
This links with the CTA in the sense that you want the audience to take action. Depending on the type of presentation or the messaging involved, a powerful way to end it is to challenge your audience to do something that day. A key to this is to motivate your audience and make them feel valued throughout.
If you can connect with your audience and challenge them, they'll feel more empowered to take action.
Want to know the 3 magic ingredients of presentations? Watch this Ted Talk to find out.
4. A Memorable Sound Bite
A short, memorable sound bite is the perfect attention magnet. Attention spans are now shorter than ever so it's an ideal way to cut to the core of your main message right off the bat. Take some time to plan your sound bite and how you can distil it down to a crisp statement.
If it's authentic, sounds like you and accurately condenses the main point of your presentation, your audience will remember it.
5. Tell a Surprising or Unusual Fact
To take your audience by surprise or get them thinking, try revealing an unusual fact to reinforce your message. Whether it's a statistic or a statement, delivering it at the end shows why taking action is a good idea.
If it's a compelling fact, it keeps people engaged, gets them thinking and persuades them to think about the points you're trying to get across. That's much better than an ordinary ending.
6. Summarise Your Messaging
If you're using a visual presentation, then a 'thank you' slide doesn't really help an audience as there's no real value there. You could say 'thank you' verbally which is a good way to make it clear you've finished. Instead, think about using a summary slide showing all of your key points.
Use bullet points, make it easy to read and you'll have your audience engaged. Don't be surprised if you see people jotting some notes down or taking pictures either. These takeaways are crucial to ensure nobody misses your message.
Everyone wants to present with impact, so why not advance your skills with our one-day course led by communications expert and RADA-trained, Sandra Miller? Book your place now to avoid missing out.
7. Finish With Enthusiasm
It's completely natural to feel a little drained at the end of your presentation. You probably felt a lot of adrenaline or even nerves at the beginning but try not to show your audience the excitement has worn off.
Your audience needs to feel you're enthusiastic from beginning to end, especially if somebody does ask you a question. If you're not enthusiastic, why should your audience be? The positive energy you bring will rub off on others in the room.
The fact you're looking on improving your presentation's ending is already a good start. But if you feel like you need more help and guidance on how to do better in meetings and public speaking, check out our communications handbook.
Make Every Presentation Ending Powerful With Our Handbook
We've created a handbook full of the essential information you need. From improving communication within your team, getting over the fear of speaking in meetings, overcoming speaking anxiety, presentation skills and lots more. Whatever your situation, you'll find helpful advice and tips to get you started.
To get your copy, click on the link below.
Chloe Martin
Content Editor
2+ years in SEO and content marketing. Striving to help public sector professionals develop their skills and learn something new through high-quality content.