8 Tips on Overcoming Speaking Anxiety in Meetings and Presentations
Whether it's speaking up to voice your opinion in a meeting or if you're stood in front of people for a presentation, feeling anxious is completely normal.
The good news is there are so many ways you can overcome speaking anxiety in meetings and presentations that you'll become a pro in no time.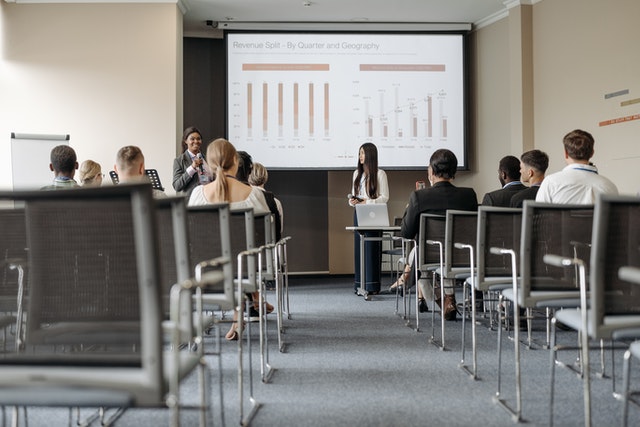 Here are 8 useful tips to help you overcome speaking anxiety in meetings and presentations...
1. Start Small
If you know there's going to be a point where you need to speak publicly and you're new to it, start off small. Find some friends, colleagues or family you can practice in front of. In reality, the size of the audience doesn't really matter but it's much easier if you speak in front of smaller groups and build up from there.
If you know your topic, you'll be just fine.
2. Get Attention Away From Yourself
Speaking in public means you'll have all eyes on you. If that's what makes you anxious, use visuals. They're great for getting your message across in a more engaging way and perfect for drawing attention away from yourself.
When eyes aren't on you, it'll take the pressure off of you being alone in the spotlight.
3. Commit to Speaking Early
The more you talk yourself out of speaking, the more the feeling of anxiety will build up inside you. By staying quiet, you're doing yourself a disservice. Instead, take the plunge and talk yourself into committing to at least one comment in a meeting.
Whether it's to welcome attendees or driving the meeting, it's an easy way to ensure you contribute one way or another. The more this becomes regular, the easier it becomes over time.
4. Practice
A reasonable amount of preparation will leave you feeling more confident and prepared for when you need to speak publicly. If you don't practice ahead of time, you'll always have an uneasy feeling of how everything will turn out and everyone's guilty of thinking the worst right away.
Too much or too little preparation can catch you off guard as you don't want to rely on a script. Prepare to a level where you know you're comfortable and the rest will be a breeze.
It's not just your voice that's important, body language is just as important - read why.
5. Don't Think About Rejection
It's common to think your audience will hate you, get bored or lose interest. Bringing those feelings and assumptions with you before you speak will only make you feel even more anxious. It's easy to say but try to eliminate your fears of rejection or what the audience thinks of you.
Whether you're speaking in a meeting or presenting, people are there to listen to you for a reason. They want value and you're there to provide it.
Overcoming speaking anxiety is a challenge, but using assertiveness techniques can help ease the process. Here are 4 assertiveness techniques that prove you don't need to be an extrovert to be assertive.
6. Get Tips From Experts
You're not alone when it comes to speaking anxiety. It's quite common and you'll find there are plenty of events and courses you can attend that cover this topic. It's perhaps the best way to learn as thought leaders have been in the same boat, so it's worthwhile learning about their experiences.
Take notes so you can mentally prepare yourself in the future when it's your turn to speak publicly. By attending such events, picking up skills and using them in real-life situations, it helps you get into a good routine of speaking publicly without always feeling nervous.
Listen to one of our expert trainers, Sandra Miller, as she tells us her top tips for speaking with impact.

7. Try Relaxation Exercises
If speaking anxiety is something you can't shake off, look into some relaxation exercises which can help ease the tension. Whether it's physical breathing exercises or mental ones from experts on platforms like YouTube, you're bound to find something that helps you eliminate those jitters.
Whenever it comes time to speak, just remember to breathe slowly. There's no rush and it's not a race to deliver your message in the quickest time. Pace yourself, have a drink of water and breathe slowly to get rid of the nerves.
Improve your confidence to use your voice to its full potential with our range of verbal communications courses. View our upcoming ones and secure your spot.
8. Visualise Yourself Speaking
If you have negative thoughts, you'll show more nerves when you're about to speak. If you think positively, it's more likely you'll do a great job without feeling the nerves. If you can picture yourself speaking confidently and doing a great job, it's probably going to turn out that way.
That's why practice is important as well. It gives you time to know when to pause, if you need to talk slower or faster and lets you analyse your body language. The more positive thoughts you have about yourself speaking publicly, the less anxious you'll be.
We get it, overcoming speaking anxiety in presentations and meetings isn't something you can achieve right away. The more courage you build-up, the easier it becomes over time. But if you want even more help to make speaking anxiety a thing of the past, we have just the handbook for you.
Boost your Communication Skills with our Free Handbook
If you're trying to become a more confident speaker in meetings and in public or you just want to improve communication within your team, then download our helpful communications guide. It's packed full of tips, ideas and hints you can use right away.
To get your copy, click on the link below.