Complaint Handling Training: What it Involves and How to Get the Most out of it

Chloe Martin
·
4 minute read
Every public sector professional aims to provide the best quality service possible, but sometimes things go wrong, human error occurs and unavoidable issues can cause unwanted stress for the public. This is when complaints can come in.
Many roles in the public sector deal with complaints and queries from the public, so training to handle conflict in an effective way gives you and your organisation the opportunity to improve services and your relationship with the public.
In this article we'll be covering the aspects of complaints handling training; what to expect, the benefits of it and how it can help you succeed in handling complaints.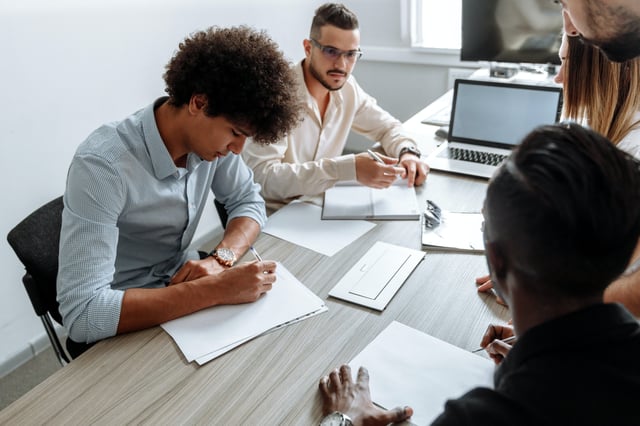 The Basics of Complaints Handling Training
Complaints handling training is used to prepare you for the best way to handle complaints that leaves the complainant feeling satisfied and that their issues or concerns have been listened to. At the same time, it also gives you the opportunity to reflect well in your role and develop a positive reputation for your organisation as one that listens to the public and effectively deals with complaints.
Types of Complaints Featured in Complaints Handling Training
Whether your role is in the police or education sector, it's likely you'll face different types of complaints - we have specific complaint-handling training for these. But, in our most popular handling complaint training course, we cover common public sector complaint types and real-life examples of them...
Email Complaints
Since public sector organisation contact information is readily available, email complaints are often a staple of any complaint-handling role.
The public may decide to email their complaints for several issues, including small grievances like disruptions to travel at a local authority level due to roadworks or large grievances such as an issue of malpractice within the NHS.
Whether you perceive the issue as large or small, the reply you give reflects not only on yourself and your role but also on the way the public perceives your organisation.
As a result, complaints handling training that focuses on email complaints prepares you for the best way to respond to email complaints that leaves the public feeling satisfied. Want to further improve your copywriting skills in emails? Check out 5 email copywriting tips for the public sector.
Social Media Complaints
Social media has become an increasingly popular platform for organisations to interact with the public and there are many benefits that social media can bring to the public sector.
However, it's also becoming common for the public to share their complaints on social media. This presents a difficult situation, as while in-person or email complaints may be one on one, complaints on social media are often public and allows others to gain a negative opinion of your organisation. Therefore, it's important you deal with social media complaints swiftly and in a way that presents to others that your organisation cares about public opinion.
Complaints handling training that looks at social media is likely to be useful for those involved in digital marketing, such as social media managers. The training would likely look at handling complaints across a number of social media platforms including Facebook, Twitter and LinkedIn.
In-Person Complaints
More relevant for those in public-facing roles, such as nurses in healthcare or teachers. Unlike other forms of complaints such as emails or social media, in-person complaints have the added difficulty of needing to keep your composure and giving the correct response, having less time to think than a well-crafted email reply. To improve how you handle these situations, it can be helpful to find ways to improve your quick thinking skills.
Complaint handling training that deals with in-person complaints are likely to look at real-life scenarios, such as someone complaining about wait times or the service they have received, and how to de-escalate those situations in a way that resolves the issue and leaves the complainant happy.
Further reading:
5 Ways To get the Most Out of Your Complaints Handling Training
Whichever type of complaints-handling training you do, it's important you get the most out of your training so you can effectively deal with complaints when you return to your role. Here are 5 ways to get the most out of your complaints-handling training.
1. Apply theory to your own real-life examples
Your training may contain a mix of both theory and practical scenarios related to handling complaints. It may help to retain the information from the theory side if you relate them to real-life examples that you have dealt with in your role.
2. Discuss your own real-life examples with fellow delegates and the trainer
Discussing challenging real-life scenarios that you have faced with those on the course can allow you to view things from a different perspective and find new and effective ways of dealing with them. While complaints can often differ, learning about similar complaints that you haven't faced will help you be prepared if they occur in the future.
3. Imagine yourself as a complainant
It's important to know how the things you learn as part of the training relate to the complainant and how they feel. It can be useful to think that if you were the complainant, what kind of response would you want to hear? And would you feel satisfied with the answer given and the tone of your organisation?
4. Create an outline or plan for dealing with complaints
It can be difficult to create a detailed outline or plan for dealing with complaints as different complaints require different solutions and you don't want the complainant to feel that they are receiving a generic response.
However, having a brief outline or plan, such as an introduction or list of useful questions, can help you feel more prepared and confident in dealing with complaints. As well as ensuring you don't miss anything important that you might need to mention to the complainant, such as terms and conditions or booking information.
5. Pass on the things you have learnt to your colleagues
Passing on best practices and good theories that you have learnt to your colleagues can go a long way in improving how they handle complaints and improving the reputation of your organisation. Knowing further strategies to communicate in the workplace can also make your work environment more effective and enjoyable.
It can be difficult to decide where to take your complaints handling course, UMG's complaint handling courses are a great way to learn how to effectively handle complaints in an interactive environment with highly skilled trainers.
Want to Improve How You Handle Complaints?
We have a number of different complaints handling courses coming up so you can improve how you handle complaints in your role. View the full list of our upcoming complaints-handling courses
Chloe Martin
Content Editor
2+ years in SEO and content marketing. Striving to help public sector professionals develop their skills and learn something new through high-quality content.