Work Burnout: How it can Impact Your Employees and How to Avoid it

By
Ross McDermott
·
4 minute read
Employee burnout is an issue that effects many public sector organisations. A recent survey suggests more than three-quarters (79%) of UK workers have experienced burnout, with increased workloads and mental health challenges being major issues in employees.
Today we'll cover the factors that influence employee burnout, how to identify and tackle them so that your employees can have a healthy wellbeing that is reflected within their work.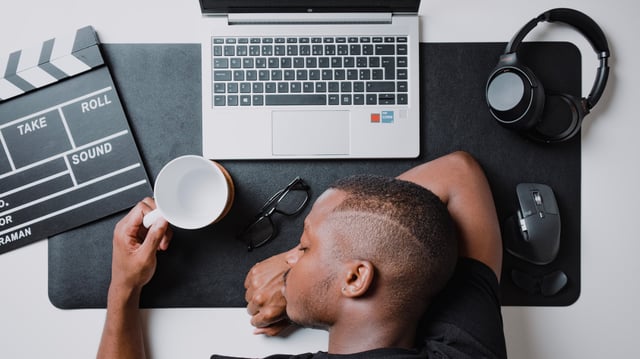 What is Employee Burnout?
Employee burnout, or simply burnout, as described by WHO, is a specific type of chronic workplace stress that has not been successfully managed by the employee. Though it should be noted that burnout isn't classified as a medical condition itself, it can be linked to other medical conditions including depression and anxiety.
WHO characterises burnout in 3 dimensions:
Feelings of energy depletion or exhaustion
Increased mental distance from one's job, or feelings of negativism or cynicism related to one's job
Reduced professional efficacy
The issue of burnout became especially prevalent as more employees began working from home (WFH) during the pandemic. A Work in the Time of COVID-19 2020 survey by employment site Monster, highlighted in July 2020 that 69% of employees surveyed had experienced symptoms of burnout, a 35% increase from early May. Part of the increase may have been attributed to the feeling of being unable to disconnect work life from home life, a feeling of loneliness or inadequate training as a result of WFH.
The work management platform, Asana, investigated the links between burnout and imposter syndrome. finding that 7 in 10 knowledge workers experienced burnout or imposter syndrome in the last year, with 42% having experienced both.
Though it should be noted that recent trends from Monster do point towards improvements in workers, with More than three-quarters of remote workers (77%) saying they are equally productive working from home, a 55% increase from 2020 data. It's important that whether employees are working from home or in the office, plans should be put in place to identify and tackle burnout in employees.
Identifying Employee Burnout
It can be difficult to identify when an employee may be suffering from burnout, as it's possible that they may be suffering from a medical condition that shares the same symptoms. Research from the charity Mental Health UK suggests that when asked to identify the symptoms of burnout, 85% of UK adults correctly identified symptoms of burnout, while 68% mistakenly identified symptoms of anxiety.
When symptoms are associated with the 3 dimensions mentioned previously, it may indicate burnout. The symptoms that are commonly associated with burnout include:
Fatigue
Insomnia
Reduced productivity
Disengagement
Increased absences from work
Higher sensitivity to feedback
Isolation
The difficulty in identifying burnout is that a symptom that affects one employee may not affect another, and they may experience the symptoms at different levels. They may also be experiencing symptoms because of external factors outside of work, though it is still important that employers identify when this is happening so the right support can be put in place.
4 Factors Influencing Employee Burnout
While external factors may have an influence on burnout, there are also internal factors within work that may have an impact on employee burnout. If employers identify these factors, they may help lessen the feeling of burnout among employees. These factors may include:
Workload
In education especially, the workload is a big issue with teachers choosing to leave the education sector because of it. A recent poll by the NEU suggests 44% of teachers plan to leave the profession by 2027, with workload and stress being key reasons. Employers should ensure employees feel they can approach their manager if their workload is too full or if they feel under-supported within the workplace.
Work-life Balance
It can be difficult for employees to 'switch off' from work, especially if they are working from home where they may find it difficult to separate work life and home life. This can also be linked to workload, where some employees may feel like they are not doing enough work from home as opposed to working in the office. Helping employees overcome remote working guilt can go a long way to helping them feel fulfilled and avoid burnout when working remotely.
Want to learn how to overcome remote working guilt? We've got the tips you need here.
Micromanagement
The feeling of being micromanaged may lead to employees feeling like they have a lack of control over their own work and promote a dysfunctional relationship between an employee and their manager or senior managers. It's important that managers put trust in their employees whilst also making themselves available for support, ensuring the employee feels comfortable talking to them about any issues.
Check out some of the signs, causes and solutions to Micromanagement in the Workplace.
Personal Factors
Personal factors such as lack of sleep, financial worries or anxiety may all contribute to work burnout. If these factors are identified within an employee or an employee comes forward about these issues, employers need to have a plan that offers guidance and resources that can help them resolve these issues. Discussing flexible working with employees can be a great way to keep employees happy and help them be their most productive.
If an employee continues to struggle with burnout it may lead to them leaving the company in search of better working conditions. This can be detrimental to your company, as according to Gallup, "The cost of replacing an individual employee can range from one-half to two times the employee's annual salary". For further strategies on how to retain employees, read this article.
3 Ways to Tackle Employee Burnout
Create A Friendly and Approachable Workplace Environment
Creating an environment where employees feel comfortable approaching managers or fellow colleagues with any well-being concerns allows employers to tackle burnout before it happens. Being able to have open conversations if they are feeling burnout means employees won't feel they need to hide their issues, which would only increase burnout and continue to have a negative impact.
Have an Employee Wellbeing Plan in Place
Ensuring that you have a plan means you can offer the best resources and guidance to any employees struggling with burnout or mental health concerns and can point them in the right direction to feeling mentally healthy and productive.
Review Employee Workload, Goals and General Feeling
Checking in with employees on how they feel about their workload, reviewing their goals and checking in with their general well-being frequently, all contribute to your employee feeling happy and productive within the workplace. When necessary, adjusting workload when they feel it may be too much-put employees under less pressure and stress. Ensuring they have goals that they can work towards and achieve helps employees feel fulfilled at work and avoids monotony that can contribute to burnout.
Help Your Employees Avoid Burnout with Our Personal Resilience and Wellbeing Course
Our virtual 'Enhancing Your Personal Resilience and Wellbeing' course is a great way for employees to learn important tools and skills that helps them manage stress and avoid burnout. View the full agenda and book your place here.