4 Steps to Futureproof your Learning and Development Strategy

Chloe Martin
·
5 minute read
People are the biggest investment an organisation can make.
But with a constantly changing business environment, you need to know how to futureproof your learning and development strategy so that everyone has an equal opportunity to continuously improve.
Here's everything you need to know about why your organisation needs a learning and development strategy and 4 steps you can take to make yours futureproof.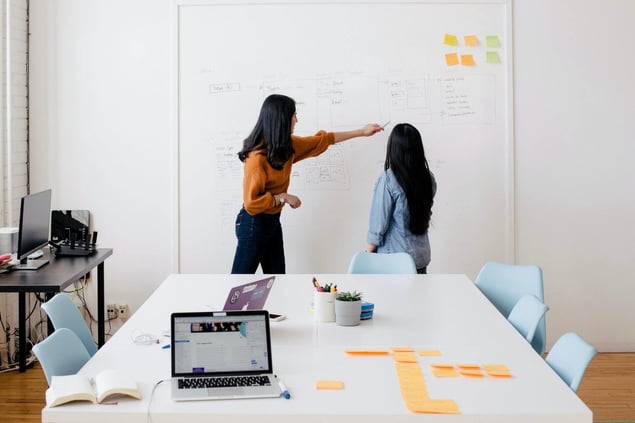 What is a Learning and Development Strategy?
One of the key elements of a successful organisation is engaged, skilled and fulfilled employees. There are several ways you can achieve this, but one way is through an effective learning and development strategy (L&D).
The purpose of an L&D strategy is to outline employee capabilities and skills that the organisation needs to improve and succeed. An L&D strategy is usually written to last for 3-5 years, but to do this, you need to make sure you've left room for flexibility and change in the near future.
Depending on the size of your organisation, your L&D strategy might be 30 or 10 pages long. However, it should include points such as the current business environment and how any internal or external factors can impact operating processes, the key drivers of change and specific aims or milestones for the future.
Why Does My Organisation Need One?
Creating an effective L&D strategy can give your organisation the cutting edge. By giving employees the opportunity to develop their skills through tailored programmes, finding new areas of interest or taking on new responsibilities, the outcome will be a more engaged and proactive workforce that will perform more efficiently to meet greater goals.
See why you need one? Now it's your turn.
4 Steps to Develop a Futureproof Learning and Development Strategy
1. Think about future economic scenarios
As the past 18 months have shown, anything is possible and you can't predict the future. But, thinking about two or four different future economic scenarios as a backup can help you navigate the best path for your staff and organisation depending on the environment at that time. Although L&D strategies can be in place for a couple of years, there's no harm in adapting them as you move through different stages or come to events that could not be planned – a pandemic is a great example!
It can also be beneficial to think about any gaps or specific risks while developing your L&D strategy. These could be risks that could come from specific scenarios and whether these will have a profound impact on your staff's ability to contribute to the success of the organisation or their team goals.
2. Align your learning culture with the organisation's objectives
According to CIPD, fewer than half of UK employees believe their job offers substantial opportunities for them to grow and learn. This is a shocking statistic, but it can be changed.
Although there's no set definition, a learning culture is a concept where organisations support individual learning and transformation which helps to shape the whole business strategy and processes.
By aligning your learning culture with your business objectives, you can encourage employees to deepen their knowledge and skills to build and achieve success as a team to reach wider business goals.
If you're creating a learning culture, think about these four things…
Teach 'how' not 'what'
Build teams, not individual stars
Give meaningful and beneficial feedback
Reward continuous improvement and learning
A learning culture doesn't just motivate employees and promote a "growth mindset," it's also a long-term time investment that will pay off in the future as employees come and go.
Learn more about how we're influenced by an organisation's culture.
3. Plan to assess your results efficiently
You won't see results from your L&D strategy until six months or a year has passed, but before it does, you need to know what you're looking for to decide whether your strategy is working or not.
Adding key milestones or metrics to your L&D roadmap will help you see the outcomes of your strategy and the return on investment. You can also include milestones or rewards for staff so that they stay in the loop and in line with the organisation's L&D strategy. When assessing results, don't be afraid to share this across the organisation, as this will give staff an idea of the bigger picture and how their new learnings are taking the organisation forward.
4. Assess staff needs and implement a training schedule
Each member of staff may require different training, but if you want to start simple, organise training courses or mentoring sessions for individual teams first. After you've learnt more about the needs of each team, it will then be easier to find out what each team member needs in order to expand their skills and grow.
Let's not forget that having consistent training will make employees feel heard, and appreciated and could lower staff turnover due to the investment in their skills. Organising a training program for the future can help you stay on track with your L&D strategy, and it will give you a greater insight into the time your staff need to improve and produce results.
4 Ways to Implement a Successful Futureproof Learning and Development Strategy
Whether you're new to the concept of L&D or you've just hired a new L&D practitioner for HR, here are three ways you can implement a successful futureproof L&D strategy...
1. Create a budget
Be clear on how much you're going to spend and what timeframe this fits in for your strategy. It's important to set aside a budget for training providers and any other costs that come with your L&D strategy, as this will allow you to plan for the future and decide how long you can afford to run this strategy.
2. Conduct a skills gap analysis
A skills gap analysis can be one of the most effective ways to create a lasting learning and development strategy. This is because it highlights qualitative, actionable data that you can take to build a strong training program or strategy for your employees.
If you don't have the time or resources to conduct a skills gap analysis, we're offering those who manage employee training a free skills gap analysis. You'll receive an in-depth report on your organisation's gaps and custom training solution recommendations from our expert Account Management team. Learn more using the button below.
3. Implement an engagement strategy for your training programmes
After you've chosen your training provider and uncovered your employees' needs and what they would benefit from, start to engage your employees to take part. This could be through weekly reminders, signup forms for mentoring or 1-1 sessions or assigning your staff a training buddy. Make sure your employees are excited and in the loop about the training as this will help you use worthwhile training to reach long-term objectives.
4. Set up review sessions
There is no point in running training sessions if you never find out how they went or whether employees found them helpful. Every month, aim to set up a training review with each employee to discuss how their training is going, what they've learnt and any feedback or suggestions they may have. However, if you have lots of employees, a simpler way is to ask employees to leave feedback forms after each session – then review them and make effective changes accordingly.
Learn how to build your own high-performing team with these six simple steps.
Learn How to Retain and Support Your Employees with our Free Guide
Whether you want to grow, support, or retain your staff, or all three. Our new guide is jampacked with unmissable insights and resources that will help you aid your progress towards a better working environment and a greater understanding and success for employee retention.
Click the button below to begin downloading your free copy.
Chloe Martin
Content Editor
2+ years in SEO and content marketing. Striving to help public sector professionals develop their skills and learn something new through high-quality content.