What to Expect from Your Skills Gap Analysis Consultation | How it Works and What We'll Cover
Understanding ModernGov
·
4 minute read
Your employees have a lot of potential. And so does your organisation.
But, to avoid falling short or failing to unlock employee potential, your organisation needs to know where the skills gaps lie.
Luckily for you, we've got you covered with our free skills gap analysis consultation.
In this post, we'll cover what to expect from your skills gap analysis consultation with our Account Management team and how it can benefit your organisation. From identifying areas of weakness to developing actionable programs for your employees, we'll cover what you'll get from this important organisational process.
Content:
Meet Gemma
Meet Chris
Meet Carol
What is The Purpose of a Skills Gap Analysis?
Many public sector organisations have reported skills gaps in the past year. Many of which have struggled to keep up with service demand because of it.
By taking the time to conduct a skills gap analysis, you can uncover gaps in your team or organisation and understand how to prioritise them to upskill your employees most effectively.
A skills gap analysis consultation is one of the most effective ways to address the skills gaps in your organisation. Speaking to a member of our experienced Accounts Management team will give you insight into the realm of training solutions available to suit your needs and craft the best plan to solve your gaps.
Read everything you need to know about a skills gap analysis, plus common mistakes those involved in learning and development make when conducting their own skills gap analysis and how you can avoid them all.
What Happens Before the Consultation?
The first step is to fill in our quick form to find out if you're eligible for our free skills gap analysis consultation. Fill in the form and check your eligibility here.
If you're eligible, a member of our Account Management team will be in contact with the skills gap analysis for you to fill out.
The skills gap analysis form will cover your organisation's mission, objectives for the year, the training you currently run and the areas of training you want your organisation to focus on.
It will also cover four main types of public sector training: soft skills, compliance, specialised/technical and leadership and management.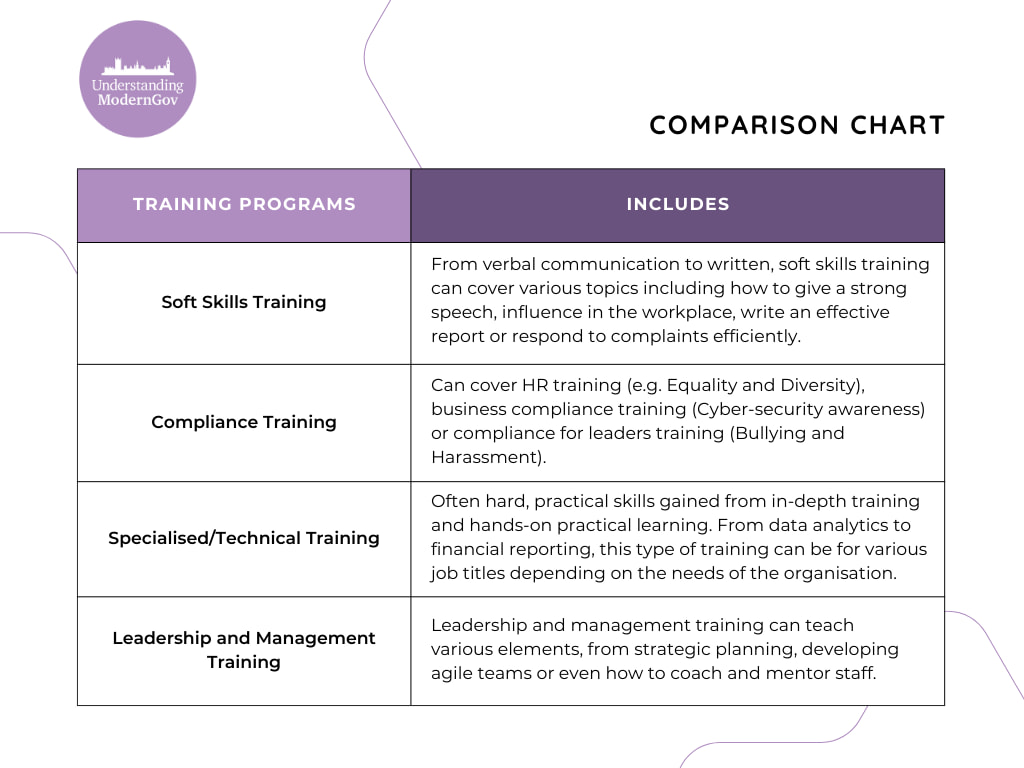 Who Will Conduct Your Skills Gap Analysis Consultation?
We want to introduce you to our experienced Account Management team who manage everything from our skills gap consultation, and building training programs to the ongoing support our key accounts receive.
Meet Gemma
"Hi, I'm Gemma and I currently lead the Key Account Team. I've worked at Understanding ModernGov for 12 years now, too long some may say! When you have been here as long as I have, it's hard not to have lasting relationships with people I speak with."
Meet Chris
"Hi, I'm Chris. I've been part of Understanding ModernGov for almost seven years, working across Delegate Acquisition, then on our In-House training team and now the Key Accounts Team. I feel really lucky to work alongside public sector services, assisting them in maximising what they offer to the public."
Meet Carol
"Hello all, I'm Carol and I have worked in various departments across the company in my 12 years since joining. I've been part of the Understanding ModernGov family now for over 9 years and it feels like home. In that time, I've also built lasting relationships with UK and overseas clients who continue to support our events."
To learn more about each member of our team, read our other blog on why you need an Account Manager for your organisation's training needs.
How Does Our Skills Gap Analysis Consultation Work?
After filling in the skills gap analysis form carefully created by our Account Management and Accounts Support Team, the date for your consultation will be set according to your availability.
During the consultation, you will have the opportunity to discuss your answers to the skills gap analysis with your dedicated Account Manager. You will have the opportunity to dive into job requirements, the current level of skills and knowledge of individual employees, and how these skill sets can be improved.
Your Account Manager is likely to ask more questions to ensure they have enough information and understand the needs of your organisation to give the best training plan recommendations possible.
After the consultation, you'll receive a full report via email of what was discussed and a run-down of our training recommendations and potential solutions to suit your organisation's training needs.
Get Your Free Skill Gap Analysis
Simply fill out our short form and we'll be in touch on whether your organisation qualifies for a free skills gap analysis from our Account Management Team.
Common Questions and Answers on our Skills Gap Analysis:
1. Do I need to have any documents or information on hand?
You don't need to bring anything with you. But if it would help you to discuss your skills gaps with your Account Manager then please do!
2. Who is eligible for the free skills gap analysis consultation?
If you're responsible for the training of 10 or more employees, you're eligible for the free consultation.
3. Why is it important that my organisation closes the skills gaps?
Read our blog post all about the public sector skills shortage and how it's vital that your organisation bridges the skills gaps.
4. Is there anything else included with the consultation?
Along with the free skills gap consultation, you'll also receive ongoing support from your Account Manager, allowing you to use their experience, knowledge and advice to develop your learning and development strategy for the future.
5. What happens if I'm not eligible?
Although you won't be able to receive our free skills gap analysis, you will receive our new Training Solutions Catalogue so you have many options to take the right next step for your organisation.
Do you have any other questions we haven't answered? Drop our Account Management team an email via InHouse@moderngov.com.