4 Ways to Support Women Going Through Menopause in the Workplace

Chloe Martin
·
4 minute read
Menopause is a natural phase in every woman's life, but there are still many misconceptions and stigmas attached to it.
It's time to move past these, develop a strong understanding of menopause, and the symptoms and support your colleagues through this potentially challenging and stressful time.
Today we'll be going over the common symptoms of menopause, how it can impact women in the workplace and ways you can support them.
Let's break this workplace taboo and provide better support for working women together.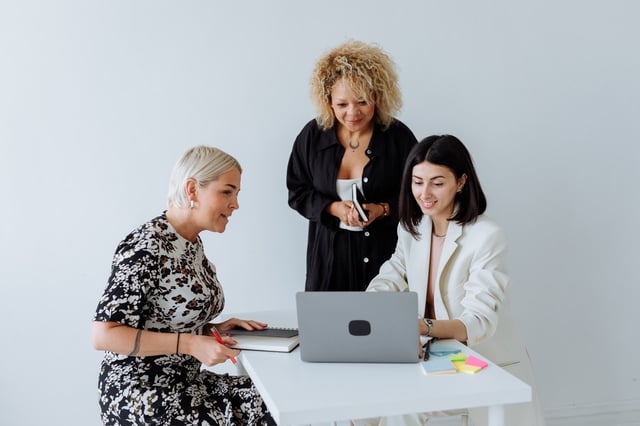 What are Some Common Symptoms of Menopause?
Everyone will experience menopause differently, for example, some may be affected more physically rather than mentally and visa versa. Menopause usually takes place between ages 45 and 55, but it can also happen later or earlier.
Employees need to be aware of who menopause impacts, the symptoms and how they can impact their work or personal life. Menopause can affect women, trans or intersex people, relatives or colleagues and carers who are supporting someone going through it.
Some of the common symptoms of menopause include:
Hot flushes
Difficulty sleeping
Problems with concentration or memory fog
Low mood
It's also important to note that those symptoms of menopause can last for 4 years, or in some cases even longer which varies from person to person.
How Can Menopause Impact Women at Work?
According to a recent CIPD survey out of 1,409 working women, three out of five between the ages of 45 and 55 (59%) experienced or are experiencing menopausal symptoms say it has a negative impact on them at work.
Since women over the age of 50 are the fastest-growing group in the workforce, we need to ensure menopause is recognised as a health and well-being concern for employees that needs to be handled with care and sensitivity.
Menopause can impact women at work through:
Hot flushes
Lowered confidence
Poor concentration
Difficulty sleeping
Memory problems
Mood swings
Anxiety
Many of these symptoms can often go unnoticed, but this can lead to greater issues – such as feeling the need to leave the workforce, burnout, stress or exhaustion.
Another report on menopause in the workplace by consultancy firm, Korn Ferry, discovered that "the negative effects of perimenopause/menopause-related symptoms carried over to career progression outcomes (promotions, bonuses, etc.), absenteeism, and ultimately, turnover. Women in senior leadership positions were particularly negatively impacted by this."
Why it's Important to Support Women Through Menopause in the Workplace
Although menopause can impact women in various ways, giving the right support and having open conversations with those going through it can prevent them from:
Leaving their job
Having increased mental health issues – such as anxiety, stress or depression
Losing confidence in their skills or abilities
Feeling like they should hide the reasons for the need to take time off work
Here's how to get started.
4 Ways to Support Women Going Through Menopause in the Workplace
1. Create a supportive environment
The first step to supporting women in the workplace through their menopause is to break the silence. Women say they feel more supported by their colleagues (48%) than their managers (32%) when going through menopause. It's important for colleagues to be able to support menopausal staff, but menopause should not be treated as an off-limits topic of conversation by senior staff.
Guide your employees towards available support from internal or external support groups and who to contact in the organisation for any concerns. If you're in management, you should work closely with your HR team to ensure employees have all the resources and guidance they need – including reliable health sources and potentially complementary therapies said to help menopause.
Want to learn how you can further support women in your team or organisation? Read these 4 simple ways to continue learning.
2. Consider workplace adjustments
Depending on your job role, there can be aspects of work which can make menopause symptoms harder to deal with. These can include poor ventilation, no access to a quiet space, high workloads, changing deadlines, long hours or dealing with customers, clients or patients for long periods of time.
You might think there's not much you can do to help, but there is. It's all about simple and practical adjustments to show women you do understand and that you're aware of the stress the symptoms are putting them under. Start by having an open and transparent conversation with the individual and aim to understand their needs and how to help reduce the impact menopause is having on their work or well-being.
Here are some examples of adjustments you could make:
Installing fans to keep cool
Offering regular rest breaks
Allowing adaptions to uniforms to improve comfort
Suggesting a later start time if sleep is disturbed
3. Introduce a policy or guidance documents
Menopausal employees need to see that their employer recognises their symptoms and the hardships they can put them under. Gather helpful information and support and create a guidance document that can be shared throughout the organisation. Aim to show your commitment to:
Adjustments to working conditions
Encourage employees to seek advice or guidance
Training or raising awareness in every department
Tackling the stigma around menopause by having transparent conversations
Offering support and reliable resources for those experiencing menopausal symptoms
4. Offer flexible working
Managing menopausal symptoms while working can be stressful and cause symptoms to feel worse. Offering flexible working for those going through menopause will allow them to manage their symptoms effectively around their work and avoid any unnecessary stress. This also means allowing greater flexibility with breaks during the working day or if an employee has a number of doctor's appointments to attend because of menopause.
What are the Government Doing to Support Women Experiencing Reproductive Issues?
A grant fund has been launched to help support women's reproductive well-being in the workplace - including menopause or pregnancy loss. The funding is now open to applications for the voluntary, community and social enterprise (VCSE) sector which specialises in wellbeing services for women.
The grant reaffirms the government's commitment to level up women's health to ensure they are better supported to remain in or return to the workplace, and employers are well equipped to support women. Minister for Women's Health, Maria Caulfield said, "Women's health shouldn't impact their employment opportunities. We're levelling up women's health through this fund alongside our pledge to support women experiencing menopause in the civil service."
Learn more about the grant fund here and what it aims to achieve.
Gain the Knowledge and Training You Need to Support Women Through Menopause
To begin breaking this taboo in your workplace, start by educating and training line managers to ensure they're knowledgeable and confident to have open, sensitive and supportive conversations with employees about their symptoms. View our upcoming Marketing & Communications training courses to get started.
Chloe Martin
Content Editor
2+ years in SEO and content marketing. Striving to help public sector professionals develop their skills and learn something new through high-quality content.