First, what is a strategy?
Oxford Dictionary: a plan of action or policy designed to achieve a major or overall aim.
Communication teams had to adapt to new ways during the outbreak of Covid-19 and continue to play a key role in public health messaging, reassuring communities and supporting employees as we continue to work remotely. Everyone went through a digital transformation due to the pandemic and communications became a guessing game. So, did your communications strategy change?
Internal Communications
Internal communications use to be quite easy, when employees worked side-by-side, a Monday morning greeting and finishing all tasks for the day. However, the way we work has changed and became the new norm. Since we are not seeing our colleagues or clients face-to-face or not as much, organisations needed to develop their communications, earning trust and productivity. In fact, nowadays organisations need to reach their target audience and employees with the most relevant information faster.
For example, you could use a communications strategy template. HubSpot shows us an example: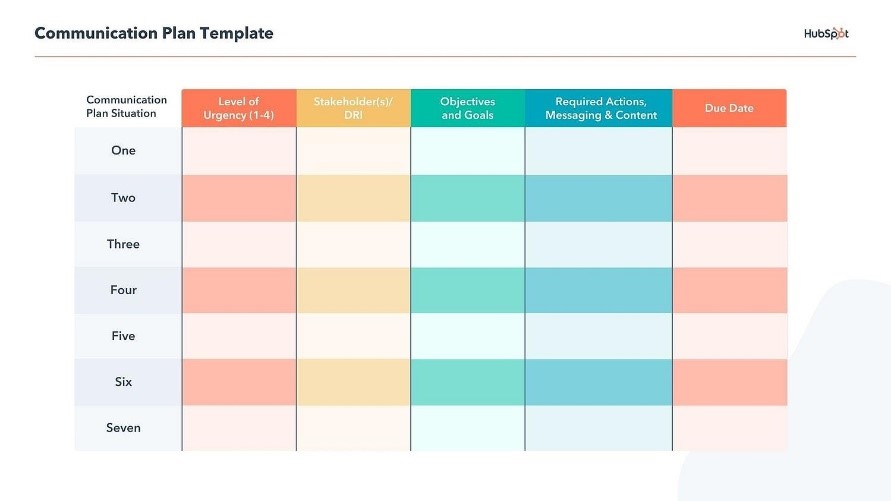 Keep it simple and choose whichever template is best for you plus an action plan and campaign.
Employees look to you as a leader for direction and advice. It is important that you use a platform to increase the awareness of your organisation's strategy and mission, especially on how your employees will contribute and their value. Managers and leaders now have a better understanding and appreciation of the work delivered by communications and as the pressures continue with day-to-day work, it is time to develop an effective strategic communications approach that focuses on making a difference for your communications team and organisation.
Why is it important? Organisations must communicate effectively with their external and internal stakeholders to build (or rebuild) trust, manage reputation, and engage them with priorities and objectives. Meanwhile, the way we communicate and interact has been completely changed in the last year and requires adapting current strategies to the new context.
External Communications
What is the difference between internal and external communications?
Internal refers to strategies of your organisation to ensure information is conveyed to employees.
External is part of your brand, connecting people outside your organisation.
Both, however, are important to the long-term success of your organisation.
In fact, you want your organisation to stand out and be understood but in order to achieve this, you need to build a strong external communications strategy. This is the only way your audience will know about your product and services and rely on information.
How? There is not just one tactic to convey information. Look here:
Website and Content
Social Media
Public Relations
Customer Communications
Speaking Engagement
So, what are the tips for external communications?
Know your audience
Establish the tone
Choose the right platforms for distribution
Deliver value
Involve customers and employees
All teams should be involved, not just communications or marketing. Your entire organisation plays a crucial role in successful communications and you may be the leader of your team, but you also need other departments. In fact, if you want to build relationships, improve engagement and growth, levelling up your external communications is the only way.
Once Covid-19 comes to an end, you will need a strong recovery communications strategy; ensuring communications is in the heart of your organisation. This will help you understand your priorities and what is important now and in upcoming months. Since we will learn how to live with Covid-19, you will need to overcome any challenge your organisation may face and have a clear narrative and direction on how the challenge can be solved.
Get involved with the conversation!
Do you have any top tips to create effective communications strategies? Or any experiences you would like to share?

We'd love to hear from you. You can tweet us using #UMGTraining @UModernGov.

If you would like to discuss any of the details you have read in this blog; including Creating Effective Communication Strategies (click here to view available dates), please contact us on 0800 542 9440 or email enquiries@moderngov.com.

We can also run this course for you In-house, at your organisation or a venue of your choice, on a date to suit you.

Contact our In-house training team on InHouse@moderngov.com or call 0800 542 9414 to find out more.