How to Get Over the Fear of Speaking in Meetings
Understanding ModernGov
·
3 minute read
Picture this...
There's another meeting coming up at work and you're dreading it.
Whether you're leading the meeting or you'll be one of the attendees, chances are you'll need to speak up.
It's no good suffering in silence and letting the jitters get the better of you.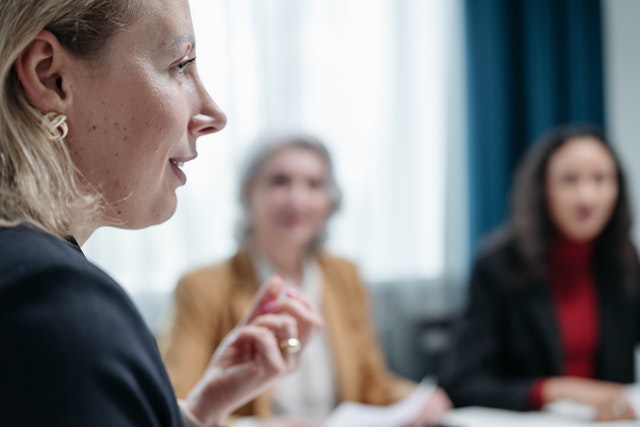 Once you get over the fear of speaking in meetings, you'll become a pro in no time. Here's how...
Create an Agenda
Having an agenda is a good way to plan ahead to make sure the meeting stays on track. It'll give you a good idea of the points you need to cover and the direction you'll take the meeting in. It's also useful to share this with attendees beforehand so there aren't any awkward silences.
By handing one out, it shows you're in control. Nobody will try to steer the meeting in another direction as they'll follow your agenda so the meeting goes exactly how you want it to.
Prepare Yourself
As well as creating an agenda, make sure you've done enough preparation for yourself as a reasonable amount will leave you feeling confident and positive about the meeting ahead. Although, be careful about over-preparing or under-preparing as too much or too little can catch you off guard or leave you feeling more anxious.
Make sure you do enough research beforehand and send the agenda ahead of time. Wear clothing that's comfortable, professional and makes you feel good. It's also a good idea to arrive a little early to the meeting so you can meet people as they arrive.
Doing this is a great ice breaker as it lifts the mood and you won't be rushing around.
Set Some Goals
If you've got a phobia of participating in meetings, then set some achievable goals you can chip away at each time. If you're really nervous, start by keeping the goal modest like challenging yourself to say one thing during the meeting. In the next one, increase the goal and so on.
You'll quickly find yourself achieving your goals and it'll quickly become the norm.
Commit to Speaking Early
It's easy to sit in a meeting and talk yourself out of speaking up and staying quiet the entire time. You're not alone but staying quiet is doing yourself a disservice. The longer you wait to communicate and talk yourself out of it, the more difficult it will get.
Set a simple strategy and plan to say something early on in the session, whether it's to welcome attendees if you're leading the meeting or asking a question. It's an easy and surefire way to ensure you contribute in some way or another.
Discover how to talk in meetings with confidence.
Use Visuals
If you're leading the meeting, it can be a good idea to add some visuals to a presentation. It's never easy talking when you know the entire room has their eyes on you.
But with visuals, it's a great way to get your message across and also drawing attention away from yourself so you're not in the spotlight throughout the entire meeting.
Use Your Strengths
You don't need to be the loudest person in the room to get noticed during a meeting. Even if you're soft-spoken or consider yourself an introvert, you can still make a big impact with simple comments.
Think along the lines of 'great idea', or 'I agree' after somebody makes a comment. It shows you're engaged and it's the first step to opening up more in meetings.
Learn how to keep calm during a presentation.
Learn How to Relax
If the fear of speaking in meetings is something you can't shake off, it's a good idea to look into doing exercises to ease the tension. In our popular Speaking with Impact course, communications expert, Sandra Miller, teaches proven techniques that will keep your and your voice calm in any situation. Book your place now.
Visualise Yourself Speaking
The more negative thoughts you have, the more nervous you'll get in meetings. But the more positive you are beforehand, the more likely it is that you'll excel when it's time to speak up. Imagine yourself walking confidently to the meeting, speaking to people, giving off positive energy, showing confident body language and eventually getting good feedback on how the meeting went.
When you visualise yourself as being successful, you will be successful.
Attend Events and Training Courses
Another good way to get over the fear of speaking in meetings is to attend events that cover this topic. You'll find plenty of thought leaders that have been in the same boat and share their experience with others. Mingle with the rest of the crowd and create a conversation so it becomes natural for you to communicate.
View our range of verbal communications courses that cover influencing and negotiating, speaking and presenting with confidence, communicating in a hybrid-environment and more.
Obviously, a fear of speaking in meetings is not something you can instantly change overnight, but the more effort you put in, the greater your courage will become to speak up.
Become a Communications Superhero with our Communication Skills Handbook
If you're trying to improve your confidence so you can speak up in meetings and become a better public speaker that hooks an audience, then download our helpful guide today. It's packed full of hints, tips and ideas you can use right away to improve your confidence, communication and more.
Get your free copy using the link below.