How to Approach Difficult Conversations at Work | 8 Top Tips

Chloe Martin
·
4 minute read
We've all been on the receiving end of a difficult conversation many times in our lives.
We know how it feels, right?
So, when it comes to being the deliverer of a message that we think the other person will find hard to hear, the anxiety creeps in and builds up.
In this blog post, we will explore effective strategies for managers to approach difficult conversations at work and provide you with valuable tips to navigate any challenging conversations you may encounter.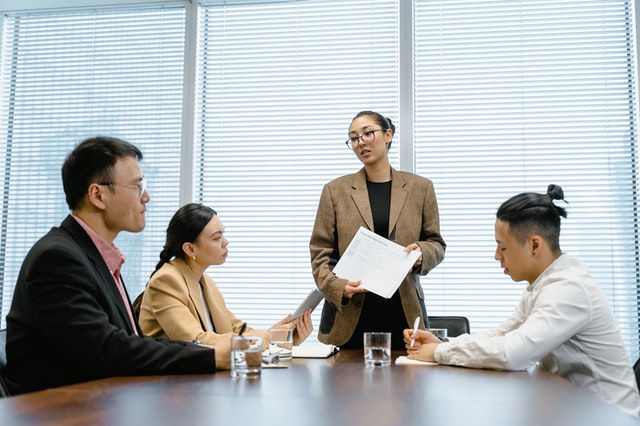 Contents
What is Classed as a Difficult Conversation?
A difficult conversation usually consists of two or more people, often who have differences in opinions or needs. Difficult conversations are different from fact-based or research conversations you may usually have with an employee, they're more likely to be personal in nature and touch on uncomfortable subjects.
Some examples of difficult conversations you could come across at work as a Manager:
Feedback on an employee's poor performance

Resolving a conflict between two employees

Turn down an employee's idea

An employee disagrees with a promotion decision

When an employee feels overworked
According to research by the Chartered Management Institute, the top three hardest conversations employees and managers find the most difficult to talk about are:
Pay (33%)
Colleague's inappropriate behaviour (31%)
Feedback on poor performance (30%)
How to Approach Difficult Conversations at Work | 4 Tips to Get Started
We're all grown-ups. We're all nice people. We don't want to be the one to cause ill will, bad feelings or fear and disappointment in another person. So we might avoid the conversation altogether. Or we might play for time, letting the problem go on for too long. We might brave the conversation, only to water down the message at the moment.
There are loads of tried and tested tools out there to help us make the conversation happen with the greatest chance of success. But first, you need to know how to actually get that conversation started.
1. Be confident and direct
Starting a difficult conversation can be the hardest part. 70% of employees avoid difficult conversations in the workplace, which can make the issue at hand even worse to deal with in the long run.
Starting conversations awkwardly sets the tone for the whole conversation, and your listener will likely pick up on it. There's no harm in being confident and direct to start difficult conversations, after all, you are both looking for a resolution and to share opinions.
2. Express your intent upfront
When you're about to have a difficult conversation, start straight away with the purpose of the conversation. It's essential to be clear on what you want to talk about to provide focus. You can do this by saying:
"I'd like to discuss something that has been bothering me / something I've witnessed..."
"I think it's important for us to talk about..."
"I want to talk to you about XYZ because..."
Doing this not only starts the conversation on the right foot, it also helps avoid awkward silences and allows everyone to be clear on what the conversation is about.
3. Choose the right time and place
Timing and location are crucial factors for a successful difficult conversation. Try to find a private location so you can both speak without worrying about being interrupted or fear of being overheard. This private location should be a comfortable and neutral environment where you can take time and focus on the matter at hand. Always consider the other person's schedule, if they have a lot of meetings or important tasks due that week, that might not be the best time for them to speak with you on this. Respect their availability and choose a time that works for both of you.
Now you know how to start a difficult conversation, here are 8 tips to navigate any difficult conversation and each party will get through the conversation with minimal stress.
8 Tips to Navigate Any Difficult Conversation at Work
1. Get clear on exactly what the issue is
Change in behaviour, an improvement in performance, or both. Ensure that it is clear enough that you can describe the change you need to see unambiguously and succinctly. If you're unsure about the issue you're raising, take a step back and think whether it's worth raising now or further down the line. Think about which words you use to explain your point. Try to avoid words such as 'always' and 'never'
2. Know what you think needs to happen and by whom and when
Including any resources and activities that need to be put in place for change to occur.
3. Think about action points right away
Decide what next steps will be taken after the conversation, and what success will look like for this specific employee.
4. What barriers are in your way?
Ask yourself what is going to prevent you from arranging the meeting and delivering the message clearly and respectfully and deal with those obstacles. Ensure you create a safe space to have this conversation, as this will impact on how the conversation flows. Choose a quiet office space if possible or even a local coffee shop to make it less informal.
5. Give yourself time & practice
Clear your diary before the meeting and after the meeting so that you can compose yourself ahead of time and take a moment after the meeting to reflect.
Award-winning Psychologist and expert trainer, Dr Hayley Lewis, says practice makes perfect when it comes to difficult conversations. "Have a dry run with a trusted colleague. This can help to reduce your fear, hone your message and receive feedback on your conversation style."
See Hayley's other tips for dealing with difficult conversations with the graphic below: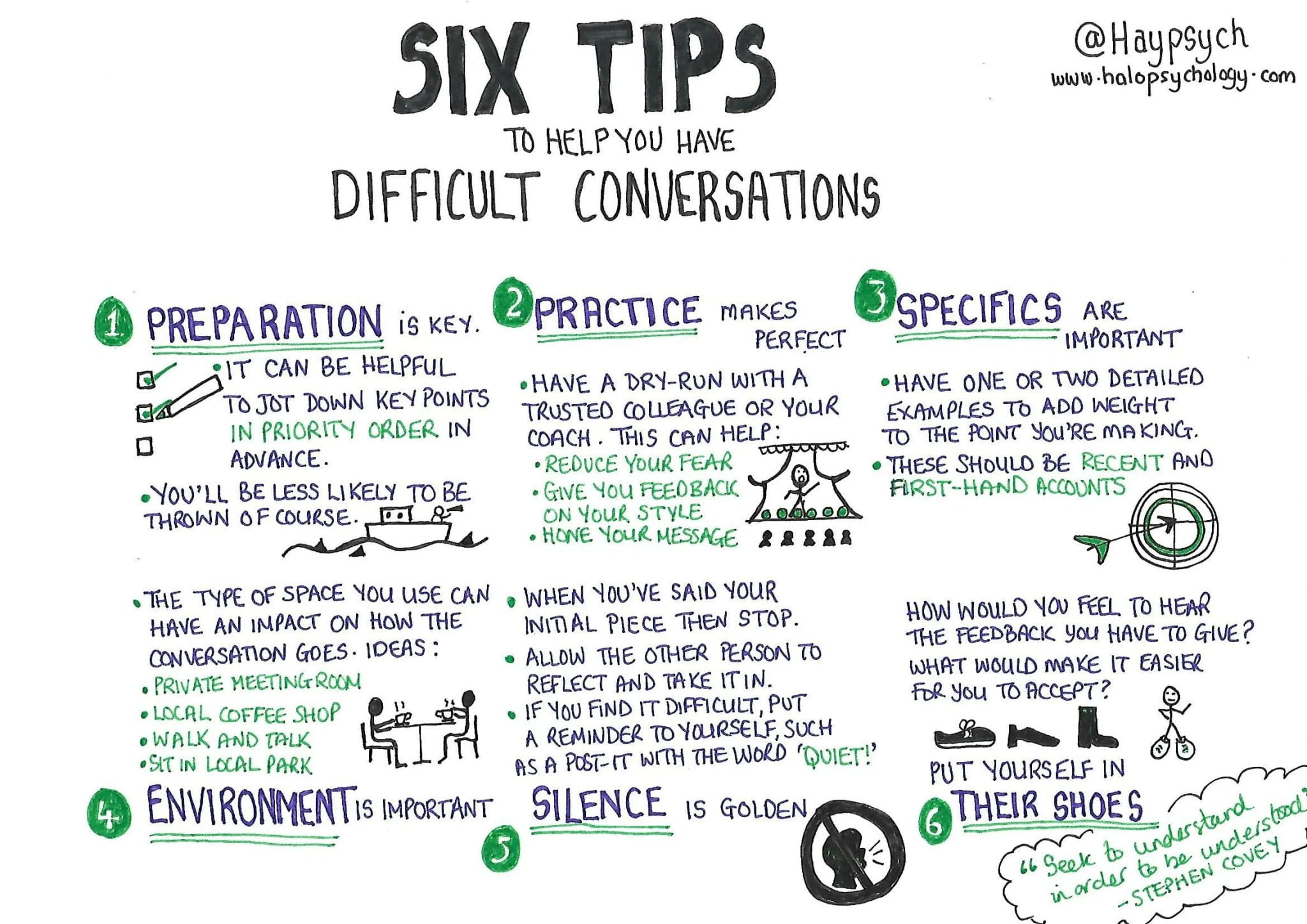 6. Do your prep, and then put yourself to one side
Try to remove yourself emotionally from the conversation to ensure you are thinking without letting your emotions influence the conversation too much. To do this, use recent examples to demonstrate your points to be specific and focus on the key parts that matter.
7. Go into a difficult conversation being prepared to listen
Remember that the other person in the conversation also has their own thoughts and feelings, so going in with an open mind and aiming to listen is crucial. Use active listening in these types of conversations to ensure you allow the other person to take in what you've said and respond. Use verbal cues such as nodding your head or maintaining eye contact to show you're listening.
8. Connect with your colleague as a person
Remember all the good in who they are and focus on them. Try to make the conversation less confrontational and more about building empathy and connecting with the other person. If you practice this way you will find your own anxieties will begin to recede.
Preparing in this way helps calm the nervous system. It offers the best chance of delivering difficult news with the compassion and empathy you would want and need if you were receiving this sort of news. If you can hold a tough conversation with care and consideration, the chances are you will build trust rather than knock it down. And that is surely a win-win.
Want to become a better communicator? Here are examples of communication SMART goals that you need to implement.
Make Difficult Conversations Easier With Improved Communication Skills
From boosting your assertiveness to effectively communicating in a hybrid working environment, view our Confidence & Resilience training courses to see how you can take your communication skills to the next level.
Chloe Martin
Content Editor
2+ years in SEO and content marketing. Striving to help public sector professionals develop their skills and learn something new through high-quality content.