How Much Time do we Spend at Work?

Chloe Martin
·
2 minute read
The journey of a human's life is a funny thing.
While everyone is following a different path, there are lots of things that most of us spend a large majority of our time on.
Would you believe that the average human spends just under 80 years on earth? Of those years, a mind-blowing 26 years will be spent sleeping... but what's more surprising is that an additional 7 years will be spent trying to get to sleep!
Another massive part of our lives is work. But, do you really know how much time you spend at work? Over the course of a lifetime, probably a lot more than you think.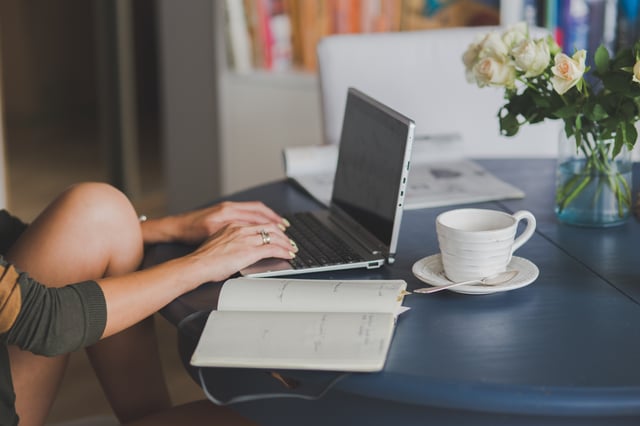 Let's get straight to it...
How Much Time do we Really Spend at Work?
The average UK employee will spend roughly 3,515 days working in their lifetime - this may not account for the time spent working overtime. In terms of time spent, the average is 35 hours per week which adds up to 1,795 hours per year and over 84,365 hours in a lifetime.
Although this is an average, these numbers depend on your job role and the industry that you work in. For example, Accountants in practice work roughly 40-43 hours per week. These numbers also don't account for commuting. Although working from home or hybrid is the new norm, the average commute time for a UK employee is 28-30 minutes.
The graph below indicates the average actual weekly hours of work for full-time workers. Between December 2022 and February 2023, the average number of hours spent at work is 36.6.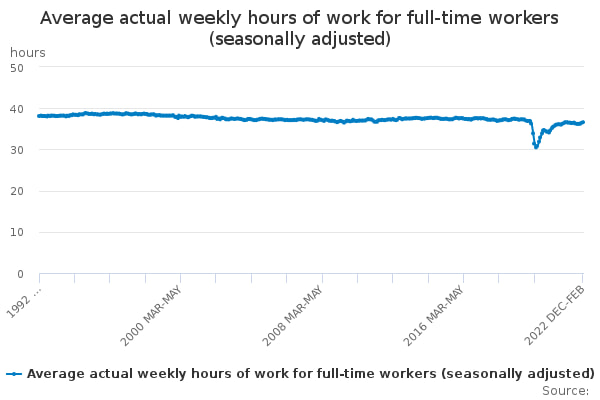 Source: Office for National Statistics
By analysing the data from previous years, you can see that the number of hours worked has not changed significantly. If it has changed, it's only been by a 0.5 or 1-hour difference per week.
Are we Spending too Much Time at Work?
Everyone is different and prefers a different working style. But, since some companies have introduced a four-day working week, this has opened the eyes of many employers and employees.
But there are still many employees who feel impacted by the time they spend at work. A study by the University of Leeds and Leeds Trinity University that looks into the health impacts of screen time uncovered that:
40% of respondents experienced negative physical side effects
59% attributed these negative health impacts to looking at a screen
93% of negative health effects occurred in those looking at screens for six or more hours a day
Other Interesting Facts About the Average Employee
3,515 full days of work over a lifetime

812 arguments at work over a career

£1,260,720 average UK lifetime salary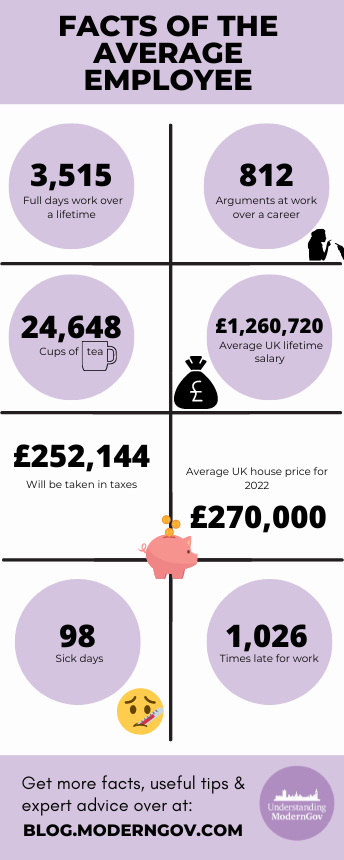 Make Your 251 Working Days More Productive This Year
Let's make our time worth it. Develop your skills to make your 251 days at work this year more productive. To get started, see the full list of our upcoming training courses that are sure to give you a boost.
Chloe Martin
Content Editor
2+ years in SEO and content marketing. Striving to help public sector professionals develop their skills and learn something new through high-quality content.