A Day in the Life of an Understanding ModernGov Delegate
Understanding ModernGov
·
2 minute read
Take time away from your screen, office or work from home set up to gain face-to-face interactions all while you learn.
If you're looking to take the next step in your career but don't want to stick to a virtual course, here's what you need to know about our face-to-face courses.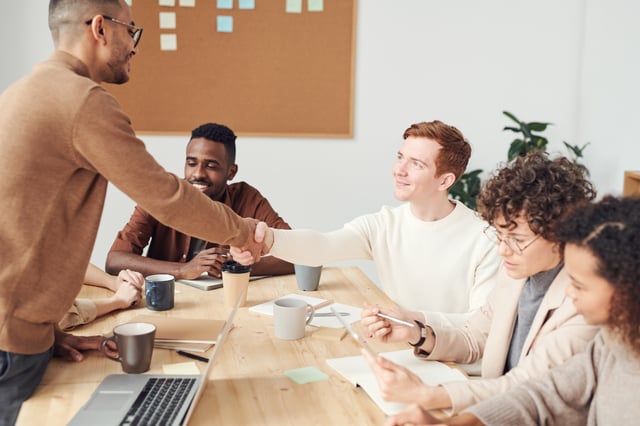 What to expect from a Face-to-Face Understanding ModernGov Training Course?
We keep delegate numbers small to ensure that every attendee receives a highly interactive and quality training day with fantastic opportunities to share information and network with peers.
During our one and two day courses, we aim to inspire people, help to develop much needed strategies and implement tools for delegates to take back to their organisations.
Our courses are acclaimed for their interactivity, expert trainers and unbeatable locations. But don't take our word for it, check it out yourself...
Learn about the benefits of face-to-face training and which of our training courses are face-to-face right now here.
What to Expect on the Day of Your Training?
Upon arrival, you will be welcomed and registered by our friendly team
You can then enjoy a light breakfast whilst helping yourself to a tea or coffee
Once you are settled, the course will begin - expect to hear from an industry leading expert
Refreshments will be available throughout the day
At lunch, you can expect a cooked meal - there is usually a salad bar and a selection of desserts available too. We cater for all dietary requirements, just let us know in advance.
Learn More About us
At Understanding ModernGov, we provide high quality CPD certified training on a range of high quality skills courses that will get you one step closer to that promotion or the next step on your career ladder.
Whether you're looking to improve your customer service or writing skills, become a confident communicator or develop your responses to complaints, we have our expert trainers, years of experience and knowledge to guide you both personally and professionally.
Learn more about us or view the full list of our expert trainers who chair our courses here.
What About Bespoke Team Training?
We don't just specialise in training courses for individual public sector professionals, we also offer unique, bespoke training for those organisations that would like a tailored session delivered to a place and date of your choice. Yes, you read that right.
If you've got a training need that we could help you solve, contact our In-House Training team on InHouse@moderngov.com or download our in-house catalogue to view the courses we offer and how we can help you develop the perfect course for your needs.
Now Over to You….