How to Write an Effective Public Sector Report Conclusion

Ross McDermott
·
4 minute read
Writing a conclusion for your report is a crucial final step.
Summarising the key information you included in your report in a concise and effective way helps your readers learn and absorb all the information.
Today we'll be going over how to write a report conclusion, good practice and effective examples of conclusions in published articles.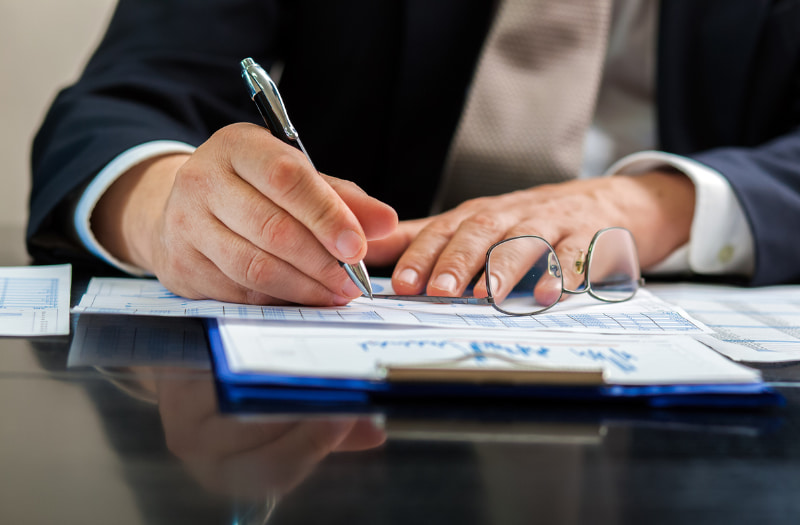 The Importance of Effective Conclusions
An effective conclusion is important as it summarises the report for the reader and gives you a chance to present your findings, whilst providing the reader with clear takeaways, potential recommendations and, depending on the type of report, predictions for the future.
You may find your conclusion shares some similarities with your introduction, with the difference being that you'll be summarising the report and discussing your findings, rather than setting the reader up for the report.
Like the introduction, your conclusion doesn't need to be too lengthy, the reader would have already read the full report at this point and will be looking for a summary of everything that they've read. A good way to finish your conclusion is to offer predictions for the future based around your topic or recommendations based on your findings, whilst also giving a concise summary of your findings for the reader.
Summarising a critical assessment? Here's how to write a crucial summary.
4 Tips for Effective Report Conclusions
To summarise, here are 4 simple tips you can use to ensure your conclusions are effective in your report writing.
1. Summarise Your Findings with Graphics and Images
While not a necessity, summarising your findings and key takeaways with images and graphics allows you to conclude your report in a visually appealing way, which may help the reader take in and retain the information more easily.
2. Be Wary of the Length of Your Conclusions
When writing a conclusion for your report, it is important to remember that you don't need to include a summary of the entire report. Instead, focus on providing your readers with clear takeaways and a brief overview of what they have read. This allows them to easily understand the main points and implications of your key findings.
Lastly, remember to include any references or additional useful information for the reader. This can be done by including a section at the bottom, just after the conclusion, where you can provide links to references or other resources for further reading.
3. Offer Recommendations and Predictions for Your Reader
Providing recommendations not only offers readers actionable steps to delve deeper into the topic but also demonstrates your understanding of the subject. Also, offering predictions can be valuable for future investigations and reports on the same topic.
4. Remember to Include Your References and other Useful Information for the Reader
It can be beneficial to the reader if you include a section, typically at the bottom just after the conclusion, where you can include any links to references you have used or other useful information for the reader should they want to do any additional reading. This also gives you easy access should you need to provide references to validate the information provided in the report. If your report is complex, a glossary of terms included in your report is also a good way to provide additional information.
Things to Avoid in a Conclusion
Whilst your conclusion is a chance to summarise your report, it doesn't mean you should simply reiterate the same information. Instead, focus on providing a concise and impactful summary that reinforces the key points and main findings of your report.
Repeating information without adding any new insights can be redundant and may bore your readers. Instead, use your conclusion as an opportunity to emphasise the most important aspects of your report and highlight their significance. This can be done by rephrasing your key findings in a clear and concise manner, making sure to emphasise their relevance and implications.
Additionally, you can use your conclusion to tie together any loose ends or unanswered questions that may have arisen throughout your report. By addressing these points and providing potential avenues for further research or exploration, you can demonstrate the completeness and thoroughness of your work.
Also, be aware of the words you use in your conclusion. Avoid using terms that are too complex (if your topic allows it) and share your report with others in the drafting process for proofing and feedback. Here are 5 quick-fire ways to improve your copywriting skills.
Examples of Conclusions in Public Sector Reports
State of the Nation 2023: People and Places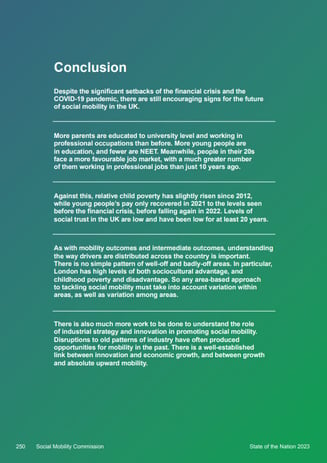 The government's recent 'State of the Nation' includes good examples of what to feature in an effective conclusion. Including a conclusion like this on the last page is a good way to end the report as it gives the reader an opportunity to remember and retain key information. It also gives them a page to go back to if they need a refresher on the key points.
The conclusion is kept too concise to one page and offers the reader key takeaways and recommendations such as "there is more work to be done to understand the role of industrial strategy and innovation in promoting social strategy". Giving recommendations and pointing out areas of your topic that may need more research shows you have a good understanding of the topic and gives readers actions they can take should they want to investigate the topic of the report further.
Renewable Energy Good Practice Guidance 2023
The Renewable Energy Good Practice Guidance 2023 released by the Local Government Association also provides good examples of what to include in a conclusion. Like the State of the Nation report, the short conclusion offers key takeaways and recommendations for the future.
As the topic is more complex, the report also features a glossary of terms section, useful for readers who may have less of an understanding of the jargon used in the report. Having trouble delivering complex information? Check out our 4 steps to success guide on writing briefs for the government and the public sector.
Looking for tips to improve your public sector report introduction writing? We've covered that too.
Improve How You Write Conclusions and Join our Effective Report Writing Course
Want to improve your reports, including organising information and creating an effective summary? Secure your place on our Effective Report Writing training course today.
Ross McDermott
Marketing Assistant
Previous experience in EdTech and public sector training. Striving to provide public sector professionals with resources and content to improve their skills and achieve their goals.