Inclusive Communication Q&A: Why it's Important, Who Needs it and How to Remove Barriers

Chloe Martin
·
3 minute read
"The single biggest problem in communications is the illusion that it has taken place." George Bernard Shaw
When we've written or presented information, it's easy to assume that we've communicated in ways that include and reach all people. In our heads we know what we mean, and we wouldn't dream of being biased.
However, many communications do accidentally exclude or alienate certain people. They may fail to be inclusive and reach the people we want to reach.
When we talk about accessibility and inclusion, many people think about wheelchair ramps and accessible toilets – not the written word.
Morwenna Stewart, the expert trainer for our upcoming Effective Inclusive Communications course, explains why inclusion and accessibility are vital in your writing.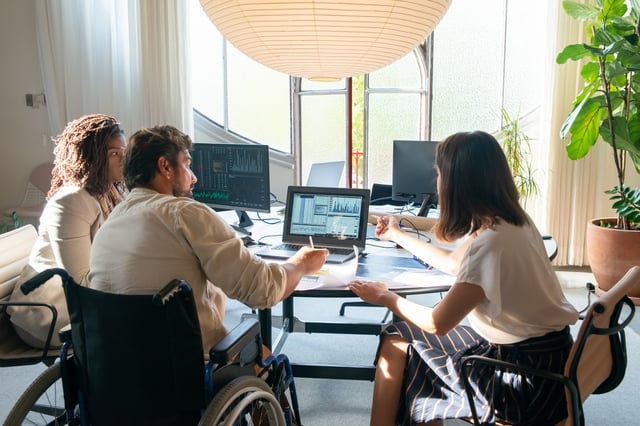 About Morwenna Stewart: Communications Consultant and Expert Trainer
Morwenna's worked in marketing and communications for 20 years and is the lead for the ION (Institute of Neurodiversity) UK. She knows how important and even life-changing inclusive language can be.
Morwenna trains and coaches people in public and private sector organisations on many topics. From personal communications (interviewing and presenting) to specialist neurodiversity workplace coaching (including autistic, ADHD and dyslexic).
Learn more about Morwenna and her expertise here.
Inclusive Communication Q&A with Morwenna Stewart
1. What types of people need inclusive communications?
"Everyone needs good, inclusive communications because well-designed, inclusive communications benefit everyone.
However, many people have specific access needs when it comes to information. For example, 10% of the population are dyslexic. Large numbers of the population have English as a second language.
Many people have hearing or visual impairments, are autistic or ADHD. Each person will have different communication needs. Our communications need to be respectful and without bias."
2. Why should we change communications, to suit certain people?
"There are many reasons why communications should be accessible and inclusive.
Accessible and inclusive information means that people get the information and the help they need. That's important in many situations. For example, well-written job descriptions help organisations to employ diverse groups of people, which brings many benefits. Clear medical information helps people to get the treatment they need.
Some public bodies know this well. For example, NHS bodies know that 43% of people don't understand written health information. That can lead to life-or-death errors and expensive mistakes.
There are many legal, ethical and business reasons for writing accessible and inclusive communications, which we explore in the course."
Want to set communication goals but don't know where to start? Here's some examples of communication SMART goals you can implement.
3. What other types of needs might people have?
"People with different characteristics, conditions or impairments may have different needs, when it comes to accessing information.
For example, someone with a hearing impairment might need subtitles or a transcript for a video. Someone who is Deaf might need a video of someone signing in British Sign Language.
In all our communications, we need to use language that embraces difference."
4. How to reduce the barriers to inclusive communication?
"All public sector organisations – but particularly healthcare – need to understand and reduce barriers to communication. For example, patients need to ask health professionals questions. But a person's impairment may affect how well they understand what healthcare professionals say. The patient may have a hearing impairment or be distressed.
There can be simple solutions to examples like this, including using simpler language, visual prompts, translation technology or moving to a quiet room to avoid noise or distractions.
When it comes to communication, there's no 'one-size-fits-all' approach. But we can pause and consider how people's communication is affected. Clarity and honesty can help the speaker and listener figure out how best to communicate."
Is your crisis communication strategy accessible to all? The last thing you want is to leave people in the dark at times of crisis or emergency. Here's how to make sure your crisis communication covers all basis.
5. What five things should you learn to make communications more inclusive?
"As with all writing skills, it's about learning and practice. But here are five things you should learn to improve your inclusive communication:
The reasons for inclusive language
The people with protected characteristics under the Equality Act 2010
How to follow best practice and explain it to others
How to make a case for change in your organisation
Helpful tools and techniques learned through a training course"
Secure Your Place on our Leading Marketing & Communications Course
Now you've learned a bit more about inclusive communication and why it's important. Now is your chance to learn the tools and methods to overcome communication barriers and develop an inclusive communication toolkit for your organisation. View all our Marketing & Communication courses here.