3 Ways To Create An Agile Mindset
Understanding ModernGov
·
2 minute read
Managing projects in the public sector where organisations are under pressure to be transparent and deliver results in a timely and efficient manner can be quite stressful.
According to the Project Management Institute, 71% of organisations are now using agile approaches in their projects as a way to boost productivity.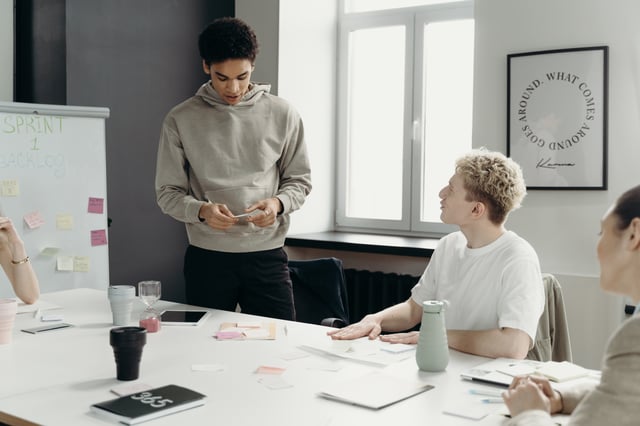 What is Agile?
The Association for Project Management defines agile as 'an approach based on delivering maximum value against business priorities in the time and budget allowed, especially when the drive to deliver is greater than the risk.'
There's more to having an agile mindset than just following processes and methods in your organisation. An agile mindset is a thought process that involves learning and staying flexible in order to achieve high quality performing results. By combining the right mindset and processes, you and your team can stay on top of projects and ensure everything runs smoothly.
Here's how to develop one in your team.
3 Ways to Develop an Agile Mindset in Your Team
1. Collaborate
To build strong team relationships, collaboration is essential. With everyone focused on the same goals and objectives, teams are constantly striving to achieve the best outcomes for their projects as a whole rather than individually. All the usual qualities of good teamwork like trust, patience, communication, and listening skills still apply to agile teams and the way they operate.
2. Adapt
In order to work, agile teams need to be able to embrace change. As projects evolve and go through various life-cycle stages, there is a the need to be flexible when required to make adjustments. If you're resistant to change, agile might not be the right solution for you and your team. Having the ability to be adaptable is more about the attitude you take into your team, being able to experiment with ideas and moving on if it doesn't work out is a highly sought-after skill in the workplace.
Related: Agile Project Management tips from expert, Steve Browne
3. Focus
We can all be a little bit guilty of getting side tracked from time to time, and as with any project focus is key to producing results. Knowing your priorities and having clear objectives will enable you to stay on track. Implementing tools and techniques such as scrum meetings, sprints and daily stand-ups can be useful for your team to realign the project goals and keep all the team updated with what everyone is working on.
With agile becoming an increasingly popular way to manage projects, public sector organisations can really take advantage of adopting and transforming the way they work to ultimately benefit both employees and the wider public using their services.
Join the Conversation
Has your organisation adopted an agile strategy? We'd love to hear from you! You can tweet us at @UModernGov.
If you would like to discuss any of the details you have read in this blog; including our upcoming training courses, please contact us on 0800 542 9440 or email enquiries@moderngov.com.