What You Can Expect from an Agile Project Management Training Course

Chloe Martin
·
3 minute read
Whether you want to increase your value as a Project Manager, implement more effective methodologies to communicate and deliver high-quality services or you just want to become more confident in your ability to operate in an agile environment with an internationally recognised accreditation, an agile project management training course will get you there.
Want to learn more? Here's everything you need to know.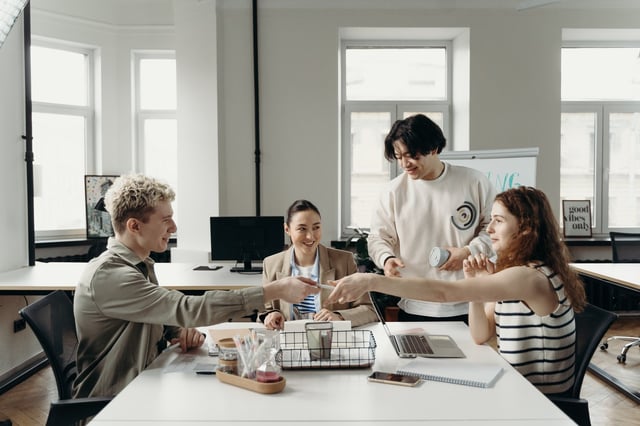 What is Agile Project Management?
Agile project management is a modern approach to project management which often uses a non-linear process that has a greater focus on collaboration and teamwork, rather than a strict schedule of deadlines and activities. The idea of Agile PM is to break down larger projects into smaller and manageable tasks that correspond to the product life cycle.
Agile was originally created for software development, but it has been adapted to fit a wider range of teams and it's clear why. Organisations and teams that adopt key Agile methods will be better equipped for change, have a stronger focus on service delivery and optimise workflow in a more effective and efficient way.
Why is it Useful in the Public Sector?
AgilePM is becoming widely used by the public sector to run projects in more complex situations, develop higher quality service delivery and gain greater control and flexibility over multiple projects.
Implementing Agile methods also helps to create an environment for continuous improvement, which is something the public sector can greatly benefit from as it helps to put "lessons learnt" into future decision-making.
Although some public sector organisations have more predetermined regulations and hierarchical organisation than others, it is possible to implement Agile methodologies in more bureaucratised organisations such as government departments.
Who can actually benefit from using Agile Project Management Methodologies?
Teams that rely on fast feedback before taking the next step
Teams with various independent tasks but require frequent communication to succeed
Teams working closely with customers or services users
Teams handling fast-changing deadlines and deliverables
Why Should I Attend an Agile Project Management Training Course?
Our Agile Project Management Foundation Level with Practitioner (AgilePM) training course has been designed to give you an extensive breakdown of the key principles of AgilePM, Agile vs. Waterfall approaches, how AgilePM differs from traditional methodologies such as PRINCE2, when to use Agile and how to prepare for success.
Learning Agile can help you break down traditional boundaries to Project Management, which gives you and your organisation the opportunity to look for better and more efficient ways of doing things. It can also give you the chance to experiment in your organisation and give your employees greater flexibility when it comes to project authority.
This course is led by Project Management Consultant and AgilePM accredited trainer, Steve Browne, who has been involved with project management since 1980 through working with various clients including British Airways, the Environment Agency and the Department for Work and Pensions and many more.
Learn more about Steve and his experience as a Project Manager here.
Want a glimpse at the knowledge you could gain from our expert trainer? Here are some agile project management tips to get you started.
How do I Become Fully Qualified at the AgilePM Practitioner Level?
When you attend our Agile Project Management Foundation Level with Practitioner course, you'll leave with a full qualification in AgilePM Practitioner Level certified and accredited by APMG.
Are there any Exams I Have to Pass?
Yes, two in fact. There is the Foundation Exam at the end of day 2 and the Practitioner Exam at the end of day 4. But if exams aren't your greatest strength, don't worry. You'll have plenty of time, support from our expert trainer and fellow delegates and gained knowledge to prepare and pass with flying colours.
It might sound overwhelming, but it's all worth it. We promise.
What Previous Delegates Have Said about our Agile Project Management Training Course
"Great course, facilitated incredibly well with excellent instruction." – Divisional Business Manager, CPS
"This course was intense yet enjoyable and delivered with the skill that gave me the confidence to apply my learning." – Head of People and Organisational Development, Dundee and Angus College
"This course was one of the first courses that I have come away thinking that I not only enjoyed the last few days, but I have come away with a useable product and good knowledge about how to use this product." – Assistant Category Manager, Oxford University Hospital Foundation Trust
"The course was done so well via Zoom, very interactive and informative. The planning and organisation behind it has been done very well and our course leader was brilliant, he took the time to explain everything so well and it was done at a really good pace!" – Service Manager, Guys St Thomas Hospital
"Enjoyable course with an excellent trainer – would highly recommend." – Procurement Business Partner, Oxford University Hospitals NHS Foundation Trust
Take a look at what other public sector professionals are booking with our list of the most in-demand training courses here.
Ready to Get Qualified? Secure Your Place Here
View the live agenda and book your place on our upcoming Agile Project Management Foundation Level with Practitioner (AgilePM) training course.
Chloe Martin
Content Editor
2+ years in SEO and content marketing. Striving to help public sector professionals develop their skills and learn something new through high-quality content.