Effective Bespoke Training Streamlines Crown Commercial Service's Briefings and Submissions

Chloe Martin
·
2 minute read
When members of the Crown Commercial Service (CCS) wanted to improve their briefings and submissions, they reached out to our expert In-House team for bespoke training.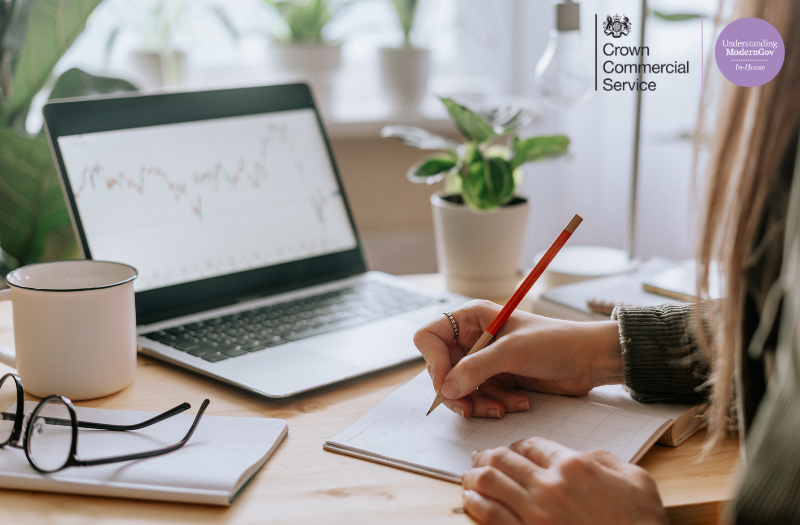 Background
The Crown Commercial Service is an executive government agency that helps the UK public sector save money when buying various goods and services – from utilities, building materials to police cars and paper.
Through agreements, commercial expertise and a wealth of procurement knowledge, CCS provides a simplified buying process that saves time and gains the best deals in the interest of the taxpayer.
Learn more about the Crown Commercial Service.
The Challenge
Crown Commercial Service's goal for this training was to improve overall communications across the organisation.
To do this, the training needed to be interactive and offer opportunities to gain techniques to produce concise writing and strong business cases on a day-to-day basis to inform, convince and persuade stakeholders and decision-makers.
The Solution
Our expert In-House team worked closely with CCS to organise two training sessions for Effective Briefings and Submissions training. The first being held virtually and the second being held face-to-face at CCS's offices in Norwich, Norfolk.
Both sessions were led by briefings and submissions expert and trainer, Sue Calthorpe, who has over three decades of experience helping organisations and individuals to improve their written communication.
The sessions were focused on constructing key sentences, informative paragraphs and useful documents to create the kind of impact that public sector organisations and professionals require.
Result
As a result of our Effective Briefings and Submissions training, delegates from the Crown Commercial Service said:
"The pace of the course was just right, and the combination of group and smaller team discussions worked well." Strategic Commercial Lead
"This course would be beneficial to anyone who writes any form of communication, guidance or briefings. I thought the discussion about the way people respond to communication has changed over recent years was particularly insightful and something everybody needs to be aware of." Category Lead
"The tutor was exceptional. Her wealth of knowledge across the subject, associated subjects and various departments really made the course. She was engaging and happy to be asked anything." Head of Technology Solutions and Growth
Delegates also shared with us which parts of the training they found the most applicable to their role. This included:
"Material relating to business cases and grid method." – Management Information Performance Analyst
"Editing documents for submissions/business cases." – Commercial Strategist
"General guidance about the content of briefing, how much information to provide and the structure in the context of what the audience takes in. The 'F' diagram was a great illustration of that." Category Lead
Key Statistics:
Crown Commercial Service felt like their skills and knowledge levels increased by 27%

They 'Strongly agreed' that the course met their learning objectives

They gave the course a top rating as 'Excellent'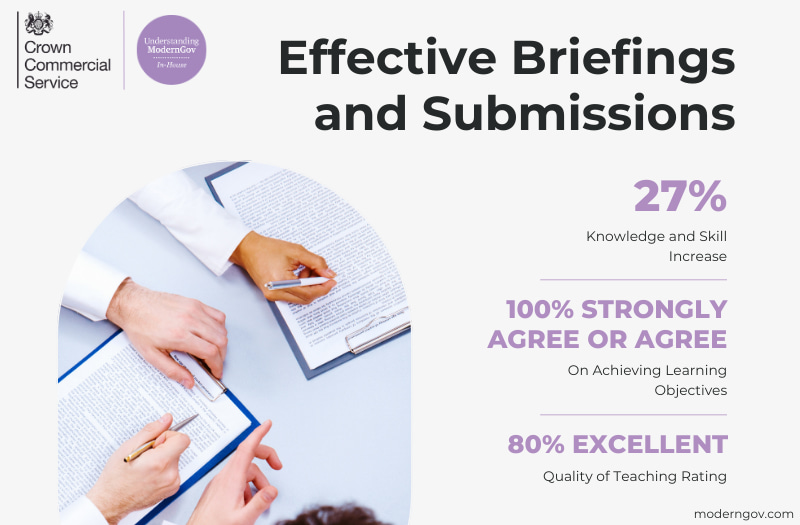 Next Steps
By running this course, the Crown Commercial Service delegates were able to gain a range of techniques to distil large amounts of information and turn them into clear briefings and business cases.
Looking for Bespoke Training Designed Especially for Your Team?
Whether your team needs to improve their briefings and submissions or other skills, our expert In-House team can tailor any course around your organisation's needs or goals. Reach out for more information.
Chloe Martin
Content Editor
2+ years in SEO and content marketing. Striving to help public sector professionals develop their skills and learn something new through high-quality content.