How City of Westminster Council Improved Their Briefings and Submissions Through Bespoke Training

Chloe Martin
·
2 minute read
When City of Westminster Council needed effective briefings and submissions training, they reached
out to our expert In-House team for bespoke training.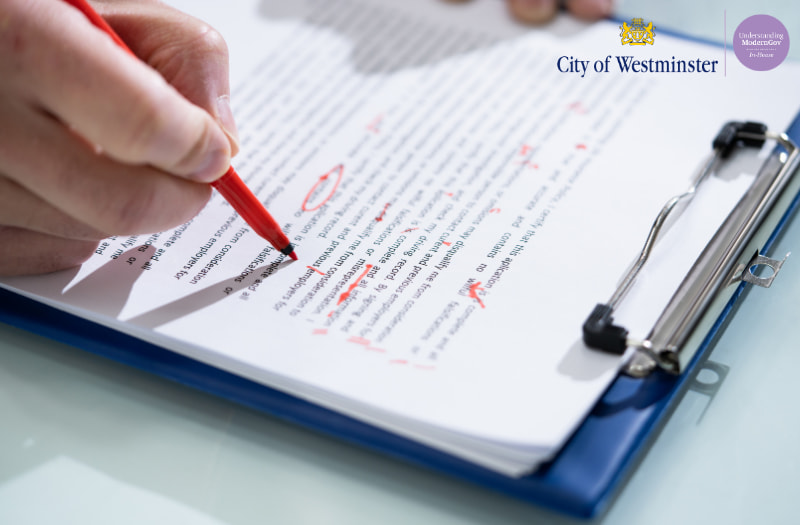 Background
City of Westminster Council is a local government authority that serves the people of Westminster by providing services including housing, waste management, culture and leisure. The council plays a vital role in shaping the future of Westminster and ensuring the borough is a great place to work, live and visit.
The Challenge
25 members of the Strategy, Performance, Analysis and Business Support teams at City of Westminster Council wanted to improve their briefings and submissions by learning how to read quickly, identify crucial facts and gain a range of techniques to create consistent documents for their busy workplace.
Since the team often have to sift through vast amounts of information, one of their biggest priorities was to help each member develop the confidence to summarise heavy or technical information. Alongside this, it was important for them to learn how to develop a succinct writing style that could improve other methods of communication, such as emails and reports.
The Solution
City of Westminster Council worked with our In-House team to tailor our popular Effective Briefings and Submissions training course to suit their needs and objectives.
The full-day face-to-face course held at City of Westminster Council's offices was designed to prepare the team with the skills, knowledge and techniques to create effective briefings in the future.
The day was full of learnings led by Communications expert, Susan Calthorpe, who focused on teaching structural tips on where to place key facts on a page to ensure they're noticed, developing informative paragraphs and how to use this to create the impact that public sector organisations and professionals need.
"The course will give me a framework for writing briefings. I am often overwhelmed by everything I need to include, but this will help me narrow it down a lot." – Research Officer
Result
As a result of our Effective Briefings and Submissions training, delegates from the City of Westminster Council said:
"An amazing workshop taught by Susan who kept it fun whilst prepping us with all we need." – Fast Streamer (PDO)
"A reminder to keep things concise and emphasise with the audience e.g. their time, work commitments and demands." – Engagement Directorate Support Officer
Key Statistics:
City of Westminster Council felt their skills and knowledge levels increased by 34%

They 'Strongly agreed' that the course met their learning objectives

They gave the course a top rating as 'Excellent'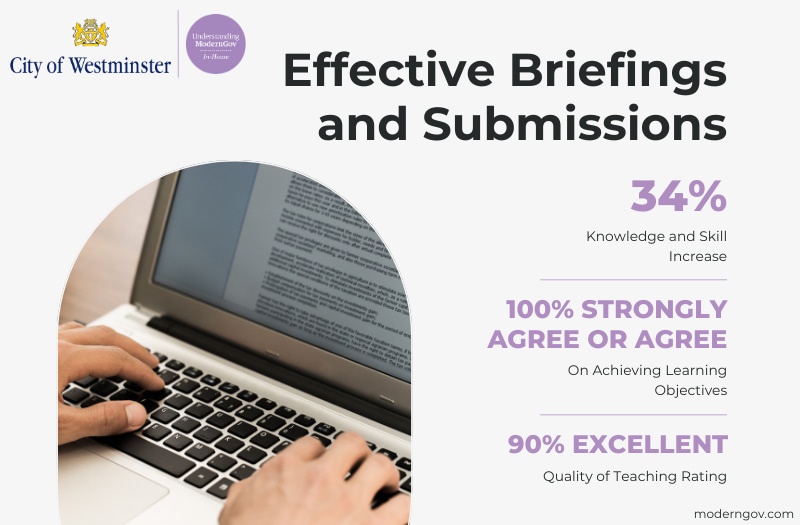 "Susan was very engaging. The course addressed briefings/communications very comprehensively! Would definitely recommend." – Strategy Manager
Next Steps
By running this course, the City of Westminster Council team was able to learn how to improve the quality and clarity of their briefings, save time by knowing exactly what to include and learn techniques to distil large volumes of information into clear summaries.
Looking to Help Your Team Write More Effective Briefings and Submissions?
Read the full agenda for our Effective Briefings and Submissions training course to learn more. Or reach out to our expert In-House team who can tailor any course around your organisation's needs and goals.
Chloe Martin
Content Editor
2+ years in SEO and content marketing. Striving to help public sector professionals develop their skills and learn something new through high-quality content.