How to Effectively Manage Your Records and Information

Chloe Martin
·
4 minute read
With many organisations going "paperless" for environmental, money-saving and technological advanced purposes, we need to make sure we can still effectively manage records and information digitally.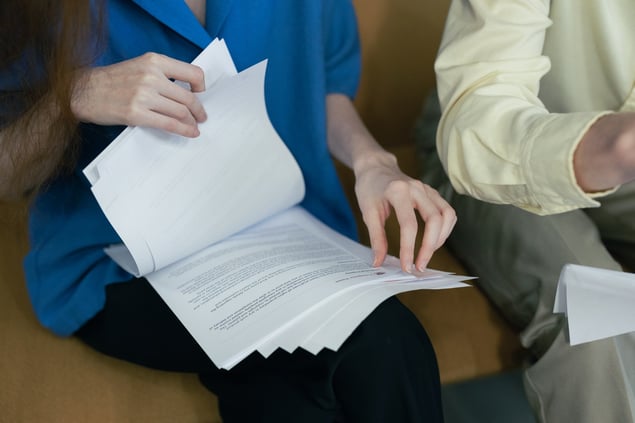 What Counts as a Record?
Humans have been creating records for thousands of years. They enable us to document things which happen so that we can learn, reflect and develop in the future. A record counts as any of the following shown on this image...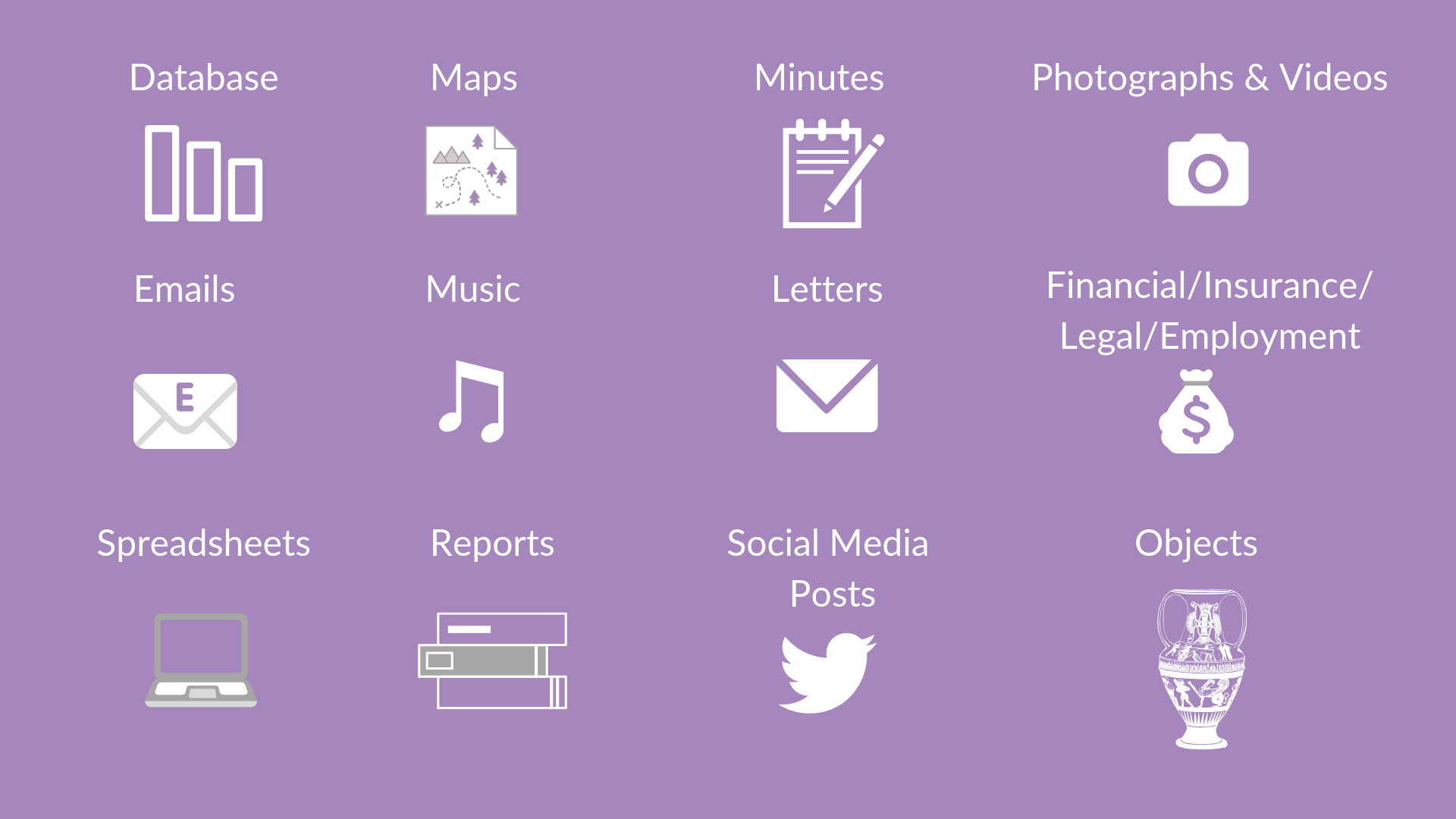 What are the Benefits of Digital Records?
1. Access
Having your records kept in a digital space (whether on a Cloud-based platform or on more of a hardware type system) gives everyone in your organisation the ability to obtain the information they need much more quickly. Data and information can be accessed from any device which is linked up to the internet or system, perfect for those who work remotely.
2. Saving Space
You can save money on having physical office space and storage facilities from scanning and uploading existing paper records into your digital storage system. Another benefit of reducing physical documents is that by placing less emphasis on printing you're also being more environmentally friendly!
3. Preservation
The ability to back up and secure digital documents is now more straight-forward than ever before with new innovations in cyber security and digital transformation happening all the time. Digital records can be easily managed, tracked and recovered from the 'digital footprint' they leave.
As always when implementing something new in the workplace, you need to create a culture around it. Providing the right tools and explaining the benefits of going digital can help ensure a smooth and gradual process with the whole team on board. Whilst the office may never be truly be a paperless environment, there is definitely a shift towards moving records online.
What Does Effective Records Management Mean?
Effective records management protects the interests and rights of staff and members of the public. But it also supports efficiency, consistency and continuity of work and enables your organisation to deliver a wide range of services.
When done well, correct information is captured, stored, maintained, retrieved and destroyed or preserved in accordance with a business need, best practice and the law.
It is evident now more than ever that having a process or strategy in place to manage information is vital for any public sector organisation. With a tougher data protection framework in action, you must have the most effective records and information management procedures in place.
Practical Challenges of Public Records Management
1. Retention Schedules
Digital record keeping in the public sector can be implemented incorrectly with records being lost, stolen or destroyed - meaning that when pressed for targets and timings, a full analysis is often missed for the sake of a quick solution.
2. Authorisation
Without a tight cyber-security procedure in place, significant changes to records can be made by anauthorised employees. By choosing software with internal audit module, version control and user tracking will allow you to keep a closer look at who is accessing what information and set boundaries for who is allowed to access what.
3. Responsibility
Electronic records can be lost if there is not a clear policy on who is responsible for the protection and updating of records - leading to higher risk of error or inaccuracy.
Are you being ethical with your data? Find out here.
4. Duplication
Good HR is central to good policy management, and with a tight records strategy, public sectors can accurately document human resources at their disposal. Good HR management is a central part of string policy management.
5. eDiscovery
Classifying electronic records is both a management and technical issue, with records and archives managers needing to build the necessary tools and techniques that deal with public sector initiatives.
Benefits to Your Organisation:
Reduced amount of records held
Reduced storage costs
Effective collection of records
Compliant with regulation
The Process of Records and Information Management
Step 1: Creation
When information is received, ideally in both physical and digital forms, it needs to be converted into the correct format to be filed into the right place. Your records are now active.
Step 2: Classification
Once the records have been created, they will then need to be sorted according to the set parameters and schedule of your record management system.
Ensure that whatever classification you choose benefits and suits your organisations' needs, so that records are easily retrieved. For example, multiple searchable traits and customised fields will make things easier to find when needed, especially records that need more frequent or active use.
Looking to advance your data skills? Read about the top 5 data and digital courses for public sector professionals in 2022.
Step 3: Maintenance
Ensuring that data integrity is maintained is essential. Once the document storage method is verified, make sure the method is well-protected.
For example, using hardware upgrades to servers or keeping records in easily accessible locations for those who need to access them. You should also include a log detail of what records you have and who has access to those records, minimising delay when records need to be used.
While maintaining active records is important, do not forget about the maintenance of semi-active or inactive records until they reach disposition. Using offsite archive storage facilities is a good way to do this, however, keeping data integrity and secure success is a big consideration for these materials.
Step 4: Disposal
This stage applies to records that are now inactive and have expired because the information is no longer required.
It is important to check if you have complied with the statutory period of maintaining data before it is shredded or transferred to an archive depending on your company's record policy as well as the value of the records.
The disposal of records should be completed as a normal part of business, however, is often suspended as it goes through litigation hold or audit hold. Making sure that your legal team are aware of developments is the perfect way to dispose effectively.
This is the basic records life-cycle. Depending on your organisation, you may have to adjust the process and how you do things to fit your organisation's needs. For example, some organisations put in extra management systems specifically for research purposes.
Develop a Greater Understanding of Your Data with our Training Courses
From statistical analysis, excel training to effective cybersecurity practices, we've got a data and digital course for you. View our upcoming ones and secure your place today.
Chloe Martin
Content Editor
2+ years in SEO and content marketing. Striving to help public sector professionals develop their skills and learn something new through high-quality content.