Hybrid Learning Fundamentals: What to Expect from a Hybrid Training Course

Chloe Martin
·
2 minute read
At Understanding ModernGov, we want to give all our delegates the best opportunities to learn in a way that suits them best. Whether it be completely virtually, face-to-face at one of our venues or hybrid learning, you'll get the best possible learning experience.
Let's look more into hybrid learning and what you can expect from attending a hybrid training course with us.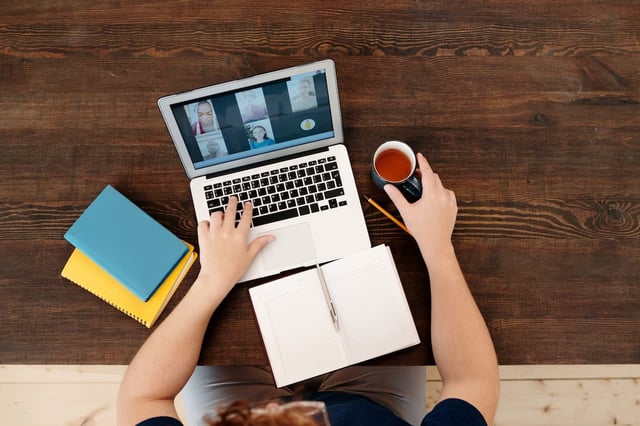 Contents:
What is Hybrid Learning?
Hybrid learning is where a group of delegates attend the training course in-person in one of our venues, and the other group attends virtually online.
There are different words floating around that can all sound like they're offering the same learning models, but we're here to clear it up…
How is Hybrid Learning Different to Virtual?
Virtual training courses are entirely online. All delegates and even the trainer is online, dialling in from any location and having access to the same course, materials and learning environment.
Hybrid Learning Vs. Blended Learning
Although they both involve a mix of learning, hybrid and blended learning are actually two different things.
Hybrid Learning: Uses technology to teach a group of in-person delegates and online delegates at the same time.
Blended Learning: Uses a combination of in-person learning and online learning to complete a course. The learners of online and in-person are not different – each learner conducts the training in the same way.
View the full list of our upcoming hybrid training courses here.
What Are the Benefits of Hybrid Learning?
One of the greatest benefits of hybrid learning is the opportunity for flexibility. Whether you would prefer to be in the face-to-face side of the hybrid learning or the virtual side, both benefit from choosing to join either face-to-face or virtually depending on schedules and availability.
Another benefit is the interactive networking opportunities throughout the day. You might be thinking, how can I network with people not in the same room as me? That's where technology plays a big part in the day. Think breakout rooms, collaboration sessions or activities run by the trainer that allow you to get to know those in the room and those dialling in. Make the most of speaking to other like-minded professionals as much as you can.
What to Expect from our Hybrid Training Courses
Top class trainers who have experience in facilitating and delivering learning online and in-person (at the same time!)
Direct access to information – everyone can access the same information, so nothing is left behind.
Group work with other like-minded public sector professionals
Open learning environment – interaction between delegates and collaboration with the trainer is key to any training course.
Real-time discussions – Both sides of the hybrid training can collaborate with other face-to-face, virtual delegates or the trainer to ask questions, gain a greater understanding of a topic at hand or use the same learning resources.
Further reading:
How to Get the Most out of a Hybrid Training Course
Come with an open mind – some may be skeptical about hybrid learning, but it might surprise you. Come to the course with an open and growth mindset to get the most out of the experience and materials.
Got a question or want to share your opinion? Share, share and share – if you're on the online side of the hybrid course, it's important to remember you have the right to speak up, share and contribute even if you're not in the room.
Use the resources at your fingertips – Use the trainer if you need extra support or want to build a greater understanding of a topic covered in the learning materials.
(If attending virtually) Treat it as you would if you were attending face-to-face course.
Browse Our Upcoming Hybrid Training Courses
As we look to give our delegates the best opportunities to learn in a way that suits them, our hybrid training courses might be the one for you. Take a look at our upcoming hybrid training courses here.
Chloe Martin
Content Editor
2+ years in SEO and content marketing. Striving to help public sector professionals develop their skills and learn something new through high-quality content.