The Importance of Strategic Management in the Public Sector

Chloe Martin
·
3 minute read
Implementing strategic management can help public sector organisations improve day-to-day decision-making, assess problems and set measurable goals to determine success.
In fact, 75% of successful organisations have a system in place to inform and manage their strategy.
Strategic management can provide benefits and challenges in the public sector, but what is it and how can it potentially help your organisation?
In this post, you'll learn what strategic management is, why it's useful in the public sector and how to overcome the challenges of using strategic management.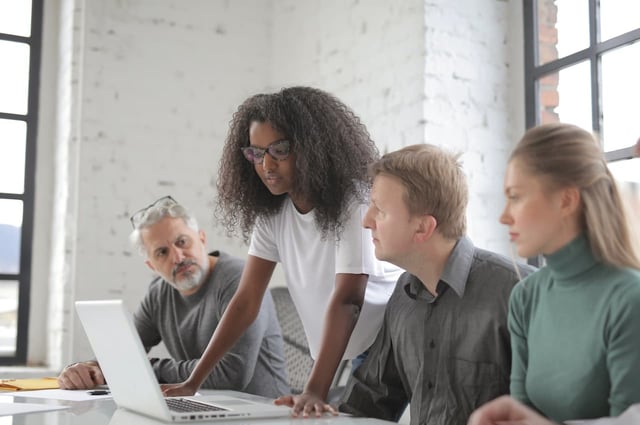 Jump Straight to:
What Is Strategic Management in the Public Sector?
Strategic management in the public sector is a management system that focuses on planning, implementation and measurement. This form of management focuses on an organisation's resources and how they can be best utilised to reach certain objectives.
In the public sector, examples of strategic management could be identifying targets, realigning financial and human resources or reorganising leadership to see the execution of specific goals.
For example, a school or college may have noticed a reduction in interest from potential new students. A strategy could be to distribute funds to focus on a recruitment drive or marketing.
For an effective strategy, ensure you set measurable goals to determine success and know how to achieve them.
What Are the Benefits of Strategic Management in the Public Sector?
Crafting a strategy can give employees a clear structure and measurable goals to work towards. It also enables senior management to focus on an organisation's bigger picture and take a step back from solely concentrating on day-to-day issues.
A good strategy provides a framework for all decision-making in a public sector organisation. From the distribution of funds to day-to-day decisions, setting a clear goal can provide a focus for all employees.
Strategic analysis of an organisation is also a great way to identify strengths, weaknesses and opportunities. Public sector organisations can set targets to address problems, enhancing their value within the community.
Look to form your strategy by understanding current issues, analysing external factors and looking ahead to the future. Then, translate your plan into measurable goals aiming toward your target.
A notable example of a public sector strategy is the UK government's aim for the country to become 'net-zero' by 2050. To execute the strategy, measurable and financial goals have been established.
These goals include ending the sale of new petrol and diesel cars from 2030, £1 billion of support to electric vehicle supply chains and £1.3 billion towards electric vehicle charging facilities across the UK.
As well as these main aims, the strategy will feed down to more local levels of government. Local goals might include how infrastructure will adapt to accommodate the increase of electric vehicles.
What Are the Challenges of Strategic Management in the Public Sector?
Strategic management can be complex. In a 2012 survey, just 2% of leaders were confident that they would achieve 80-100% of their strategy's objectives. This shows it has been a challenge for quite a while.
Even in private-sector companies, implementing a strategy can present difficulties. While 80% of leaders believe their companies are good at crafting a strategy, just 44% say they're effective at implementing one.
Strategy success can depend on either innovation or investment, both of which can be hard to implement or obtain. These two factors can also provide risks, so there may be resistance to this within the public sector.
It can also be challenging to focus on the future. Strategic management requires organisations to predict the future environment, so political or governance changes can significantly impact strategy.
Despite the challenges, a clear, effective strategy remains a productive way to align employees toward company objectives and measure success. By outlining measurable targets, an effective strategy can influence all levels of an organisation and lead to positive outcomes in the public sector.
This all starts by honing your skills as a leader — our new handbook can help with that.
Become a More Effective Leader in Your Organisation Today
Our Leadership Handbook provides strategies to lead your team to success. It details the benefits of a high-performing team, what makes a good leader and much more — full of tactics and techniques to help you become a more effective leader.
To download your free copy, click the button below.
Chloe Martin
Content Editor
2+ years in SEO and content marketing. Striving to help public sector professionals develop their skills and learn something new through high-quality content.