Understanding ModernGov's 2022 Training Highlights
Understanding ModernGov
·
2 minute read
As the end of the year quickly approaches, we've put together six highlights of 2022 to show how grateful we are for our delegates, team, supporting organisations and expert trainers.
Whether you attended one of our open courses, took part in an In-House course organised by your organisation, read one of our newsletters or interacted with our blog content, we're glad you've been part of our journey – not just this year but hopefully beyond!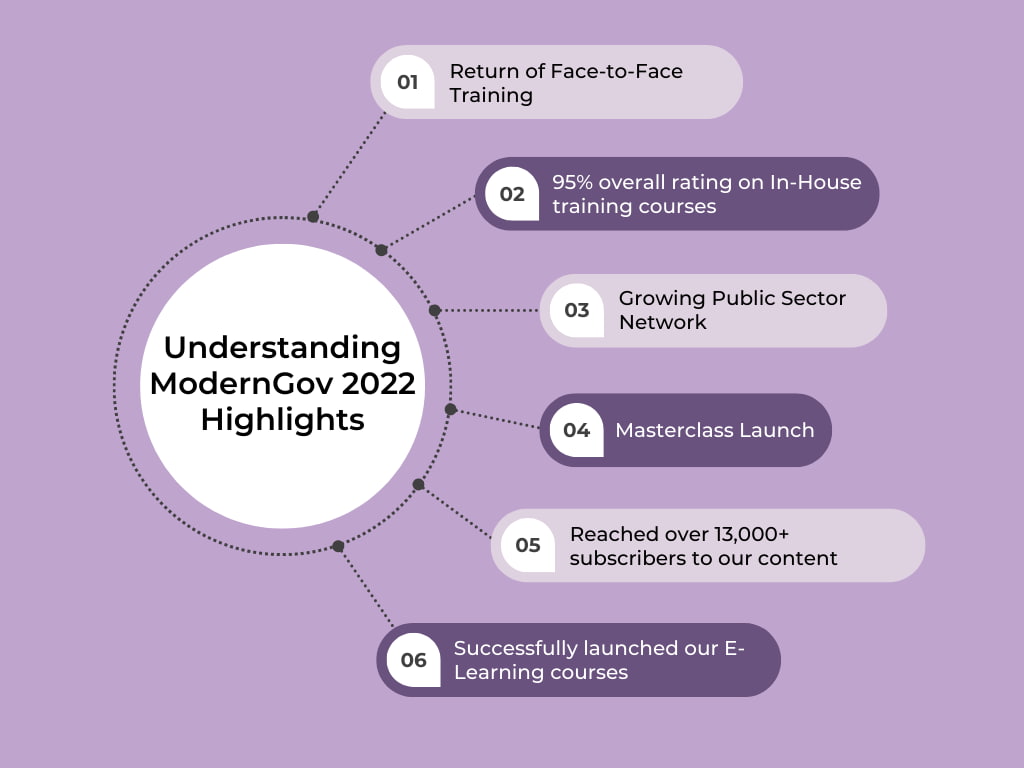 Top Six Highlights of 2022
It's hard to pick just six, but we've managed to whittle them down and share what we think are the best bits.
1. Return to Face-to-Face Training
After quickly moving to virtual courses when the pandemic struck in 2020, 2022 has been the year that we were able to bring back face-to-face training courses in a safe environment just like before.
It's been a joy to see new faces making new connections, professionals engaging in insightful sessions and our trainers running even more interactive courses in central venues.
We delivered over 350 training courses (open and In-House) across the year face-to-face, virtually and even as a hybrid, but we've also delivered many more regional courses across the country – from Cardiff to Edinburgh!
Check out the map below which is growing every year to ensure our face-to-face courses are accessible for everyone wanting to attend.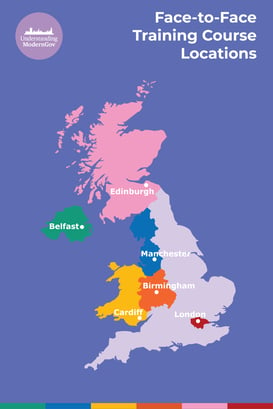 2. Glowing In-House Feedback
With a 95% overall rating, we're pleased to say that our In-House courses have helped hundreds of public sector teams to gain the skills and knowledge they need in an environment and time that suits them.
A massive thank you to all our expert trainers who have provided us and you with their knowledge, time and dedication to the public sector and its improvement. Here are a couple more statistics that we're really proud of: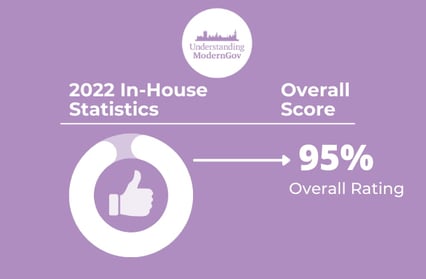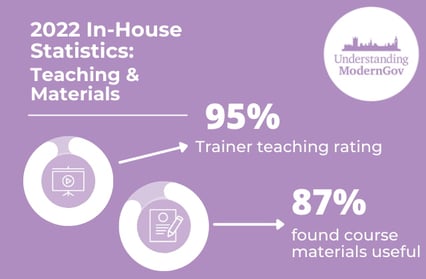 Learn more about our In-House courses by downloading our catalogue.
3. Growing Public Sector Network
Our Understanding ModernGov Network has expanded over the course of this year. With a huge growth rate of 230%, our network is quickly growing with new members from across the public sector wanting to network and continue learning to expand their knowledge and skills.
In the new year, our network members can expect even more insightful content, trainer videos, webinars and more interactions with other members through polls and questions.
Not a member yet? Join today.
4. Masterclass Launch
This year we launched our first-ever range of Masterclasses, consisting of a half-day course jam-packed with tips, techniques and interactive sessions to give delegates a deep dive into a specific topic, such as Advanced Memory Training with Author and expert trainer, Mark Channon.
Here are the Masterclasses coming up in 2023 so far (there is more to be announced!):
See what previous delegates thought about our courses here.
5. Reached 13,000+ Subscribers
As a continue to build a knowledge hub of helpful content on a range of topics from verbal communication, leadership, management and strategy and data, the number of subscribers has been growing with it.
Be the first to know about our new courses, and network events and receive exclusive discounts you won't get anywhere else, subscribe today.
6. Successfully Launched our E-Learning Courses
With extensive knowledge and understanding of the public sector, we have developed a number of on-demand E-Learning training courses (which are still growing) to help enrich learning and allow for continued personal development.
All our E-Learning training courses are CPD-certified and are designed to be bite-sized, engaging and impactful learning opportunities for a number of public sector organisations to suit all budgets.
Learn more about our E-Learning courses.
What's Coming up in 2023?
With thousands of delegates in attendance this year, we're looking forward to delivering training to even more organisations and delegates in 2023.
We've got new courses, content and even more ideas in the pipeline to ensure all our delegates have the equal opportunity to gain the skills, knowledge and experience they need to perform their job effectively and make a positive impact in their personal lives.
Learn more about our upcoming 2023 courses, trainers and what you can learn by clicking the button below.