What is The Student Experience and Why is it so Important?

Chloe Martin
·
3 minute read
Tuition fees and student expectations are as high as ever.
So, surely this means the student experience is the best it has ever been?
Not necessarily. There are always improvements to make, especially as student expectations change over time.
In this post, we'll cover what the student experience is, why it's important to get right and how to respond to complaints if expectations are not met.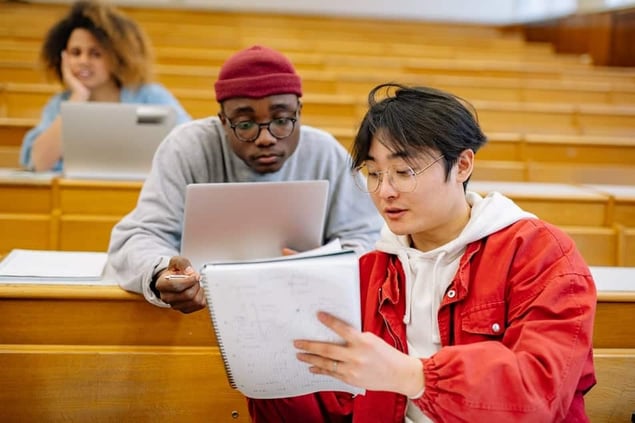 What Does the Student Experience Mean?
The student experience encompasses the many different aspects of student life; academic and intellectual; social and emotional; and the growth of cultural, political, sporting and artistic interests.
This phrase is often used by universities and colleges around the UK to ensure potential students know what their student experience could look like if they chose to study there.
Some students may even base their university choice on the student experience shown by previous students at that university or college. But how do we maintain this standard and why exactly is it important?
Why is the Student Experience so Important to Get Right?
Within an increasingly competitive, student-driven sector, higher education institutions face the challenge of enhancing the student experience, supporting student engagement and measuring student satisfaction.
Every year universities in the UK enrol over 2 million students, studying nearly 1,200 different subjects. Since the increase in tuition fees, the demand for greater value for money has pushed the higher education sector to design better services for students.
According to results from the National Student Survey, filled in by university students in 2022, 80% of 332,500 UK students said they were 'definitely' and 'mostly' satisfied with the quality of their course. This figure is the same as in 2021. But how can we make it 90% or even 95%?
How Can We Improve The Student Experience in 2023?
The past couple of years have been a little different for universities and students, but as we move past the pandemic, maintaining a structured and effective student experience should become easier in the future.
The pandemic made universities and colleges get creative with maintaining student experiences, especially when everything went virtual. Like public sector work environments, students in 2023 will experience a hybrid studying or working environment.
So now we've been in both situations, we need to combine the two and make it more effective for students.
Six Ways to Maintain or Improve the Student Experience in 2023
1. Offer virtual or face-to-face alumni engagement opportunities
Think of these as 'one-click connections'. They can be a short interactive group call or even on a 1-to-1 basis that helps students access the support they need, discover new opportunities they haven't come across and make use of the alumni's advice.
Offering opportunities to engage with alumni and other students can also benefit student mental health which saw a decline during the pandemic.
2. Build an education roadmap
Students will hopefully know how long their course runs, but having a visual roadmap will help keep them motivated while ensuring they fully understand the content and what is expected of them. It can also help them find new opportunities that are available throughout their time at university.
3. Provide effective and quick online forms to gain feedback
Ensure that feedback is fed back to senior teams and ensure an action plan is put in place to implement it. Keep the person or group who gave the feedback in the loop to show how you're going to implement this.
From promoting communications to solutions, university social media platforms have grown over the past six months - specifically on TikTok. Many universities have taken to social media to further support students through clearing opportunities. It's also a great chance to get current students involved to show prospective students what university is like from their point of view.
5. Use a variety of learning formats and resources
we know this can be hard virtually, but as we move into a hybrid environment, try to implement different learning formats for students. From different ways of learning online, such as video, podcast and readings, to using collaborative group projects and activities when face-to-face. Going back to the NSS survey data from 2022, one of the biggest improvements was satisfaction with learning resources which increased by 7%.
6. Improve how your institution responds to complaints
Complaints can be difficult to deal with, but they should be seen as an opportunity to improve your service. Responding to complaints effectively is all about knowing what the complainant wants from making the complaint - do they want to be heard, seen or acknowledged?
Student complaints are currently at a record high in 2023. The Office of the Independent Adjudicator (OIA) received 2,850 complaints in 2022 which was a 3% increase on 2021.
With the rise in the cost of living, students are at the forefront of price increases which impacts their daily lives at university. This could potentially have a broader influence on their overall satisfaction throughout their university experience, ultimately resulting in an increase in the number of complaints received.
Learn How to Respond to Complaints Effectively in Education
We've got the course for you. We know schools and universities are facing increased scrutiny and pressures to excel, so you need to know how to respond to any complaints that come your way. Read the full agenda for our Effective Responses to Complaints in Education course and secure your place.
Chloe Martin
Content Editor
2+ years in SEO and content marketing. Striving to help public sector professionals develop their skills and learn something new through high-quality content.